Build Fast Formula Eighty:20 Protein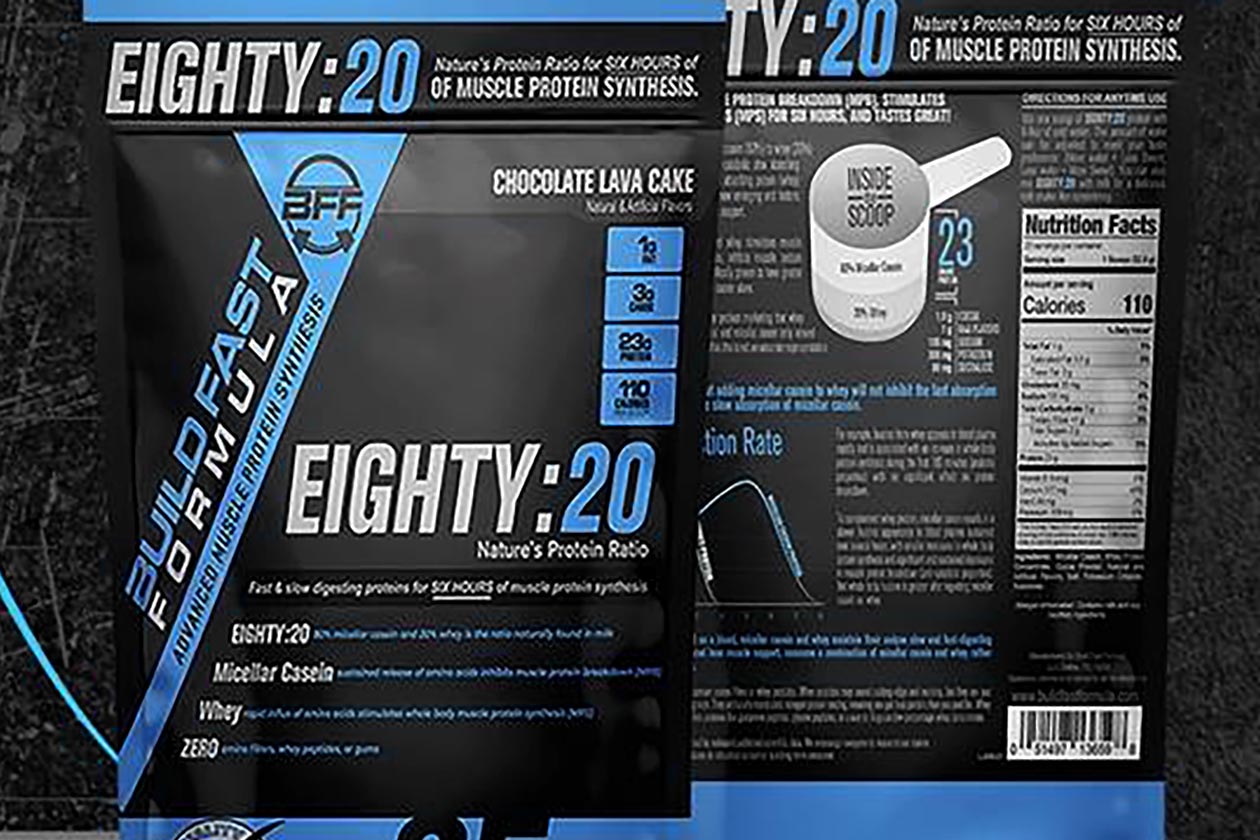 Taste
Vanilla Ice Cream - This was a hit from the second it hit my taste buds till I stopped tasting the after taste of the vanilla ice cream flavor. If you want a pure, elegant, luscious, and very dense vanilla protein powder this is for you. What I like about the vanilla from Build Fast Formula is how it balances sweetness and density into a popular classic flavor. I picked up a small hint of vanilla bean in the backend, which gives this vanilla a very unique twist.
Chocolate Lava Cake – Chocolate Lava Cake from Build Fast Formula is similar to the vanilla as it does contain a multitude of flavors to make it well-rounded chocolate. While a lot of companies go for single flavor chocolate I found this was hybrid milk chocolate and dark chocolate combination. As the flavors swarm together you will notice how strong and bold the flavors compliment each other. Lava Cakes have a gooey center as you cut into a cake, and that is noticed with a deep, rich chocolate flavor. For those who truly enjoy a solid chocolate flavor, this will be a staple in your protein stash.
Benefits of Blends
Improve Lean Body Mass
https://www.ncbi.nlm.nih.gov/pubmed/16937979
Better Muscle Growth:
https://www.ncbi.nlm.nih.gov/pubmed/22569072
Higher Rate of Muscle Protein Synthesis
https://www.ncbi.nlm.nih.gov/pubmed/23343671
Increase Muscle Protein Synthesis
https://www.ncbi.nlm.nih.gov/pubmed/24699854
The combination of micellar casein and whey stimulates muscle protein synthesis (MPS) for six hours, inhibits muscle protein breakdown (MPB), and has been scientifically proven to have greater nitrogen retention than whey or micellar casein alone.
Mixability
Build Fast Formula Eighty:20 is a heavy casein blend. Due to the fact casein is on the thick side I would suggest the following for mixing the protein powder.
Shake:
As a Shake, I would do 6-8oz per scoop. This will be on the thicker side due to the ingredient profile, so some who want a thinner shake go with 10-12oz. I find that even with 6-8oz of liquid there were no clumps left when mixed up in a generic blender bottle. The texture is smooth and has a milkshake resemblance.
Protein Pudding/Sludge:
This is one of my favorite ways to use protein powder. Due to the heavy casein content, this mixes extremely thick. Compared to other protein blends on the market I find this comes out just a step below a straight casein powder, which I personally prefer. Even if you do mix this with just protein and water in a bowl it has a great consistency to it. When mixed with greek yogurt it makes almost a custard-like texture similar to a dairy queen blizzard. I could turn my spoon upside down with it sitting on my spoon.
Formula
Per Scoop:
110 Calories
1g Fat
3g Carbs
23g Protein
80% Micellar Casein
20% Whey
Pros
- Taste is fantastic
- No Gums, or Whey Peptides
- Protein Blend Research Benefits
- Mixes very easy and no clumping
​