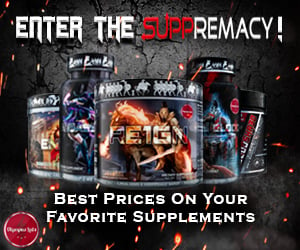 Manufacturer:
RXS
Rating:
4.68
out of 5 stars, based on
22
total reviews.
Read all 22 reviews
Submit New Review
Picked up a sample of the peach ring Radiate from a booth at the competition I attended yesterday (NPC Muscle Mayhem in Kansas City) and commenting on this so the thread is easier found when I give it a try.

Training & everything else log: http://anabolicminds.com/forum/workout-logs/275307-bam-bam-goes-30.html

Had a few samples of radiate sent me way. So far I have had the peach rings.

Taste 5/5
Really good peach rings flavor. I had a scoop or cm to make it a bit more sour. Was just about perfect.

Effects 5/5
I only used half a serving each time as any sort of yohimbe hits me hard. I felt the normal effects that you get to tell you had had a decent dose of yohimbe but not the anxiety it normally gives me. It might the the inclusion of the theanine? Was nice finding a a yohimbe supplement I can actually take!

Will pick up some on my next cut. Hopefully will be able to work up my dosing a little bit. But if not I still think it would be very effective

Is there any way to get this in the UK?

Head of Content Development - Azoth 2.0
DM for stock enquiries

I have been a long time lurker.....I am not sure if I can PM with such a low post count however I will try. If not, is an email ok?

Head of Content Development - Azoth 2.0
DM for stock enquiries

The day you were reborn...

Ok think it's been officially a week now so I will say this. My first 1.5 hours of work everyday is really ****ty it consists of climbing up equipment checking oil water and firing up the engines. It's a 15 foot climb per engine and two engines per machine. Currently we have 28 machines running and it's only one other guy besides myself... so what have I done for the last week? Yup a scoop of radiate at 430 am and by 5am I'm running climbing and sweating my damned ass off! I absolutely love this stuff! Fantastic cardio session every morning that I get payed for can't beat it.

Waiting on some samples, really enjoying the reviews and threads on Radiate so far.

Head of Content Development - Azoth 2.0
DM for stock enquiries

Twenty-Two Until None
I Am My Brothers Keeper

Received some samples of Radiate in the post. Swapped out a thermogenic that I had been using and gave Radiate a whirl. It blew my socks off, an excellent workout. I am really impressed and I hope it is not a one off. I will post a more comprehensive review when the samples are finished.

Twenty-Two Until None
I Am My Brothers Keeper

5/5

I got some samples of Radiate all the way to the UK. I generally train really early morning due to life circumstances and I do use pre workouts and stimulants to help me through my sessions. I usually tailor my supplement usage to the type of work I will be doing.

I added Radiate for my last four sessions. I didn't change anything, the sessions remained exactly as they would have been without Radiate. The product is very very promising.

I consumed in a little water around 20 minutes prior to training. It doesn't hit like a train, however it gave me a sense of agitation. It is a good sense! I was able to up my game and get more sets done, get more work done, and sweat a hell of alot!

I am thinking the sweating came around as a result of the Yohimbine. This particular ingredient has worked well for me in the past. I will certainly be picking up some tubs in the very near future.

I am very keen to increase my scoops of Radiate as I think it will be very positive for me.

5/5

All I can say is WOW. Flavor is decent. But WOWWWW. I took a full scoop at 2:45. It is now 6:15 and I feel like it still might be ramping up. I can NOT sit still. Felt the thermogenic effect within 15 minutes after taking. You guys have a hell of a formula. 10/10. I cant say enough good things.

5/5

I used this for my 4 week cut and it helped tremendously.
-Appetite suppression really kicks in on the 2nd scoop mid afternoon.
-The energy level is great and when you stack this with a pump agent you get some great workouts
-The thermogenic effect is also great. Cold sweats, chills, and just get the feeling that this stuff is doing its job in the background.
I liked that you are only getting about 400 mg caffeine total, which is a good total dosage for me. The flavor is great and for me it's 12+ oz ice cold water to really enjoy it! I was able to cut about 6-7 lbs in 4 weeks with Cal Deficit, Training, and Radiate either twice a day or 1 time in the afternoons to keep my body burning and cravings down. (i know The Myth was following my log :) ) There were some days when it would crush my appetite a lot and had to force food, but this changed at around the 4th week, but still kept working the same even though you are using it daily.

Love this stuff and will be my go to fat burner
P.S. I think there is more than 45 servings in there lol I can't seem to even drop the powder to half!

5/5

I've tried all 3 flavors and sour peach rings is FAR and away my favorite (one of my favorite falvors for any supp ever). The OG orange candy is also very good, while the cherry icee IMO is not. Cherry tastes like medicine and is not enjoyable (the others I LOVE though).

You will really feel the punch from this stuff in terms of stimulation. One of the higher stimmed products of this type I've used. Even after 2 tubs, the stim still kicks me in the pants every dose. Initially it was actually TOO much and I could not use it pre workout for that reason. Once my tolerance came up, I've been able to use it anytime.

Effects after 2 tubs were as expected for a cutting cycle. I compare it very favorably to the OG alphamine in terms of impact (which for me is high praise). Great stuff from a great group of guys at RXS

I was lucky enough to get a jug, and I have only used the product about ten times.
Flavor- I got the sour peach and it's just like the candy.
Thermo effect- I took this in the mornings before work, I didn't have a notable increase in body temp but our office has been at a colder temp. I definitely got the cold sweats though so I may not have felt it but it was working.
Energy- I normally drink 2-4 cups of coffee the first few hours of work. This leads to no perceived increase in energy, but my heart definitely can feel it when I was adding another caffeine source from another fat burner. I say all that to compare to this product, which at one scoop was a little better for energy but yesterday I did 1.5 and within 20 minutes I suddenly felt it. Focus was there, wakefulness was there, everything I was hoping for I felt. I get on edge with too much caffeine, but on this I did not feel that way at all. I was calm and composed in dealing with work problems and am so glad I got the chance to try this out.

5/5

My wife got to test this out and it has been over 2 months that she's been on Radiate. Have to give a little bit of background information here.
She has always had problems losing weight. Have done some weight loss treatments and some extreme diets. But still found it hard to lose weight.
With Radiate and good diet, she now has lost close to 11pounds in 2 months.

Into the details.

Taste- 4/5
I absolutely loved the taste. If it was me, it's 5/5. But, this is the first supplement wife has ever taken. Guess, it takes a while to get used to supplement taste. Sour Peach ring is the bomb.

Mixability- 5/5
It mixed without any clumps or residue at the bottom. She just used a glass and spoon to mix it. The only problem I found was the moisture settling in and makes it difficult to measure the scoop.

Performance- 5/5
She had great drive in the gym. Thermo was awesome. But, the best part is appetite suppression. The appetite suppression was enough to let her eat at the right quantity and not completely kill her appetite.

Value- 5/5
This is a great product and though it says 45 servings, you'll get 90 out of it. So huge $$$ saving there. This obviously is a proprietary blend product. But, I guess @TheMyth and @MonteRXS wants to keep it away from others stealing the secret recipe. Great job!