Nutrex Research Vegan Plant Protein
Taste
Cinnamon Cookies –Imagine finding a happy medium between a snickerdoodle cookie and a cinnamon churro, and that is exactly what this reminds me of. At first taste, you get a dense, rich, and flavorful cinnamon that leaves a lingering and luscious sugary aftertaste. I don't know how Nutrex was able to replicate this flavor into a vegan protein powder, but they absolutely nailed it. This is easily the best tasting vegan protein powder on the market by a long shot.
My Ranking of Nutrex Vegan Flavors:
Cinnamon Cookies
German Chocolate Cake
Vanilla Caramel
Mixability
Vegan Protein Powders are on the thicker side due to the ingredient profile makeup. There is a slightly grainy texture, but that is to be expected when you are not dealing with a whey, whey blend, isolate, or casein-based protein powder. Given the fact the flavoring is so good, the brand is able to mask up the chalky aftertaste usually associated with most vegan protein powders. I enjoy mixing this with water or yogurt to make a pudding, but it makes a very thick protein shake. You will need 8-10oz of water/milk per scoop, which I found to be a good water/powder ratio for a smooth liquid shake.
Formula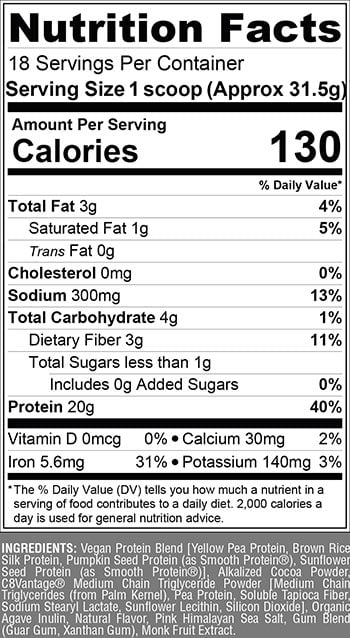 Calories ~ 130
Protein ~ 20g
Fat ~ 3g
Carbs ~ 4g
Vegan Protein Blend:
Yellow Pea & Brown Rice, Pumpkin & Sunflower Seed Protein
Pro's
- Best Tasting Vegan Protein on the market
- No Artificial Colors
- No Artificial Flavors
- No Artificial Sweeteners
- Added MCT's for Performance
​