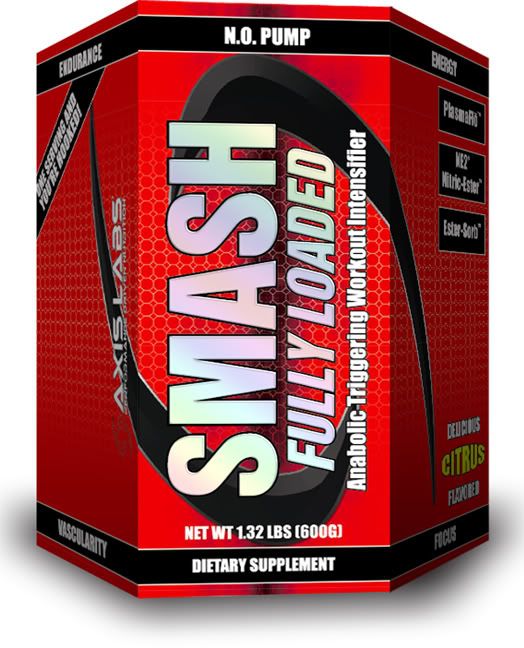 Axis Labs:
Bodybuilding and Fat Loss Supplements - Axis Labs Sports Nutrition
SMASH Fully Loaded: Anabolic Triggering Workout Intensifier
SMASH® Fully Loaded is the most complete pre-workout formula ever designed to help you experience the most intense workouts of your life through increased PUMP, STRENGTH, ENDURANCE, ENERGY and HYDRATION. SMASH® Fully Loaded is a comprehensive blend of only the most effective ingredients designed for bigger, longer more intense workouts by covering all the essentials. SMASH® your way through the gym, onto the playing field or any intense activity for explosive workouts that result in explosive gains.
SMASH® Fully Loaded Highlights:
• Take only Pre-Workout, Not Daily
• Skin Bursting Cell Volumizing Pump
• Ramps Up Intramuscular Strength
• Expands Blood Plasma Volume
• Enhances Vascularity for Roadmap like Veins
• Stimulates Carnosine Production to Reduce Fatigue
• Increases Mental Alertness and Focus to Get you Zoned
• Amplifies Energy Levels and Feelings of Well-being
• Decreases Lactic Acid and Ammonia Burn
• Increases Endurance, Perfect for Any Athlete
• Precision Formulated for an Outstanding Taste
• Flavored with Sucralose, not Aspartame
• Low in Carbohydrates
------------------------------------------------------------------------------
Basic Stats
Age:
23
Height:
5'9"
Weight:
~170 lb. (will update this soon with exact weight)
Diet:
I am clean bulking at about 2800 calories per day depending on my energy expenditure. I eat A LOT of fresh veggies and fruits and most of my carbs come from legumes and rice. My protein is primarily from pasture raised cows, organic local un-homogenized milk, and eggs. I also utilize organic virgin coconut oil for its various benefits.
Macro breakdown:
30% protein / 35% carbs / 25% fat
Other supps used concurrently:
Barleans fish oil, Jarrow Whey Protein, glucosamine, MSM
Similar Supp Experience:
NO-Xplode, Xceed, Storm, Shock Therapy, Super Pump 250, White Flood, RE-Satur8, and others.
My original SMASH review:
http://anabolicminds.com/forum/supplement-reviews-logs/79070-review-axis-labs.html
The Workout:
Lower Body (Mon. and Thurs.)
Squat 3x8
Deadlift 3x8
Squat 1x5
Deadlift 1x5
1-leg calf raise 3x10
These heavy compound lower body moves really wear out my CNS so I try to keep overall volume low when doing 4 workouts per day like I will be for this log. But I am considering throwing in some low-weight higher-rep stuff to facilitate strong pumps on some days. Depending on how well this Smash works I may be able to increase my work load… I hope so.
Upper Body (Tues. and Fri.)
Seated Military Press 2x8
Bench Press 3x8
Bent over row 3x8
Weighted dips 2x8
Pullup 2xfailure
Lateral raise 2x10
Kbell upright row 1x10
DB bicep curl 2x8
[superset]
Skull crusher 2x8
For me upper body is inherently less taxing than lower body and therefore can withstand more volume. I don't want to spread my strength out over too many exercises and fail to make significant gains in the basic lifts. However, I may reduce the volume or drop some exercises here and there. Time will tell.