AMS AUGMENTOR HORMONAL CONVERSION AMPLIFIER
AMS's new Hormonal Conversion Amplifier is almost ready to ship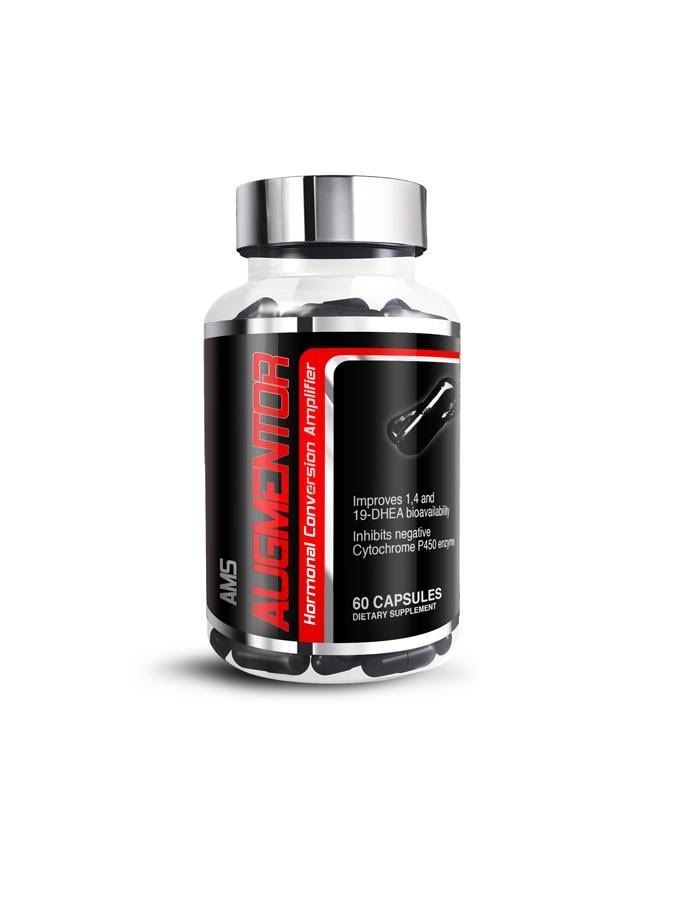 ADVANCED MUSCLE SCIENCE & THE FUTURE OF HORMONAL AMPLIFICATION INTRODUCES – AUGMENTOR Hormone Shield™
Augmentor – Hormone Shield™
is a powerful hormonal conversion amplifier that increases the Anabolic Effect of 1-Andro™, 4-AD™ and Decavol™ by 20%
When it comes to maximizing the anabolic effect of AMS prohormones – the most important fight is preventing intestinal sulfation
(Sulfation is a reaction when the active hormone comes in to contact with negative metabolizing enzymes known as SULT or CYP450 & CYP3A4 enzymes)
from breaking down prohormones and their powerful testosterone based metabolites. The less sulfation that occurs – the more active hormone is available for the body to convert to the target hormone, thus exerting the
Explosive Anabolic Effect
on muscle tissue. Sulfation most prominently occurs in the liver and intestines.
The best way to combat sulfation is to use AMS Augmentor during any AMS combo prohormone cycle that includes: 1-Androsterone™ - Decavol™ - 4-AD™
Augmentor – Hormone Shield™
is a scientific blend of three (3) Cytochrome P450 enzyme inhibitors that block the destructive hormonal breakdown process. With less negative enzyme inhibitors in the body – more active hormone is spared to convert to the powerful target hormones – thus the anabolic effect can be far more powerful on the muscle tissue.
Augmentor – Hormone Shield™'s
triad formula acts as a hormonal conversion amplifier because the three (3) ingredients: Berberine, Rhizoma Coptidis and Cobalt, inhibit CYP3A4 & CYP450 enzymes. Reducing these destructive enzymes subsequently increase the bioavailability of your prohormones (by reducing its intestinal and hepatic breakdown). The hormonal conversion is therefore amplified and the anabolic effect on muscle tissue becomes much more powerful.