So this happened to me this morning.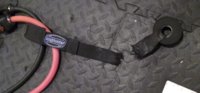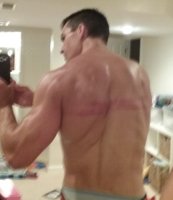 If you ever wanted to know what it felt like to get caned, then just have a strength band hit you at 100 mph. That will take your breath away. The pic of my back does not do my welt justice. Now I know why people have their bare back slapped before doing a set. That sh!t will wake your a$$ up!
So I was doing standing bench press with the anchor in a door. First set and a few reps in, SNAP, SLAP, I hit the floor in a ton of pain. I was only using 30 lb and 19 lb bands but I was really putting a lot of body weight into it. I've replaced a few bands over the years but never an anchor. I wasn't sure whether to start this thread here or in Injury, lol.
So just an FYI, be careful!