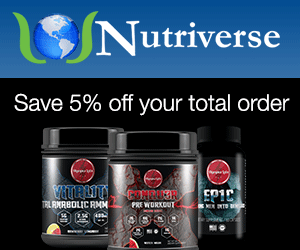 Manufacturer:
FINAFLEX™
Rating:
4.5
out of 5 stars, based on
2
total reviews.
Read all 2 reviews
Submit New Review




1) This product mixed effortlessly:
5

2) This product tasted great, when consumed as a shake and/or used while baking
5

3) This product did not cause any digestion issues (1-5)
5

4) This product improved overall recovery (1-5)
N/A…its a protein powder and as protein is a macronutrient its extremely hard to tell as this is only a small part of my daily intake

5) I really enjoyed this product and would recommend it to friends and family
5

4/5

Frosted Churro – A churro is labeled as a fried-dough pastry. Usually covered in cinnamon to make a "Frosted Churro". Going into this protein I was expecting a very strong cinnamon based protein with a doughy aftertaste. Upon first sip you get a strong presence of a snicker doodle (cinnamon sugar. The aftertaste has a very mild hint of dough. While it does combine both elements the cinnamon flavor is the dominant trademark. The ratio of fried dough and cinnamon is in favor of cinnamon, but that is not something easy to pull off for a first time flavor on the protein market. It is a very good replica of a Churro for a protein powder.

Mixability

6oz of Almond Milk + Few ice Cubes + 1 Scoop Protein
I could start to see the protein mixing before I even threw this on the blender. The powder is light (even for a blend) and mixes with ease. No clumps or anything sticking to the side of the blender.


Formula

Per Scoop:
3.5g Fat, 7g Carbs, 22g Protein
* Made from a protein blend of WPC, MPI, WPI, and Calcium Caseinate.
* Guar Gum, Xantham Gum, and Cellulose Gum to help with thickness
* Natural & Artificial Flavors with Sucralose

Cost

31.99 for a 2lb tub. While you are paying a bit over 10$/lb (Standard) it may be something to consider for a unique flavor. Another protein company to this date has not done frosted Churro. This was a bit of a twist on a typical cinnamon, snicker doodle type flavor. If this was on special I would consider it, paying upward to 15$/lb is quite steep for most that try to find a very cost effective protein powder.

Review:

Scale of 1-5: 1=Strongly Disagree; 2 = Disagree; 3 = Neutral; 4 = Agree; 5 = Strongly Agree

1) This product mixed effortlessly (5)

I have no issue mixing this product. Just to test how well it mixed right off the bat, I spoon stirred it in a glass with water. Within a couple of stirs, the powder had broken up and mixed in, and continued stirring smoothed it out, leaving very little bits of protein floating at the top, far better than any other protein powder might have done. It. mixed effortlessly with both a shaker ball blender bottle and with the blender bottle given by FinaFlex. I'm talking just 5 shakes for it to fully mix. It mixed easily into yogurt and pancake mix on several occasions. I made 2 shakes with it, blended into ice with some vanilla extract and cinnamon. Again, no issue mixing whatsoever.

2) This product tasted great, when consumed as a shake and/or used while baking (4)

I enjoyed drinking this and especially enjoyed mixing it in with yogurt and oatmeal. The taste was very similar to a real churro, having actually had a churro and the powder in the same day. It wasn't overly sweet and almost had a coffee/toffee after taste on the tongue. This may be a flavor that I would prefer to mix into foods (or bake if I didn't suck at that) as it wasn't too refreshing to drink. It tasted great, especially with milk,
but I'd almost rather have something fruity to drink on a consistent basis.


3) This product did not cause any digestion issues (5)

No issues whatsoever

4) This product improved overall recovery (4)

I think this is difficult to answer, but to an extent, yes. Many other things have helped or hindered recovery in training so it'd be difficult to gauge the effect of the protein powder on this. What it for sure did though, was assist me quickly and deliciously in meeting my protein needs throughout the day, allowing me to recover through intense training and maintaining my
bodyweight and composition.

5) I really enjoyed this product and would recommend it to friends and family. (5)

I would, yes. My wife enjoyed the shake I made and I've mentioned to a buddy that you all make a frosted churro flavored protein. It tastes good, mixes well, and has an excellent ingredient and nutritional profile.

Controlled Labs Board Rep

[email protected]

CONTROLLED LABS products are produced in a GMP for Sport certified facility.

CLEAR PROTEIN™ (2lbs)

FinaFlex Clear Protein Strawberry Milkshake

1) This product mixed effortlessly
**5**
I was very surprised how well it mixed in a shake and in my yogurt. No big clumps left behind just a nice smooth and creamy texture.

2) This product taste great when consumed as a shake and/or
used while baking
**5**
I have not had much success in the past baking with protein powder. It usually either gets really dry or has little to no flavor. Clear was not like that at all. It stayed creamy and kept its flavor even through the cooking process. In a shake, the blend of proteins were the perfect thickness and creaminess. The strawberry literally tasted like fresh strawberries blended with cream! I was a little nervous at first thinking it would have a very artificial flavor but it was far from it! Best strawberry supplement ever.

3) This product did not cause any digestion issues.
**5**
I can't say that I remember ever really having much trouble with whey irritating my stomach but I definitely didn't have any issues at all with Clear.

4) This product improved overall recovery
**5**
Recovery has been excellent! I am using aminos so recovery has been good but it was even better while using Clear most every day.

5) I really enjoyed this product and would recommend it to friends and family.

I guess if the scale stops at 5 then I guess I have to just give it a 5! This was by far the best protein powder I have had! Everything about the product was excellent. From the taste to delivering results that would expect! I wouldn't expect anything less from FinaFlex though! They always deliver high quality and great tasting products! I have already told everyone that I know that uses protein about it too!


Thank you again for the chance to try and log a full tub of protein! You guys rock!!

The Lord is the everlasting God, the Creator of the ends of the earth. He will not grow tired or weary, and his understanding no one can fathom. He gives strength to the weary and increases the power of the weak. Isaiah 40:28b-29

CLEAR PROTEIN™ (2lbs)

Batch 1:



First try at doughnuts.

FINAFLEX Clear Protein Chocolate Milkshake dipped Strawberry Milkshake doughnuts.

Calories: 156
Protein: 13.4
Carbs: 10
Fat: 7.1

Batch 2:



And again...

Cals: 172
Fat: 8
Carbs: 9
Protein: 16

Sugar: 2.6g

Not a rep but a fan of Finaflex.



Frosted Churro fudge with chocolate peanut butter drizzle.

Calories: 81
Fat: 2
Carbs: 3
Protein: 11

@cj_xfitathlete23

Ingredients

4.4 grams butter
Spray Olive Oil (no-stick)
139g FINAFLEX Frosted Churro Protein
1.5 oz unsweetened almond milk
1/5 teaspoon vanilla extract

Directions

Line a 9-in.-square pan with foil; grease foil with no-stick spray
In a large microwave-safe bowl, mix protein powder and water until you get the same consistency as you'd have with melted chocolate, then mix with the butter.

Microwave 45 seconds, stir, then microwave another 30 seconds and stir. Stir in milk and vanilla. Spread into prepared pan. Freeze until firm (I made the mistake of cutting it early, which is why the edges aren't even)

Using foil, lift fudge out of pan. Remove foil; cut fudge.

Changes Next Time:

I'm going to use some 100% cacao dark baking chocolate and replace butter with coconut oil to try and make the fudge more solid, in hopes that it will stay hardened outside of refrigeration. I'll likely add swerve sugar alternative as well.

Not a rep but a fan of Finaflex.

5/5

Great product mixes easy no clumps or anything i have the strawberry flavor and it is delicious the wife and i love it hats off to this company for making a real protien that taste great and mixes with no problem

@RegisterJr

Frosted Churro

Mix 1 5/5 - With 8oz Almond milk

Mix 2 5/5 (Weight gain shake) - I mixed 2 scoops with 8oz almond milk, 20g egg whites, bannana, 30g potatoe starch .. Mixing this with Banana is freaking awesome, its like match made in heaven goes so well together .. Ive been doing chocolate and peanut butter with bananna and it def outweights that.

Overall : One of the best tasting protein, i would've neever bought Frosted Churro flavor, but def became a fan of it now and would recommend those who are looking for a change of flavor. I cant cook donuts and stuff with it, but will keep making weight gainer shakes with bannana's

Thanks to @RegisterJr for the chance to try this product. I had the Frosted Churro flavor. It's pretty awesome stuff. Mixed it up three different ways.

1. 8-10 oz water. Mixed good. Taste was alright, after taste was kinda strange. TBH I never mix protein in water, but figured I'd try it with this stuff.

2. 8-10 oz whole milk. Mixed just as well. Taste was great. One of the best tasting proteins I've ever had.

3. 10 oz milk + 1 serving peanut butter. Mixed great, thicker shake this way. Tastes like a peanut butter snickerdoodle cookie.

The Churro is great, but I still think you guys would be super impressed with the Strawberry Milkshake This is coming from someone who has never before liked strawberry protein.

Not a rep but a fan of Finaflex.

Where do I begin.....

I usually stick to one type or brand of protein powered and don't sway to far from that type. But I may have to rethink that now....I was lucky enough to get hooked up with a tub of Frosted Churro Clear Protein and it's by far the best protein powder I have ever had... it doesn't matter if I mix it with water or occasionally milk... it's on point. The best example I could give is this: my wife hates...HATES the taste of any type of protein powder (for whatever reason) and she has been drinking this frosted churro non stop. Needless to say I have already ordered more and plan for this to be my new go to protein power going forward.

Thanks again @RegisterJr!