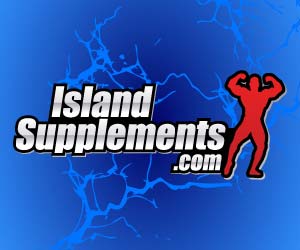 Manufacturer:
MAN
Rating:
4.22
out of 5 stars, based on
9
total reviews.
Read all 9 reviews
Submit New Review
i was looking at the label on this stuff. usually, i can only find one or two ingredients i havent tried, but this has like 5 things i havent. ive never seen this stuff anywhere else, let alone released straight out in high extracts.

I ordered a bottle from NP's July 4th sale. I tried a whole level scoop and It was pretty decent. I'll post a review once I've used it more. The mix-ability was poor... but that doesn't bother me as long as the product works.

4/5

PRO's:
-Taste great, slightly medicine like, but good even at full scoop.
-Mixes easy.
-Pumps lasted for hours.
-Endurance, endurance, endurance!!...When your routine is over and you think your done, you realize, you can do more. You crave more!
-Vascularity, veins look like they are about to burst! This stuff really does a hell of a job getting the blood flowing freely!
-Sweat like a beast love it!, quarter through my routine and im soaked!
-Mood, you really feel great, the pumps +veinage + soaked in sweat, looking at your self in the mirror, Wow..fuking beast mode!
-Energy, clean, long lasting no jitters. You don't feel cracked out.. and there is no burned out crash.


Cons:
-Focus is good, but not extreme. If you like the tunnel vision you get from some other pre's, don't expect it here. This could be a pro for some.



I would like it to be a little stronger in the stim department, but I wouldn't change a thing about it. Its a great everyday PWO. Just wanted to warn some about it. Don't expect to feel like you just hit the crack pipe. The energy here is jitter free for the most part. At a full scoop you do get a bit of the shakes. Currently my fav PWO.

Half scoop is probably all you'll need. But at a full scoop pumps are a bit better. Heart rate can get up there. I never checked it but im sure the BP goes up a bit to. But thats to be expected.

WOW amazing review! Thank you! I'm glad it's your fave pre now, that's great! One great pre w/o stack is MAN Game Day stacked with Focus XT. For guys that like more focus of course. Again thanks for the great review, I'm glad your experience was awesome!

2/5

Impression: Man reviews on this product look awesome and the profile seems killer. Awesome packaging and color scheme employs something powerful inside.

Taste: 3/5 Really isn't a bad taste. Reminds me of how a PWO is expected to taste. 1st few swigs are ek but the rest is easy to chug. Classic fruit punch didn't take any awards here

Mixability: 1/5 Def. not the best on this note. Very foamy and takes an extra 2oz to finish off the left over matter in the shaker. Even threw it in the blender and the foam made it undrinkable for the most part.

Effectiveness: 3/5 1st time using this product I did notice slight increase in vascularity at 1/2 scoop. Tried full scoop for 3 workouts later on and wasn't impressed with the energy. feels clean but no pumps worth mentioning or a true stay in the gym till you drop feeling. Odd that the full scoop didn't bring better results for me but I happens I suppose.

Focus: 2/5 Cant really say it was lacking in this category as I was using Versa1 along with it and cant say it added extra focus into my sessions

Overall: 2.5 I couldn't bring myself to use this as a PWO option in the future as I just didn't see the increase in performance that others experienced. I would space out the days in between and wish It had done more for me than what it did. I have a decent awareness on stim feels and this one was just not there for me personally.

I agree with @TheMovement there was nothing about this product that would have me coming back. I tried it about 10 times at 1/2, 3/4, and a full scoop. Honestly I didn't like anything about it at all.

Sorry to hear that guys, its definitely not for everyone. .....

Nutraceutical Innovations
AMINDS15 - 15% code
nutra-innovations.com




Current Log: http://anabolicminds.com/forum/workout-logs/291581-officially-chasing-abs.html#post5714196

4/5

I had been wanting to try GameDay for a while, and finally received it in the mail about 2 weeks ago. I consider myself pretty tolerant to stimulants. Taking a full scoop was a mistake! Holy S***! I was tweaked out of my mind lol. I can't say I noticed much in terms of a pump, but muscular endurance was good.

4/5

I really like gameday a lot and feel that it has a lot to offer with only one serving. I have not tried one full scoop (2 servings) as 1/2 scoop always is enough to push me to my best in the gym!

4/5

I've been going through two flavors of this MAN SPORTS Pre-Workout and I thought it was time to post my thoughts on it and this is a PW that I've always read some pretty good reviews on so I was always interested in trying it out.

Ingredient Profile- 4/5 - It's a proprietary blend of ingredients for pump and
a separate blend for energy which states 200mg of
caffeine for each serving so that's good to be able to
know. You can look at the blends and tell pretty
pretty much what percentage of each ingredient it
contains so that's a benefit to the user.

Mix Ability - 4/5- This contains Glycerol Monosterate which helps with muscle
pumps so mixing in at least 20 oz of water I noticed no
issues and you will get a little residue left in your shaker
which when you add a few more ounces of water will pick it
right up.

Taste- 4/5- I have two flavors Tigers Blood which is a light fruit punch with
just a hint of coconut and Tropic Fury which is a light pineapple
mango flavor and both for me are QUITE ENJOYABLE!!! I like
the fact that they are not to sweet and both unique flavors.

Energy & Focus- 4/5- The energy comes on really smooth and you don't
even notice it but as your training you develop an
energy where you feel relentless and determined to
hammer out whatever workout you have planned.
This formula does contain yohimbe in the form of
Rauwolscine which I think is the smoothest form
and I feel people who don't tolerate yohimbe well will
be able to handle this version.

The focus is pretty good but one of the ingredients
Dendrobium for me is not very effective and I would
like to see a better focus ingredient added. The focus
I do feel comes from the combination of caffeine,
tyrosine, Rauwolscine (yohimbe) and black tea which
work well together.


Pumps- 4/5- The Glycerol Mono and GlycoCarn work well together for
decent pumps but if you have agmatine on hand I would add
1 gm to it for even better pumps and MAN SPORTS does have
a PUMP supplement called NOOPUMP and I also have that in
Pineapple Express flavor and it works AMAZINGLY with both of
the flavors of Game Day that I mentioned that I have and you
only need 1 scoop of NOOPUMP with GAME DAY for a massive
muscle pump.

Overall- 4/5- I highly recommend giving Game Day a try because each time
I've used it I've had nothing but GAME WINNING workouts.
Each container comes with 60 servings and 1/2 scoop is = to
1 serving and I can handle a strong PW so 3/4 of a scoop has
been my go to dose. This was one PW that I was glad to
finally get around to trying.

[img][/img]

Taste 3/5 Didn't love any of the flavors.
Profile 2/5 Not a fan of prop blends and this unfortunately didn't give me much pump, beta tingle or focus.
Mixability 2/5 Tried to mix with 4, 8 and 12 ounces of water for one serving and didn't mix will.

Do not mention my language skills..I am norwegian.
Similar Forum Threads
By poison in forum Supplements

Replies:

26

Last Post:

12-08-2010,

02:35 PM

By thebigt in forum Supplement Logs

Replies:

32

Last Post:

11-09-2010,

07:06 PM

By jminis in forum Sports Talk

Replies:

74

Last Post:

02-07-2005,

09:52 PM