Hey guys,
I've been running this log over at BB.com and I've been meaning to transfer it over here as well.
Just had a ****load of stuff happen lately.
Anyways, I'm running Erase Pro+Erase for a total of 100mg ED.
I'll be updating this and BB.com everyday so if you guys have any questions, just let me know.
Starting Weight: 218 lbs.
Goal Weight: 212 lbs. So I'm aiming for a 6 lb weight loss in 45 days. I'd be happy with 4lbs, but I'm setting my goal higher.
Diet:
I eat pretty clean. I don't like sweets so that's not a problem for me.
250g Protein
320g Carbs
75g Fat.
Total: 2955.
I'm aiming to keep it under 3100 calories, and go adjust this from there.
Just a little background. I bulked from 195 to 222 from August, 2011 to January 1st, 2012. It was my first true bulk and it went extremely well.
Three Lifts:
Bench Press: 300
Deadlift: 415
Squat: 425(Parallel not ATG)
Supplements I'll be using:
Protein:
CnC Myofusion
Chocolate Myofusion
Banana Cream Combat Powder
iForce Protean (Vanilla Cup Cake Batter)
Pre-workout:
SAN Fierce
Ergopump V.1
PSU
Other products:
SNS PLCAR
SNS Agmatine
SNS Beta-Alanine
Primaforce Cit-Mal
SNS Focus XT
SNS Huperzine A
SP Aniracetam
SP Oxiracetam
General Health:
Orange Triad
Gut Health
Emergen-C
I'm listing everything I take so that everyone knows exactly what I'm taking so that this is a fair and non-biased log.
Here are my before pictures. I'll be updating this daily from now on.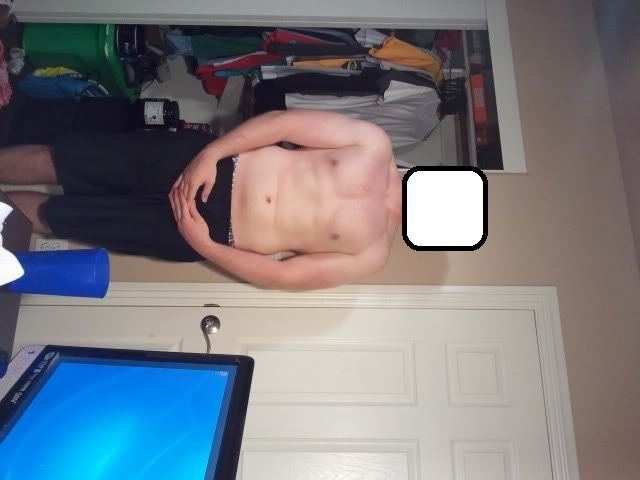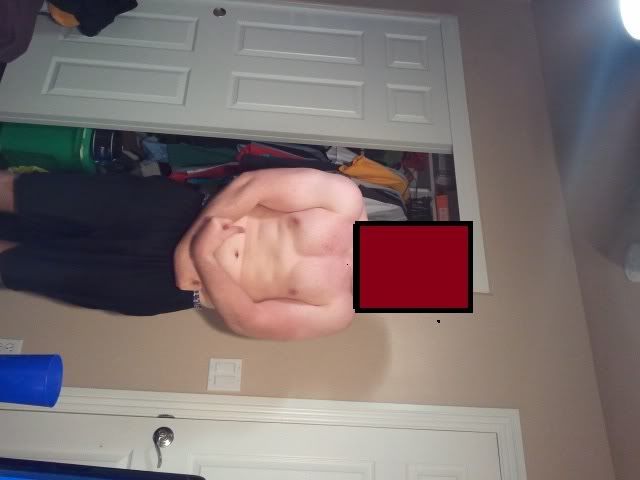 1/15/2012:
Soccer Practice: 5-8:30 PM
Shoulders/Traps:
Seated Shoulder Press: 65x10x3
Upright Row: 90x10x4
Supermans: 40x8x5
Farmer Walks: 50 Metersx90lbsx10 walks
Shoulder Shrugs: 100x10x5
1/16/2012:
Basketball @ SRC- 3PM-7PM
1/17/2012:
Rest
1/18/2012:
1/19/2012:
Soccer Game: Practice 7-9, Game: 9-10:00.. (Lost 0-6)
1/20/2012:
Chest
Incline Press: 90sx10x5
Flat Bench Press: 205x8x4
DB Incline Flys: 60sx5x5
Pushups: 3 sets to failure. 30, 25, 15
1/21/2012:
Rest
1/22/2012:
Rest( Damn Football)