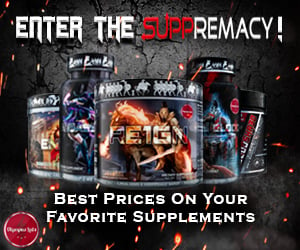 Manufacturer:
Get Diesel
Rating:
5
out of 5 stars, based on
2
total reviews.
Read all 2 reviews
Submit New Review
5/5

this stuff is legit...i was running jp8 hardcore/dtp.v2/ready for war/sunami/nos precursor already when i added NOS ETHER....strength shot up, started adding more weight to workouts too fast and ended up with an injury---this stuff is legit.

if you never try any other diesel product try this one-you will be sold!!!

5/5

this is actually the 1056 grams and fruit punch

I am not a stim junkie, i drink 1 large dnd coffee in the morning and finish 3/4 of it. that is the only caffeine i have.
I am also not a big fan of Beta Alanine, so I talked to Chuck about this. There is a small amount but just enough to do its job. So it should be ok.

Let me first say, follow the instructions on the label. I have been using this for a week now and i am using 1/4 scoop with 16 oz of water. That is half of the recommended dose.

Visual 5/5
When you open the container, it doesn't smell bad, the visual is a light sandy color. As soon as you add the water, the fruit punch color (red) is instant. A little shaking and sipped away.

taste and smell 5/5
No after taste or grit and no nasty chemical aroma

effectiveness 5/5
WOW- even at a 1/4 scoop, wow. The pump is insane, better than any product i have used before. Whatever body part i worked, the pump was there, you feel it. After a set, it felt like i already did a set. Use this before hitting shoulders and traps (especially if you want to make sure you hitting the muscle correctly) your traps just stick up.

the pump stayed with me for well after an hour after leaving the gym. Home run with this product.

no headaches, no bloat or stomach issues. No muscle cramping.

The Beta Alanine issue, it did not bother me at all. even if the pumps were great, endurance and focus was all there; which it is, if the Beta Alanine gave me 1 issue, i was done with this.

Price- 5/5
i will go to 1/2 scoop next week, but this jug will last me more than a month- You can take post (please read directions) if you choose too.

if you aren't into a stim pre-workout supplement, you have to try this. Diesel Nutrition's Nos Ether is worth it

I measured the scoop for the first time and did so with different scales to check, but I rather find about 14,.. g than 17,5g as announced on the label. Is this normal?

I simply measure the servings on the scale as the total weight of the tub appears to be correct.