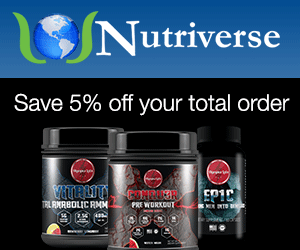 Manufacturer:
Formutech Nutrition
Rating:
4.56
out of 5 stars, based on
16
total reviews.
Read all 16 reviews
Submit New Review
5/5

10/10 - this is hands down the best pwo I've ever had. I was looking to get off of dmma but was worried about losing some energy without it. Volatile didn't let me down at all, great energy, endurance and pumps every time. I found my sweet spot with this was at 1 1/2 scoops about 20-30 mins before lifting (usually dosed, wait 10 mins, then 10 mins light cardio warmup, then lifting).

5/5

Volatile is my staple preworkout ; the effects just never taper off after each use & I can use it late at night without being all stimmed out . The focus is a 10/10 & the pump is a 10/10 ! Keep up the nice work Formutech !

5/5

Volatile all I can really say is wow ! The pumps are insane. The focus is great. The atom effect isn't real high but with the focus and pumps you don't need the stim. That combo makes you wanna kill it !

Taste I would give 8/10. Nice berry taste almost reminds me of a fruit roll up. Not much chemical taste.

Pumps 10/10 I the pumps were insane as was the vascularity. I would even choose this over nitrates. The pumps seems to last for hours post workout.

Energy 5/10 not nearly as much stim effect as most pre's on the market. Normally this would be. A problem for me as I am a still addict but the pumps and focus gave me the drive I needed. I suggest even stim freaks like me give this a run.

Focus 8/10 I always seemed focused. Never had A bad workout. Saw the weights and wanted to kill them. Really helps give the drive to smash the weights.

This final review is month late due to my error but I still am using volatile to this day. It has since been made my staple preworkout out. Do yourself a a favor and pick up a tub.

4/5

Pump: 10
Seeing as that seems to be the main focus of the product I am happy that it not only met but surpassed my expectation. I've not had a lot of experience with Agmatine or Citrulline Malate but this product has definitely turned me on to them. During workouts my body was rock hard and vascular which is odd because I'm not a veiny person. Overall I don't know how pumps could get better then this.

Focus:5
I tend to split focus(nootropic feeling) and stims into different categories, with that said taking this on its own didn't produce much effect in this area. I'm not surprised seeing as this is mainly a pump+caffeine blend product. I can't knock it to bad seeing as I've yet to try a pre-workout that's impressed me in this area.

Stim: 10
I really like that this product isn't loaded with stims like so many others are, the only ones I can tolerate is caffeine and ECF, so short of breaking laws and adding ephedrine I find that the amount in here is perfect.

Endurance: 8
It's really hard to tell if I had more endurance or if I just liked staring into the mirror at my huge pumps and bulging veins. But considering I spent more time in the gym and cut down rest times I see a improvement over baseline.

Strength:8
I saw massive strength gains while using this product, I was using the same program and and diet that I've been using for awhile when I was able to finally able to break my bench plateau, all around my stats were up.

I really feel that this is a great pre-workout and well worth the money. I think this product stacked with Versa-1(For the CDP-Choline which I added) or another nootropic make this perfect preworkout. I want to thank Formutech Nutrition for giving me this chance to log and review their product.

5/5

I finally had the opportunity to give this preworkout a try. I live and breath for my preworkouts and have run just about everything out there. I will tell you that I was coming to the end of a very long lifting cycle and ready for a deload the following week. I thought this would be a true test for Volatile to show it's stuff and it shined.
Mixability was no problem with minimal foam and very little grit at the end of the dose. I did use 2 servings as I am very stim tolerant right now at the end of this run.
The flavor was Berry Eruption and all I can say is that it was very mild.
If you are looking for a preworkout that will get you all cranked up then this will not provide that. What it will do is make you want to get busy. It took about 30 minutes to hit and I went from dragging ass and eyeballing the sofa to an attitude of I need to go move some weight. This stayed with me throughout my entire session. Follow that up with a nice muscle fullness from the pump ingredients and this comes out as a very solid product. My preworkout stash is getting to be rediculous but it's nice to have so many excellent options available these days.




NEW Volatile Supplement Facts

Serving Size: scoop (10.2 g)
Servings per Container: 32

Amount Per Serving
% Daily Value
Vitamin B3 (Niacin)
20mg
20mg
Sodium
27mg
27mg
Proprietary Blend
9g
**
9g
**
Taurine, Beta Alanine (as CarnoSyn®), DiCreatine Malate, Magnesium Creatine Chelate (Creatine MagnaPower®), Arginine alpha-ketoglutarate, Citrulline Malate, Vitamin B3 (Niacin), Osmo-Load™ (glucose polymers), Agmatine Sulfate, Caffeine, Green Coffee Bean Extract (50% Cholinergic Acid), Vinitrox™ (Vitis vinifera, Malus pumila), Diindolylmethane

5/5

Outstanding Pre-workout drink! I lift late at night and really need something to get me moving but not have me up all night either. Volatile fits my needs perfectly energry comes on slow and steady without feeling over stimmed and I use 2 scoops. No crash and I'm able to go the sleep after!! Pumps and focus are very good and this is becoming my go to PW. Don't let the prop blend fool you it is dosed correctly just like all the other Formutech products I have tried.. You owe it to yourself to try this stuff..

So I've now taken this on two different workout days (legs/shoulders and arms) and all I can say is bravo.
Taste: 10/10 basically berry koolaid

Energy: 9/10 no jitters (which I actually enjoy), very clean but "feelable"
Endurance: 10/10 both days all I wanted was more and more. Who does that on leg day?!
Focus: 10/10 absolute tunnel vision. It was like being in my own little world with nothing but the weights and some kick ass music.
Overall: 10/10 easily one of the top 3 pre workouts I've ever had. I'm naturally not sensitive to stims and this really had me going even with just 1 packet. The only knock I have is that I didn't get the beta alanine tingles (which I personally enjoy, though many don't). Exceptional product that I will definitely be getting more of.

5/5

I got some samples awhile back and I had to finish a PWO log before I could take them.

Volaitile is a top notch PWO.

Taste- Delicious. No overpowering flavors that overwhelm the senses. Smooth. Really it was one of the best flavored PWO's that I have tried.

Mixability- No issues here, a few shakes and it was ready to drink. No clumps or floaters. I drank it so fast that it wouldn't have had a chance to setlle, but there wasn't anything left in the cup after I was done.

Energy- Solid energy, clean, no jitters, no crash. Serious energy throughout the workout, but not too much where I had to stop for a bit.

Pump- PUMP!!!!!!! That is all I have to say about that!

Also, vascularity accompanied the pump in a vicious fashion. I looked like a pro lifter! As far as veins go anyways.

Bottom line-

I will be purchasing a tub on my next NP order. This stuff is good for lengthy workouts that include weights and cardio type routines. A good all around PWO.

Get some!

2/5

I didn't get any energy from this product at all. Took 2 sample packets pre workout. It tastes pretty good though. Mixes well. Looked like a great mix of ingredients. Unfortunately it just didn't work for me.

5/5

This product gets two thumbs up from me! Great tasting blend. I never had the jitters when taking this supp. As soon as I had cold steel in my hand I was feeling the pump which seemed to be forever.

First off I would like to thank cswalczakny and Forumtech for giving me this opportunity to test out Volatile. I absolutely loved this product. I have used so many different pre-workouts, and I feel this is the best I have used. I have tried NO-Xplode, NO-Xplode Ignite, Jack3d(old formula), Jack3d Micro, 1M.R., SuperDrive, C4, Ripped Freak pwo, Amino Energy, and Redline. I had some of my best workouts with Volatile. I have been lifting for 8 years, and I have never benched 300lbs. During my third week of Volatile I hit 300lbs and also hit my PR for squats (8 reps of 315lb). I felt a very strong focus and endurance every single workout I had. It helped me push through a plateau I had hit. Here is a breakdown of what I think:

Dosing:
Recommended dosing is 1 scoop, which I did for the first 2 weeks. I then bumped up to 1.5 scoops and felt great. I tried 2 scoops once, but didn't see any added benefit so the remaining two weeks were 1.5 scoops.

Taste/mix ability: 9/10
Taste is great! It is very refreshing, especially with nice cold water. It mixed very well and was glad to look down in my bottle every time and not see half the product still at the bottom like so many other products I have tried. The only reason I rate this a 9 is because I tried a few samples of Formutech's Endurance Melon flavor and wow! I would love to test a bottle of that out...wink wink

Pumps: 10/10
I was interested to see how this was going to go. The main selling point for Volatile is the amazing pumps. I can tell you that this is an understatement. I had the best pumps I have ever felt with a pwo. I especially noticed this with my legs and shoulders. My back would get very pumped, and usually this is uncomfortable and prevents me from doing certain lifts. however, the pump is very comfortable and did not prevent me from performing my normal lifts. I feel like the amazing pumps really helped with the mind muscle connection and helped me focus in on certain muscles. I got a lot of comments from people at the gym due to being so pumped and vascular. Felt really good.

Focus: 10/10
I was amazingly focused on Volatile. I felt like every workout I could not be disturbed or interrupted by anything that was going on around me. One night I was studying for a final for school and saw the bottle on my dresser, I said "hey why not", so took a scoop and stayed up all night cramming and ended up getting a great grade.

Energy: 10/10
The energy was amazing. It wasn't the jittery and nervous energy I got with so many other products. It was a very steady energy that lasted throughout my workout and for some time after. I would train at 6am before I headed to med school each day and I felt great.

Overall: 10/10
I would definitely recommend this product to anyone looking for amazing pumps, energy, focus and endurance. I know not many people give products 10/10, but I honestly love this product. I hit some very important PR and I know Volatile played a major role in helping me get there. If I had a choice of any pwo, I would choose Volatile right now. I have tried a lot of different pre-workouts. Even though there are many I have not tried, I have a pretty good idea on what a quality pwo is, and Volatile is definitely it.

If anyone has any questions or wants to know anything I didn't mention in here, feel free to message me and I would love to answer.

Formutech Level II log: http://anabolicminds.com/forum/supplement-reviews-logs/248305-taking-next-level.html#post4455230

5/5

Energy: 5/5 no jitters, but plenty of get up and go
Endurance: 5/5. Just can't get enough time in, never want to quit.
Focus: 5/5 Absolute tunnel vision. It was like being in my own little world. Loved it
Overall: 5/5 Easily one of my top 5 pre-workouts.

5/5

Final Review:

Taste: 9/10 I really enjoyed the light smoothie like flavor of Volatile. With the amount of goodies they cram into each serving, I'm surprised it tasted good. So many preworkouts use sour flavors, it's nice to have something lighter. Can't wait to try Orange Volatile!

Mixabilty: 10/10 mixes right up with blender ball. No Issues here

Energy: 10/10 here is where personal preference will come in. I am not giving it a 10 because it cracked me out, and I was sitting in a corner shaking like some people enjoy lol. I gave it a 10 because the energy is sooo smooth. At 1.5 scoops (My sweet spot) the energy comes on quick, lasts well beyond workout, and is jitter free. I had great focus during my workouts, and did not have to keep slowing down due to rapid heartbeat.

Pump: 10/10 I made the mistake of trying 2 scoops a few times the pump was almost painful. At 1.5 scoops the pump is perfect! Volatile has given me the best pump from any preworkout I have tried. Other pre's I will open a cap of 250mg agmatine into the shaker, with Volatile no need.

Overall: 10/10
Volatile will definitely be my new choice for a preworkout. It's versatile, I was able to take it right after dosing a fatburner without feeling like I was too stimmed out. The pump is absolutely insane, and long lasting. Great focus as well. I was able to hit a handful of PR's while running Volatile, the main reason was I could lock into what I wanted to accomplish, and get it done without feeling like I was going to pass out.

Great Job Formutech!

4/5

3g of carbs in the formula and a mix of B3 (niacin) which may flush some people, but for the most not really since its only 20mg which is a small amount. Also made up of a prop blend of BA, Creatine, Arginine (for pumps), CM (For enduranace and lactic acid recovery), Agmatine (pumps), Caffeine (unknown amount), GBA (Overall health benefits)

Overall not knowing what is in the prop blend its a pretty steady pre-workout formula common on the market again the disclosed amounts is the only reason i would knock down a few poitns and a star while using the product. The berry flavoring is very good and reminds me of Scivation novem in essence. Very similar. No problems mixing the product at all.

5/5

I have to start by saying that I'm a huge stim junkie and a pre workout fanatic. That being the case, I'm also highly critical of them. This product was AMAZING.

Taste: 5/5 I just wanted to sip it but found it difficult to do because it was too good. I mixed it with about 10x the recommended water just to stretch it out and I can honestly say it was just as good in 30oz as 6oz.

Mix: 5/5 A quick shake and everything was dissolved. No sediment, no settling.

Energy: 5/5 What can I say... 15 min after drinking and I wanted to run through a wall. I was tapping my hands and feet the entire drive to the gym and couldnt wait to hit the weights. The only thing id say is don't use this for a cardio only day because you may find yourself running faster then the treadmill can move. Also, no crash from this as is often the case with high stim blends.

Focus: 5/5 This was one of only 3 products that has ever given me true "tunnel vision". I felt like all I could see were the dumbells in my hand and the mirror in front of me. It was like being alone with my weights and music.

Overall: 5/5 Absolutely one of the best preworkouts I've ever tried. I literally cannot rave enough about this. It has immediately jumped into my top 3 of all time (with c4 and og jack3d).

4/5

I have been reading some very good reviews on this preworkout and what they were saying about it made me want to try it. I was fortunate enough to receive 3 samples which I used for 2 workouts and I dosed it at 1 1/2 servings
for each of the 2 workouts.

Mixability 10/10
Mixed it in 20oz of water and 1 scoop of unflavored waxy maize and it mixed up perfectly. Nothing floating around or stuck to the shaker cup.

Taste 9/10
The flavor was Berry Eruption and it had a unique berry taste which was not to sweet and a nice change from the usual fruit punch.

Energy 9/10
Formutech did a great job with this because it only has about 130mg of caffeine per scoop and at 1 1/2 servings I was getting only about 200 mg but the energy felt much better than some of the VERY HIGH dosed caffeine preworkouts that are on the market now. The energy comes on fast but very smooth and never dies out during your workout which I loved.

Focus 9/10
This something I really love to feel because I train in the very early a.m. and just like the energy I was feeling focused through my workout.

Pump and Stamina 9/10
The pump was definitely there maybe not as extreme as 1 scoop of Hemavol but it could be compared to the type of pump one gets from 1 gm of agmatine. The stamina had me bouncing from set to set with very little rest and I was able to do more sets and reps with pretty much each exercise.

Overall 9/10
I am no stranger to preworkout supplements and I have many that I rotate and Volatile is one I will be definitely adding to my preworkout arsenal.
If you are stim sensitive 1 scoop should work great and if you are more tolerant to stims 1 1/2 should definitely be enough for an excellent workout.
This for sure one of the better preworkout supplements on the market now.

I definitely look forward to trying other supplements from Formutech but Volatile is one that will be replacing one of my preworkout supplements once I am done with it.




Formutech Nutrition Rep----------------Check out my CONQU3R log!:
www.formutechnutrition.com------------- http://goo.gl/G8a4Ss
www.facebook.com/fnutrition




TWITTER.COM/DJBEANPOLE


YOUTUBE.COM/DJBEANPOLEREVIEWS


DJBEANPOLE.COM

5/5

I'm a fan of NO booster, tried nearly all most popular no boosters (no xplode, no shotgun, xpand, pumped no and many, many other things) but none can compare with volatile, especially when you take 2 scoops. I LOVE IT




Formutech Nutrition Rep----------------Check out my CONQU3R log!:
www.formutechnutrition.com------------- http://goo.gl/G8a4Ss
www.facebook.com/fnutrition

Going to make this short and to the point sorry about that but this is one of the top supps I've tried you guys send me some samples a few months back and I loved the stuff great taste I know it says 32 servings but just putting my opinion out there berry eruption was a fresh and new taste to me great pumps and energy a solid 9/10 I need to get me more sometime I took two servings at once FYI great stuff I have a high tolerance for pres and most supps but this is great!!!