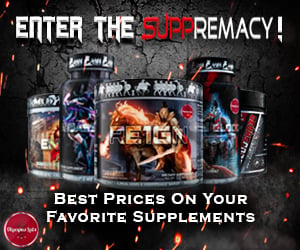 Manufacturer:
Body Performance Solutions (BPS)
Rating:
4.71
out of 5 stars, based on
7
total reviews.
Read all 7 reviews
Submit New Review
5/5

So ive been running the New and improved Dermacrine for some time now. onto my second bottle and im considering a 3rd! this stuff goes on easy, and dries very quickly. very clean both in regards to scent and no residue left behind. VERY effective!!! im running this stuff stand alone at 5 pumps ED and have had some major strenth grains. Libido is sky high while on, so if you're already a horndog watch out for this stuff!! i'll be using this as a test base for my next ds/ph cycle and im already 100% confident it will do its job plus some, based on what ive seen running it solo..
easy 5 stars!

Along with a test booster and possibly IGF-LR3 as a bridge between AAS cycles

I've been trying to find out if it and FormaSurge are suppressive I've seen mixed responses. But even if it is it will not be as suppressive as a AAS bridge and they will not effect my lipids like a AAS bridge would

4/5

I love this stuff. The gel smells great and dries almost instantly. You don't need to let it dry for anymore than 5 minutes at the most. The effects I noticed were improved concentration, improved sense of well-being, increased libido and increased overall confidence. I may have gained a little bit of strength but that wasn't anything dramatic. I really liked it for the mood benefits and concentration. That is where it shines. I just felt happy the majority of the time I was using this stuff.

I bought it thinking it was a lighter style prohormone w easy recovery, then everyone bashed it. I've heard everything from you won't gain much, to it's pure gyno/estrogen, it's a waste unless you use other prohormones w it. I was super stoked when I bought it, then most rained on my parade lol. I still haven't used it.

Has anyone logged this yet? I am interested in how they did

"I am not where I want to be, but I am not where I used to be"

4/5

I am currently using Dermacrine as a test base to combat lethargy and libido issues while on cycle and it is working very well.
Pros: dries quickly
No stickiness or skin irritation
Increases energy and libido noticeably

Cons: bottle is going fast; using four full pumps per day; not sure if it will yield as many servings as labeled.
Value is not bad but at 40+ dollars it's not a steal either but at least it works as advertised

Overall summary: this worked very well to combat lethargy and boost libido for me. I would love to use this very frequently but will have to use it only on cycle due to the price. Overall a good quality product!

This is a great product...I am on HRT so I get my blood taken every three months.... My test levels were 800 before using this product..I used it for two months went back for my normal blood work and my test was 1300... the only thing I changed in my routine was this product... so based on my labs this product simply works... for me anyway...

Mood increase, libido, I am cutting right now, so loosing fat but is it because of dermacrine I don't know, but at least you have some blood work to show it work. I am sittign at 215 do maybe would benefit from 4 pumps a day?