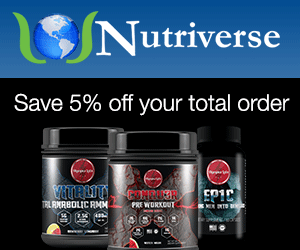 Manufacturer:
Black Lion Research
Rating:
4.56
out of 5 stars, based on
9
total reviews.
Read all 9 reviews
Submit New Review
I'll tell you what @brundel... I was skeptical about FD2 and have tried running it 2 times... first time I was doing a CKD and the second run was during an LGD cycle... both times I experienced nothing really noteworthy.

I've been on FD2 for 3 wks and am carb cycling and I think I really have my diet and training dialed in for what works for me.

I'm getting ph like results from the FD2 this time. I've dropped 6lbs and my squats & deads have gone up in both weight and reps. Vascularity and muscle pumps started this week.

I'll be running this for the next 6 months


Can't wait for @brundel anabolic he is working on.

Pro God, Pro Gun, Pro Life.

Something that offers gains beyond FD 2.0.......No way its legal!

Current Log: http://anabolicminds.com/forum/workout-logs/291581-officially-chasing-abs.html#post5714196


I know this is a big statement but dozens of guys say this and nothing else I know of can help you lose fat while gaining muscle. Especially while eating more carbs and more food.

BLACK LION RESEARCH Take your own path-


Plus...FD2 isnt just EC.
EC
Epi
Flos
Q/n co crystals
plus absorption.
VASTLY different.

BLACK LION RESEARCH Take your own path-



I originally bought the Ford Speranza EC looking for what a few have described as an in-the-pocket, in-the-zone, sense of well being. I stacked it with FD2 with meals to assess any GDA like properties. It's primarily marketed as a 8300 ORAC antioxidant and Glucose regulator 98.8% purity Full spectrum water-based extract, standardized to 15% phlorotannin polyphenols that's 40% fat soluble and crosses the blood-brain barrier.

Bottom line? Haven't dosed the Ford a few days now, redundant with FD2, getting my antioxidant needs met by FD2 and 12mg ED Bioastin Astaxanthin.

1/5

I just finished running 1 bottle of the FD2 and unfortunately it was a huge disappointment for me. Based on almost all the other reviews I was expecting to see some benefits in regards to body comp and potentially strength/exercise capacity... I am currently dieting and have actually lost almost no weight, nor has body comp changed measurably. Based on a diet and training style that ive run many times successfully over the last few years, this is a real bummer.

FWIW, I have not had luck with almost any -(-)epi supplement, but had hoped to see something more from this as it has some other ingredients, as well as what I expected to be a different impact from the extract/absorption/etc combo in it. For me, this was a 100% miss and I would not purchase nor recommend, especially considering the price tag.