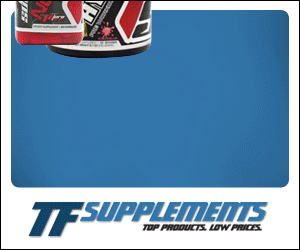 Manufacturer:
PES
Rating:
4.53
out of 5 stars, based on
15
total reviews.
Read all 15 reviews
Submit New Review


Regards from Poland guys
I really enjoy this product. After taking 1.5 scoop I felt energized and focused through all my workout.

2/5

Bought 2 tubs of this as part of a PES deal after reading all of the rave reviews. I have to say I'm disappointed... I had read about the epic energy, focus and pump but even at 2+ scoops I find it a bit weak.

Taste: 3/5 Fruit punch was pretty good, not great as it was a tad "medicine-y". I have liked it more each time and havent gotten to the blue raz yet so not gonna be too harsh here.

Mix: 4/5 Mixes pretty well but does have some sediment at the bottom of your shaker/glass. Even after sitting for a bit and more shaking it never really goes away but nothing awful.

Energy: 2/5 This was where I was really disappointed the most... I started with 1 scoop and didnt notice much of anything more then a light buzz. At 2 scoops after a protein shake I did have some energy but nothing like I had read. the way that I found works best for me is 2 heaping scoops, before my shake (empty stomach). This gave me pretty decent energy about 40 min after taking it but still not as good as I had expected. No crash, but thats to be expected when you never really get that "charge".

Focus: 1/5 Really didnt notice anyhting special here no matter the dose.

Endurance: 5/5 This was one area that did shine for me. I am using this during a cutting phase and zlmost 0 carbs so this is a big factor right now. I felt like I could stay at the gym forever and just never seemed to get tired.

Pump: 3/5 This is somewhat hard to gauge as I was usually on almost 0 carbs so naturally pumps would be fairly poor and short lived at best. I did seem to notice some nice vascularity but again, quickly faded.

Overall: 2/5 I'll be interested to see how the second tub goes and once I'm done cutting but at the moment I'm quite disappointed. Fortunately it was a stellar deal so I dont feel I wasted my money or anything and PES has many other great products that hav worked wonders for me.

This is currently my favourite pre workout. 1.5 scoops hits me pretty hard. 1 scoop of Enhanced + 1 scoop of Alphamine works great as well and takes some of the crazy intense edge off of Enhanced at 1.5 scoops.

Just FYI, I'm pretty stim tolerant, stuff like Hyde, Friction, etc. doesn't drive me up the walls, thus for such a low caffeine content per scoop in Enhanced, it's very powerful, surprisingly so.

5/5

Hands down the best pre I've had.Pumps similar to igf1.Energy similar to c4 at max dosage in one scoop.Honestly.Give it a try

You guys only do one scoop?

Amateurs....

Use code "fl3x10" to get a free shirt with your purchase at Mind and Muscle

5/5

First off these are the combos I've tried with Enhanced,

1. 2 scoops of Enhanced
2. 1.5 scoops of Enhanced + High Volume
3. 1.5 scoops of Enhanced + 16mg of Ephedrine
4. 1 scoop of Enhanced + 1 scoop of Alphamine


Profile - 10/10- Obviously this is a unique formula, very innovative ingredients such as L-Leucine Nitrate, C5D, high dosed Agmatine + to top those off with an amazing stimulant blend. PES set the bar on this pre-workout thats for sure.

Taste - 10/10. I love the Blue Raspberry, one of the best tasting pre-workouts I've used, mixing this with Alphamine is such a great tasting combo. Based on the taste of this product and Alphamine, I'm very much ooking forward to tasting their new protein release and new Citrus Splash Alphamine.

Pumps - 10/10, well I don't think their is many products that can match the pump effect that Enhanced offers since they added a high dose of Agmatine and L-Leucine Nitrate. This alone gives better pumps than most pump product, stacked with High Volume and omg it's insane.

Energy - 10/10. Enhanced never failed to deliver a steady supply of very clean energy. Even at 2 scoops, which seemed a bit much for me, the energy was clean and jitter free. I never experienced any sort of crash either.

Overall - 10/10. Enhanced is one of my current favorite pre-workouts to use besides Acute FX, love rotating both of them. Giving all 10's across the board because their is no other pre-workouts on the market that can do what Enhanced does, when it comes down to an overall look at this pre-workout, it offers everything.

Great job guys!

I havn't put up a review in a long time but Enhanced very much deserved it!

Just finished my tub of Enhanced, now jumping on the Alphamine train so I can cut some weight

Core Nutritionals Representative

Who cares about taste. Prob fav PWO throw in a little extra agmatine, citrulline and beta Alanine and g2g.

uh, I do. Do you know how many tubs of various pre workouts I've thrown away because of taste? a lot.

when I spend money on something, I want it to taste good, and work well. no matter how well it works, if it taste bad, I wont drink it. If I don't drink it, it isn't going to work.

I have experimented with various protocols in the testing phase as well as with the finished product.

Enhanced + 9g of citrulline malate produces no extra pumps or endurance compared to Enhanced solo. It is significantly more expensive yet yields no additional results other than a tangy taste lol.

There is no need for additional agmatine if using two scoops. If using one scoop than one capsule of our agmatine product is logical.

PEScience Representative
http://pescience.com/insider
http://selectprotein.com

Was just being a bit cheeky to jsals; seems like he made his own PWO on top of the one you guys put out! Made no sense to me.

BOARD TYRANT | TEAM GET DIESEL | GETDIESEL.COM
FeFiFo.com support
DIESEL TEST = Underground Kings of Test elevation!