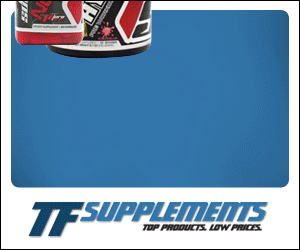 Manufacturer:
PES
Rating:
4.53
out of 5 stars, based on
15
total reviews.
Read all 15 reviews
Submit New Review
You guys only do one scoop?

Amateurs....

Use code "fl3x10" to get a free shirt with your purchase at Mind and Muscle

5/5

First off these are the combos I've tried with Enhanced,

1. 2 scoops of Enhanced
2. 1.5 scoops of Enhanced + High Volume
3. 1.5 scoops of Enhanced + 16mg of Ephedrine
4. 1 scoop of Enhanced + 1 scoop of Alphamine


Profile - 10/10- Obviously this is a unique formula, very innovative ingredients such as L-Leucine Nitrate, C5D, high dosed Agmatine + to top those off with an amazing stimulant blend. PES set the bar on this pre-workout thats for sure.

Taste - 10/10. I love the Blue Raspberry, one of the best tasting pre-workouts I've used, mixing this with Alphamine is such a great tasting combo. Based on the taste of this product and Alphamine, I'm very much ooking forward to tasting their new protein release and new Citrus Splash Alphamine.

Pumps - 10/10, well I don't think their is many products that can match the pump effect that Enhanced offers since they added a high dose of Agmatine and L-Leucine Nitrate. This alone gives better pumps than most pump product, stacked with High Volume and omg it's insane.

Energy - 10/10. Enhanced never failed to deliver a steady supply of very clean energy. Even at 2 scoops, which seemed a bit much for me, the energy was clean and jitter free. I never experienced any sort of crash either.

Overall - 10/10. Enhanced is one of my current favorite pre-workouts to use besides Acute FX, love rotating both of them. Giving all 10's across the board because their is no other pre-workouts on the market that can do what Enhanced does, when it comes down to an overall look at this pre-workout, it offers everything.

Great job guys!

I havn't put up a review in a long time but Enhanced very much deserved it!

Just finished my tub of Enhanced, now jumping on the Alphamine train so I can cut some weight

Core Nutritionals Representative

Who cares about taste. Prob fav PWO throw in a little extra agmatine, citrulline and beta Alanine and g2g.

uh, I do. Do you know how many tubs of various pre workouts I've thrown away because of taste? a lot.

when I spend money on something, I want it to taste good, and work well. no matter how well it works, if it taste bad, I wont drink it. If I don't drink it, it isn't going to work.

I have experimented with various protocols in the testing phase as well as with the finished product.

Enhanced + 9g of citrulline malate produces no extra pumps or endurance compared to Enhanced solo. It is significantly more expensive yet yields no additional results other than a tangy taste lol.

There is no need for additional agmatine if using two scoops. If using one scoop than one capsule of our agmatine product is logical.

PEScience Representative
http://pescience.com/insider
http://selectprotein.com

Was just being a bit cheeky to jsals; seems like he made his own PWO on top of the one you guys put out! Made no sense to me.

BOARD TYRANT | TEAM GET DIESEL | GETDIESEL.COM
FeFiFo.com support
DIESEL TEST = Underground Kings of Test elevation!