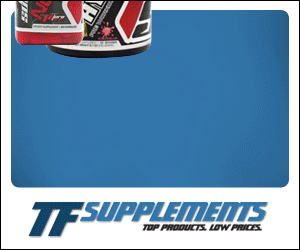 COR-Performance Creatine (50 servings)
Manufacturer:
Cellucor
Rating:
4.33
out of 5 stars, based on
3
total reviews.
Read all 3 reviews
Submit New Review
COR-Performance Creatine (50 servings)
Profile: solid idea behind the cinnulin and can't argue with Creatine Monohydrate.

Taste: pretty rough, tried to drink it with just water on the first day...saying it was a mistake is an understatement. It's rough, the cinnulin is strong and not in a good way. If you can drink this straight you're a beast. I mixed it with my pwo and I could still taste it.

Effectiveness: works well as you would expect from Monohydrate. I dosed it 5g Pre and 5g post as I usually dose creatine. As well as 10g with breakfast on my off day. Saw some gains in strength and size, nothing ground breaking but pretty standard as compared to my results on other Monohydrates.

Overall: what you'd expect from Creatine Monohydrate. Great idea with the cinnulin and it's helpful on a cut to not have to load with sugar but all in all pretty run of the mill.

5/5

PROFILE: A+

Simple profile, but effective nonetheless. Aside from the gold standard Creapure®, you get Creasorb™ to help with absorption, various electrolytes, Cinnulin PF® & Betaine Anhydrous. One proven form of creatine monohydrate, ingredients to help in absorption, & various ingredients to help in performance makes up the ingredient profile for Cor Creatine.

No proprietary blends, no fluff ingredients, no fuss. What more could you really ask for?


MIXABILITY: B+

Mixability wasn't tricky at all; in cold water you had some issues & in room temp water it mixed rather well. Most of the issues were some grit in cold water & slight foaming issues. Beyond that nothing major & you could even mix it in with a spoon.

5/5

I have tried several Creatine types and this one hands down was the best in my opinion. Bought on the special promo with the BCAA

Taste: Bark makes it rough all by itself. Not unbearable after the 3rd time doing it but definitely mixed with the BCAA makes it ok.

Mixability: Mixes with a light foam at the top. Some grit left in the bottom but a few swishes around the container gets them down the hatch.

Overall Value: More than worth the investment. Past formulas had me very bloated and I retained massive amounts of water. On this product fluid retention was increased, but not in the midsection. Legs blew up the most. I did lose definition but gained great strength as well. very full look to the legs and shoulders. Torso didn't seem to pack on as much but for me this was a good thing. Definitely planning on using again in the near future.