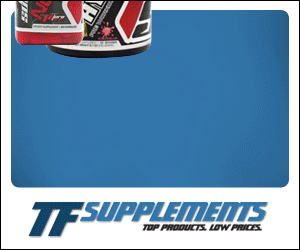 Manufacturer:
USPLabs
Rating:
3.5
out of 5 stars, based on
4
total reviews.
Read all 4 reviews
Submit New Review
All around great product. Increased my focus, drive, strength, and size. Couldnt be happier. Will use another bottle later on once I have the funds. Nice work with this one USP!

Taking this with compound 20 and condense after taking a stim break and running recourse. Started a tub of condense solo then added this with the second tub. Holy crap. Strength, pump, energy, and stamina are out of this world better than anything I've tried! Through first tubs going into round two with outstanding strength gains and size (fst-7 training jacked to the max program) adding oep to cut down a few pounds before summer!

5/5

Gave me insane pumps in the gym that would then last throughout the day, i was cutting when i used this so i did not see any strength or muscular size increase but i was able to maintain everything all my strength and size and always felt full and helped me lean out faster than i would normally on a regular cut.

3/5

Dosing: Took 1 capsule pre-workout or in the morning on off days and the pill size was medium and no weird smells. I ran two bottles (ICR), one with Anabeta and the other alone.

Effectiveness 7/10: What I experienced during my run was pumps, focus and a slight increase in hunger. I feel that this is a product that has to be stacked to get the full benefits. With that said, when I ran it solo I didn't notice any extra muscle gain or leaning outside the norm.

Value 5/10: This is a great product to add to your current preworkout as it tends to have synergistic effect. But considering it's $30-40 per bottle, that adds a buck for every workout for extra pumps and focus.

1/5. I bought this with high expectations and it didn't do crap! I'm disappointed in myself that I fell in the marketing scheme again. Screw this product.

4/5

Received two bottles from a co-worker, taken back to back. More mental focus and drive in the gym, Less lethargic around the house, and found myself drinking copious amounts of water. Overall, excellent product, great company. Worth the money.

2/5

Picked this up cheap through the inner circle release. I found no noticeable effects; good, bad, or otherwise. Disappointed.