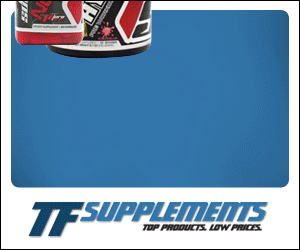 Manufacturer:
E-Pharm
Rating:
2
out of 5 stars, based on
1
total reviews.
Read all 1 reviews
Submit New Review
I used two bottles experimentally as I have been steady bulking for at least a year. I noticed during use my weight gain stopped and my strength(measured by new pr's) still grew and my body composition slightly increased. Slightly is very good considering I am at a higher bf% these days. Due to that I didn't notice much vascularity except some in the arms. Not much as far as pumps to report.

Overall I think it would be worth trying again, and I think someone with lower bf would benefit more. I will try again when I go to cut some bf in the future, just not what I am training for now.

Very original product that is easy to apply and I think it is worth giving a try. If it was a little cheaper I would have probably ran 3-4 bottles. It is competitively priced though for a quality product.

No number rating as they are relative to the time they are made; things change as time goes on.

Sent from my iPhone using Am.com

Training Log
http://anabolicminds.com/forum/workout-logs/271254-what-aw-hell.html
"Jackie Treehorn treats objects like woman man."