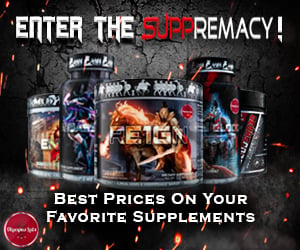 Joint Help (120 capsules)
Manufacturer:
iForce Nutrition
Rating:
4.33
out of 5 stars, based on
6
total reviews.
Read all 6 reviews
Submit New Review
Joint Help (120 capsules)
4/5

I just finished my log of Joint Help and can say that I am impressed with its' ability to control general inflammation. In the past I usually went with either Super Cissus Rx or Primaforce Cissus 40% Ketosterones and found them both to be effective. But, the only drawback to cissus products is that you have to take them for a little while to get the tendon or ligament relief you are looking for. What I liked about Joint Help is that the ParActin speeds this process up so you can get more immediate relief while the cissus builds up in your system. This has been a banner year for annoying injuries like a broken foot and a partially torn rotator cuff so I've tried everything to heal:
E-Pharm Joint Force
Peaceful Mountain Tendon Rescue
SuperCissus Rx
Cissus 40% Ketosterone
Green Lipped Mussel (Perna Canaliculus)
Glucosamine Chondroitin
Joint Help

So, yes it has been the cumulative use of many different products in conjunction with Joint Help, but iForce has a solid product here worth checking out.

4/5

I have a history of having horrible elbow pain. sometimes it is so bad it hurts to pick up my son. This stuff helps. Not a miracle, but does help.

4/5

Well I'm finished with the bottle and I still have the same shoulder pain I've had for years. I just think this shoulder might just need surgery and my PT said the ligament is done. This product did help with the annoying pain I had in my elbows and healing of my body in general. My joints felt lubed up so it was great. If you have extra $ to spend then I suggest you purchase this product.

5/5

I would suggest this product for any taking Erase on PCT.
Erase usually dries out my joints, but with JOINT HELP my elbow & knees were feeling much better. However I did take 6 pills (3 morning & 3 evening) to help with the pain.

thanks for all the positive feedback guys glad you all got something out of joint help

MAN Sports Online Lead Rep and Sales

http://www.nutraplanet.com/product/man/pure-pf3-free-fermented-leucine-limited-time.html
Like us on Facebook! Follow me on Instagram: Rob_MANSports

4/5

I was having a pain in my left elbow and left knee for several months without knowing it was a joint pain. After I would probably say it was kind of a friend or self diagnosis I did some research and decided on Joint Help. I also use their Fish Oil and Hemavol so I felt comfortable with iForce's product. The pain took a little over a week to really ease up but it finally did in the elbow. My left knee pain went away in several days. Next time it happens I'll know exactly what I need and I'm comfortable making a recommendation of Joint Help to friends and family.

5/5

I would like to start off by saying this product gets a 9/10 overall. It is the best Joint supplement I have used thus far. The only reason It got a 9 instead of a 10 is due to the price. I have had issues with my elbows since I started working out 5 years ago. I had a huge dirt bike accident as a teenager that basically re-arranged my right elbow internally. Also, My left elbow has frequent issues with some sort of nerve entrapment or ligament tangling - doctor still can't figure it out (not tennis elbow).

Anyways, here's my review:

Profile: 10/10

This product is great as it combines two unique aspects into one supplement. Cissus- which is great for joint support and flexability. Paractin- a light joint pain reliever that is nsaid free! The combo worked well for me keeping max ROM in my elbows, and pain to a minimum. I have had the best success so far with this product. I have previously tried: USPowders bulk cissus, Osteo Bi-flex, SNS cissus, Animal Flex, general Glucosamine/ MSM, and the Orange Triad MV with added support.

Value: 9/10

IMO this is the only downside to this product. I feel like $25 for a one month supply is rather high. If there was a way to buy a 6 month supply for say $18/ mo... I would never stop usage of this great product.

Highly recommend!

Thanks IFORCE!