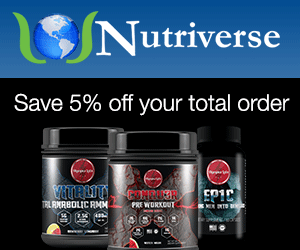 Manufacturer:
Gaspari
Rating:
5
out of 5 stars, based on
2
total reviews.
Read all 2 reviews
Submit New Review
5/5

Ok so I been lookin for somethin that didn't have 1,3di in it because all that stuff does to me makes me scared as hell and depressed. Every time I drove home or somehwere I always thought somethin was wrong with my car. Ya paranoia to the max and worst I always thought someone was in my house. So bye bye 1,3 for me. So I found this in my sample stash and liked the ing profile. After first dose I felt somethin up but not crazy just great energy. So I couldn't wait To hit the gym. Hit the treadmill and did not wanna get off, sweat so much and felt great. It's been 3 hours after my workout and I feel fanfreakintastic. This product gives no jitters, no crash and no paranoia for people like me lol got a few more samples and def usin them

5/5

My run with Detonate was everything I wanted! Before I started this I want to keep the fat and weight off while down here in Brasil. Last year when I was here I gained about 18 pounds and it sucks because I was looking my best. So before I came down I came prepared, I brought Detonate with me and another fat burner that I'll start later today(except a log as well) so the 18 pounds wouldn't come back. And it didn't!

It wasn't easy that's for sure. Staying with my grandma, she cooks everyday something new for lunch and dinner. When I go out I see all that yummy food. I'm sorta of cutting, trying to maintain my weight but every once in a while I ate some type of desert, sweet or Italian food. I'm only human and the food that we have here in Brasil there isn't any of it back in Jersey.

The biggest thing about Detonate that I have to report is the appetite suppression. Its HUGE! I normally wake up starving! But with Detonate that was NOT the case! I would go to the gym on empty stomach run, workout and come back to have lunch already waiting for me. I would have lunch at 1:30pm and I would only go eat again 6 pm because that's when I would take the 2nd capsule and I would remember to eat. I've tried a fat burner last year right after I got back to Jersey from staying here in Brasil a few months and I was using Lipo 6 UC... Detonate DETONATED Lipo 6 UC out of the water!

I read where people said they had a lot of energy after taking Detonate but with me it was more like 1st pill when I woke would wake me up almost immediately and the 2nd pill would make me completely alert through the day. That is good enough for me!

When I got down here in Brasil I was weighing 162 pounds. 2 days ago I weighed myself and I was at 156 pounds! Which is awesome! But since I was doing a lot of running I also lost a lot of muscle mass. My arms were thicker and my chest was bigger. I lost a lot. But it's fine, I was expecting that when I started running and doing a lot of cardio.

Couple of things I want to mention is that Green Tea Extract and Asian Ginseng. I respond to them really well. I'm big fan of Ginseng(thanks to reading an article on Bruce Lee), I like it when I see them on pre workouts. When they are not on my pre workouts I buy a separate bottle and take them together.

I paid $36.77. Is it a fair price? I think so. You are paying a little over a $1 for a fat burner that actually delivers! If you know how to use Google you can find it cheaper.

Few more things I wanted to report on this is that I only got very little jitters when I didn't eat for a long period after taking a capsule. And when I mean long period I mean 3 hours after. And I only noticed that one day when I was typing something on the laptop and my wrist was hurting I lifted my fingers off the keyboard and saw it. Oh if you are planning on trying Detonate make sure you drink A LOT OF WATER!! This is a strong fat burner people, if you don't drink your water you will be dehydrated!

I'm going to give Detonate a 9 out of 10. The appetite suppression was there, the alertness was there, the fat burning was DEF there. While others complain about not having energy and me not feeling it, it was still there because I wake up groggy and takes me a while to actually want to do anything after I wake up but 10 minutes after taking Detonate I was fully awake so that is good enough for me! Really great job by Gaspari with Detonate. I will DEF come back to Detonate if I ever want to lose weight again!