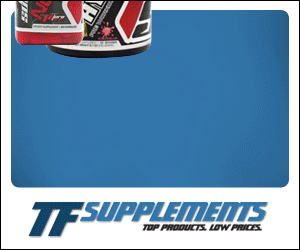 Focus XT Caffeine Free (30 Servings)
Manufacturer:
Serious Nutrition Solutions
Rating:
4.63
out of 5 stars, based on
8
total reviews.
Read all 8 reviews
Submit New Review
Focus XT Caffeine Free (30 Servings)
5/5

Final Thoughts

Overall, I would recommend the caffeine free version versus the original. There are many reasons for this. Limitless stack-ability, being able to keep your favorite stimmed pre workout without OD'ing on caffeine, and better taste are to name a few. I noticed a headache or two early on, but I feel this was due to stopping stims for this run. The headaches didn't last long and were quickly a thing of the past. I noticed with the original version that every day use started to have a slight negative effect on me. Just gradually got to a point (at the end of each tub), that I just didn't feel as good as the first week. I can't blame that solely on the original FXT, as it could have easily been my total caffeine intake. Regardless, you do not have to worry about that with the caffeine free version. And, imo, it's much easier to see the cumulative effects. I could only imagine the effects of running 2 or 3 tubs consecutively.

Honestly, I don't know why it took SNS this long to release a CF version. Either way, I'm glad it's here now. We just need to get some additional flavors on the market! I will never hesitate to recommend this product. Cliffs for this log.

-improved taste, better masking of raws
-improved ability to stay on task
-positive cumulative effects on mental clarity
-better sleep due to reduced dependence (and consumption) of stims throughout the day
-improved ability to multi-task

Thanks again, Coop. Another quality product from SNS.

4/5

Thanks to Mack for sending me a scoop of Stim-Free Focus XT. Taste was not bad, I think it was fruit punch. It mixed perfect without any particles left in the bottom of my shaker. The energy that it game was surprising due to it being non-stim. To be honest, without caffiene, I was thinking it wasn't going to amount to much. But I was pleasantly surprised at the energy to make me push out a couple more reps.

I wanna give a big thanks to my man Mack for letting me try out Stim Free Focus XT. Took it with 8oz of water 30 minutes before my workout. First thing I noticed was how easy it mixed. No foam, no floaters!! Taste was decent, not too sweet and not too tangy. Really started feeling it kicking in as I was changing into my workout clothes. Not like bam! Here I am, but more of a let's do this kind of focus! I'm not a fan of stims so I appreciated the fact that this was very mellow steady energy. The focus though, that's what should sell this product. The gym was packed but I didn't notice or care for that matter. I was in the zone and ready to rock out some reps. Had a great workout. Energy was there the entire time and focus was intense from the first rep to the last. Very happy with Stim Free Focus XT!! Thanks again Mack!!

5/5

first off would like to thank Mack411 for all his awesome info, help and this sample from his own tub. stand up guy right here

Mixibility: 4/5 ok so it mixed pretty weel, no chunks or clumps but like every other product, refill with a little more water after downing it and its all good

Taste: 5/5 freakin awesome taste. just how i like it, not so sweet like most flavored drinks and a hint of sour. i rather drink somethin a bit more sour than sweet. i did add more water than needed so that prolly why the bitter taste but i loved it

Focus: 5/5 fanfreakintastic focus. 15min after drinkin felt a warm feeling and when i got to the gym, i couldnt wait to hit treadmill. 10min pass like it was 1 min. half hour passes like it was 5min. u are so focused and happy its great. compared to n-pept 10 by lgi, this stuff was a lot more chiller. n-pept would be more for aggressive lifting instead of a cardio where u just wanna focus on happy thoughts than troubling life thoughts. ab workouts after was like insane. i wanted to keep goin and goin and not leave the gym at all.

Energy: 5/5 straight clean energy with no crash. this is the caffeine free version too and i havent tried regular but no need since i enjoyed the energy out of this

Endurance: 5/5 made me wanna keep goin on treadmill and ab workouts. ended up goin extra time and just felt great

overall: 5/5 next pay check, gettin 2 tubs. i cant imagine my workouts without a scoop of this stuff. everything just feels perfect. some things have been goin downhill for me lately and was depressed but this just made me happy all day. i cant even wait till im back in school and see how this is with studying. like i said, compared to other harder notrops, this one is by far the best

4/5

Wanna say thanks to Mackdaddy for giving me the chance to try this product; SNS creatine monohydrate is easily the best out there buck for buck so I had high hopes for this stuff.

First thing, took 1 scoop pre on an empty stomach in addition to my normal routine right now, 1 scoop hemavol, 2g taurine and 750mg additional agmatine, 1 scoop compete intra. MIXED PERFECTLY in 10oz water and TASTE WAS INCREDIBLE. I doublechecked to make sure it was sugarfree; never had a pre taste so spot on. Top notch.

Hit the gym half an hour later, only had about 45min to thrash some biceps before a hot night out later. Never really noticed the onset of this product directly, kept waiting for something. As I continued to curl, disappointed, I started to realize the Pantera in my earbuds getting louder and sounding more savage than I'd ever noticed... somewhere in the workout I just zoned in on the music and really got into pumping the iron. Driven to the task at hand; Focus is a truly apt description.

No strength/performance/endurance gains of any kind; no crash or jitters; no big bang of 'on/off' like a true preworkout, just straight attention and focus to whatever the task at hand is. Does what is says and nothing else with zero sides; I'd really love to try 1.5 scoops as I think at my weight it may need a bit more.

At $21 a tub on Lockout the price is very reasonable per serving, especially for anyone who can't or doesn't want a stimulant or creatine-based workout aid. Will def get a tub sometime soon to play with on cycle.

A big thanks to Mack for sending me a sample of stim free Focus XT. I wasn't expecting much as I'm a stim junkie but I was shocked.

Mixing - 8.5
Mixed great with 10oz water quick shake and it mixes right up!

Taste - 8
Taste is good actually. A little string tart wise but I think a bit more water would help.

Focus - 8/9
The reason being is I was very skeptical and this **** hit me. I drank half on my way to work and quickly noticed the focus when I got there. I just drank the rest just now after a meal as I had a long drive and the sensation I got earlier today was there the same. I'm very attentive, not tunnel vision but a good mental clarity I think describes it best.

Actually looking forward to a stim break after trying this out.

Thanks Mack

Bean's 1st contest prep (Lecheek last 8 weeks)

4/5

I will first say I love both versions of this and depending on your needs I think one may be better suited over the other. I really like stacking this with existing PWO's, the added focus is a big bonus and mind muscle connection comes easier and is stronger when stacking. This version however for me does have a down side, with the lack of caffeine taking this solo as a PWO or in combination with other nootropics like racetams I fins my self getting a bit lethargic and a mental fog. I with out some form of stimulant I miss out on the benefits of this product. So at least for me if I'm taking this solo or without stims I would opt for the original version, but gald to have the option when I want to stack with PWO.

5/5

Ok I want to thank Mack for sending me a sample of the stim free version! The taste was good and it mixed great. I actually took it before I had a bunch of landscaping to do around the front of my house. I used the normal version of focus XT and it was great, the caffeine mixed with everything definitely gives you a brain buzz but the stim free version has the same focus as the stim version, just without the buzz. It was such an intense focus that all of a sudden I was done! Time flew by like crazy. I looked at the front of my house and the first words that came out of my mouth was damn, this stuff is the s**t!! I don't care what version you try, if focus is what your looking for you got it right here! Amazing product! A staple for me all the way now, thanks again Mack!

5/5

Mack was generous enough to hook me up with a scoop out of his own personal tub. Probably best tasting supp Ive ever had! Bout like drinking koolaid.

I had been awaiting the samples for awhile, so when I noticed it in the mail couldnt resist. Took it about 715pm, 45 min pre-w.o., then added 1.5 scoops condensed (300mgs caffeine). Had a really good workout, very focused on the exercise at hand, and had great mental stamina. Could have worked out for at least 2+hrs I felt like without breaking the mental intenisty.

The beauty of the caffeine free is it is so versatile. WHEN not if I do order, it will probably be caffeine free for this reason.

Now, a side note. As great this was pre-w.o., it is was only one aspect of rating this. BC this is not my primary interest in FXT. It is the long term, day to day cognitive uses that grabbed my attention. I have some cognitive deficits that can make day to day life pretty frustrating at times. On top of that Im asked to be mentally sharp being able to know, comprehend, recall and verbalize a lot of information, sometime on a moments notice,and frequently in front of large crowds. I love it, but it presents its challenges. So,take that FWIW in this review.

Is it great for a workout? Yes. Tastes amazing? Yes. Versatile? Yes. Would you purchase? YES!

This works. I used thi for my test I missed lasted year and blew it out the water. My focus and memory made it easy. I honestly felt my mind open up. Will definetly be used or future tests. Take about7-10 days to really feel it working. When coupled with a pre workout, the combo in unstoppable. Great product SNS.