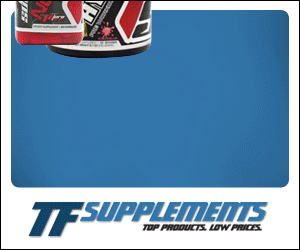 Manufacturer:
Formutech Nutrition
Rating:
4.9
out of 5 stars, based on
10
total reviews.
Read all 10 reviews
Submit New Review
5/5

The addition of Beta Alinine, Glutamine, and Creatinol O Phosphate are teriffic. Muscle endurance in better due to no lactid acid build up and this is the first BCAA product I have actually been able to notice the effects. On a cut this is a mandatory to keep muscle waisting away and on a bulk keeps those muscles fueled. It wont leave my arsenal.

5/5

What can I say, tastes great, mixes better than most bcaa products, and the face tingling about 5 mins after pounding this lets you know that beta alanine is kicking in. I found with this and Volatile combined pre workout, I have some trouble ending my workout in a reasonable amount of time as I keep wanting to add extra sets.

5/5

Ok to me a bcaa product is a little harder to do a final review on. It's not a product you get energy or much focus from, but where I did notice endurance was the stamina it gave in the gym and the recovery between sets. I noticed I could workout faster due to the fact I was not needing to rest as much.


Endurance is hands down the best tasting bcaa product I have ever tasted. It mixes excellent as well. Neither of these do I expect to notice in a bcaa product. Formutech did it right with endurance


I would highly recommended endurance to other forum members. I already have my buddies on it along with volatile. Both are now staples in my workout routine.

5/5

This stuff tasted great! No contest this is the beast tasting bcaa i have had! It mixes well with little effort. It's a great combination of ingredients. As far as effectiveness, I was noticing reduced fatigue and I also seemed to have less DOMS, which i am usually all kinds of sore after demanding WODs, but that wasn't the case, and if was sore after one it didn't last more than a day instead of the usual 3.

I had 3 samples sent to me. I was disappointed when I saw it was Melon flavored. Artificial melon anything tastes horrible to me.

I mixed two samples in 32oz of water. It had a light blue color like blue koolaid. Well...it tasted pretty outstanding! Good job there. It tastes refreshing and it made me want to chug it.

I got through 15 minutes of struggling to put a multiply suit on just to try on and then ME deadlifts. Mixed in some ands and chains and ended up with a top end of 525 from a deficit. Hit up some snatch grip pulls and front squats. It was a long day. I was feeling strong the whole time, especially after a week off completely.

Endurace may have played a role in the stamina, it may not have-it was only one sample. However, it tasted amazing and I'm sure a full tub would do its job.

Controlled Labs Board Rep

[email protected]

CONTROLLED LABS products are produced in a GMP for Sport certified facility.

5/5


Tastes great, lets me push harder in workouts and recover faster. Can really see a noticeable difference

5/5

Formutech Endurance Melon

Taste: 10/10 No matter how many times I added water to it, the taste stayed amazing. Reminded me of Midori Melon Liquor

Mixabilty: 9/10 No problems there. Used my blender ball, shook like crazy, and it was good to go. Typical foam, and floaters like other products

Performance: 10/10 Even days when I didn't use a pre, my workouts were a breeze. I had never used a C-O-P containing product, but I believe that is what gave me the boost to keep going on reps.
- I also did 65 mins of elliptical one day, with most of it being pretty high intensity. That is unheard of for someone who hates cardio as much as me.

Recovery: 10/10 Did 10x10's lots of volume, and had very minimal soreness.

Overall: 10/10 Great flavor, mixes easy. It did exactly what it was supposed to. I averaged 1800-2500 calories and was taking fat burning supplements, and Endurance helped keep my muscle from being wasted away.

5/5

Ok,so I just feel like I had to take the time to write a quick review on this product,I usually don't write reviews unless I log the product or they just really stand out in a good or bad way,so this one had to be done.This has turned into my go to BCAA product every since I tried a sample of it.I used to use the og Xtend,but since not being able to get it as easy,I started looking at new products and I was lucky to find this one.

Taste:
I have always had the Melon flavor,which I personally love,I have not tried another Melon type product that was near this good.The flavor stayed with my water after refilling my jug at the half empty point!

Mixability:
It did mix up pretty well,it had some very light foam on top as most BCAA products tend to,it also had a good bit of particles and floaties throughout my jug no matter how much I shaked it,but in no way were they chunks or clumpy,so it did not bother me or affect this product in my eyes!

Profile:
As I stated above Xtend used to be my go to,after searching for a new product to try,and reading so many profiles,I found this one.The profile is very solid,it has the same amount or more of every ingredient I was using prior and was looking for,along with some extra goodies including Beta Alanine and Creatinol-O-Phosphate,both of which I really liked to see added and I believe have made this possibly the best BCAA product I have used to date!

Effectiveness:
BCAA products seem to be harder to guage sometimes,but when you find one that works well you will know it,and this product has done wonders for me.I usually mix 1 scoop in my jug of water for intra workout,if I am not training that day I will mix it in my jug first thing in the morning and drink on it through the day until gone.I really liked this product used intra,it was one of the few BCAA products I could tell was doing something.It gave me great endurance,and I feel like I could just keep going all day long.I actually did catch myself going way longer than the time I had to spend in the gym,and on many occasions I had a great cardio session after maybe an hour or so of hard lifting,and it felt like I was just getting warmed up.I have seen some recovery benefits from this product as well,able to hit more sets and do more,and being able to get back in and do it sooner than I would normally.

Value:
I think it is a good value for what all you get and the benefits to obtain from this product!It is $27.99 here at NP,which is less than $1 per serving,and for a product that works great and does as it claims,you cant ask for more!

Overall:
I would absolutely recommend this product for anyone looking for a solid BCAA product,or anyone who needs an extra drive to make it through the end of a session and help to avoid fatiguing so easy!I am so happy to have found this product,it is now my go to BCAA product and Formutech Nutrition knocked it out of the park with this product!

5/5

The taste can be best described as eating a slice of freshly cut watermelon. I had completed some workout challenges at work such as 500 push ups and 1000 ( 4count ) flutterkicks. Needless to say endurance bcca kept me going and the next day the soreness was non-existant!

5/5

Taste:10 never tasting anything like this in a supplement. was delicious watermelon flavor.

Mixability: 9 One of the best mixing bcaa products ive ever tried, possibly the best

they add in COP, citrulline, and Beta Alanine making it much more then just a bcaa product. Really good in my opinion

Taste: 5/5 i like melon and loved the tase

Mixabilty: 4/5 typical foam, and floaters like other products. Used blender bottle and shook the piss out of it.

Recovery: 5/5 ability to push harder with quick recovery

Overall: 4/5

10/5!!!...wait what?

Did a full review and video supplement log on the product! One of my FAVORITE BCAA products I've ever used! That means its up against Xtend, Core ABC, and a lot of other TOP level BCAA products!

Link to my entire supplement log:
BEASTIN IT!!! With Formutech ENDURANCE!!!!!

Links to my entire supplement vlog youtube series:

Vlog #1


Vlog #2


Vlog #3


Vlog #4


I just picked up a couple containers of ENDURANCE this week and I cracked one open today so I will be posting a review for it
in a couple of weeks once I've used it a few times but so far the melon flavor is very good.

On behalf of Formutech, thank you to everyone that has given great reviews. Keep your eyes on Formutech...

*****Mind and Muscle Ambassador.....Use code AM10 to save 10%off your order

www.youtube.com keyword SuppTalk Radio

5/5

I have been reading some great reviews on this product and I put one of Formutech's supplements to the test earlier this year which was Volatile and I enjoyed that very much so when I caught a sale on ENDURANCE I didn't hesitate to grab a couple of containers and I've been using it as my intra-workout bcaa's and loving it.

Mixabilty- 5/5 1 scoop with 20 oz of water mixes
extremely well. You get a little bit of foam
at the top which is expected but after you
let it sit for a few minutes it's gone and you
really don't have to shake it anymore.


Taste- 5/5 The flavor is melon so I assumed it was
going to taste like watermelon but I was
surprised because it actually taste more
like a honey dew melon and it actually
makes sense because the powder mixes up
into a green color which kind of resembles
the inside of a honey dew melon. I really
enjoy the flavor and even in 20-24 oz of
it still has a strong flavor that's quite
refreshing to drink in between those really
grueling sets.


Profile- 5/5 This little bad boy is not just bcaa's and
a little citrulline malate it also has a few
other ingredients to help with stamina and
recovery which after using for over 2 weeks
I am feeling less soreness after some tough
workouts where I utilize a lot of different
high intensity sets in my weight training
workouts.

Overall 5/5 I highly recommend this BCAA supplement
and not just for taste but for overall effects
which I have been enjoying for the past few
weeks. I actually picked up 3 containers of
ENDURANCE but I ended giving away a
container to one of the guy's that I help
with training,supplement,and diet advice
because he was looking for a new bcaa to
try and I definitely wanted him to try
ENDURANCE so I'll see how he likes it once
he starts to use it.

So far I am liking everything that I've tried
from Formutech and a Level II review is
coming next so stay tuned.

5/5

First thoughts on opening the tub – It smelled like… tea. Nothing similar to that lipton tea bag smell, very 'homey'. Kinda smelled like my grandmothers kitchen.
I first mixed with cool water in 25 ounces of water.
It tastes just like it smells; like tea. At first I thought it tasted like a canned tea with a hint of lemon. Not overwhelming sweet and not overwhelming tea-ish. I was really focusing on placing the exact tea taste that I didn't focus on whether I could taste artificial sweeteners. This is good, because if it tasted fake then it would have shown itself to me without me trying to look for it.
The taste never got old during my workout. I even added 12 more ounces of water when it was half empty and it didn't have a watered down taste, really.
My wife does not drink aminos because of the taste of artificial sweeteners and flavorings. She likes sugar, and she likes her tea.
I gave her one sip while we were walking in the gym. She said it tasted like the tea you would find at a family gathering in a large tub with cut up fruit (she specifically said watermelon, but when I said I thought I tasted lemon she said maybe, with a watermelon aftertaste).
She tasted it once more and said, "it's very refreshing".

This one does it all for me. It mixes great, taste isn't too sweet and no odd aftertaste. I give my word that I'll be ordering more... as soon as I see a deal I'm on 2-3 tubs. It's a nice change from the punches and fruity flavors.