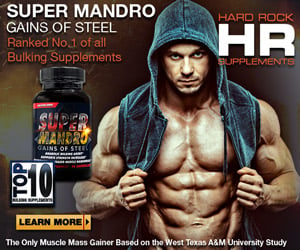 Manufacturer:
NLA Performance
Rating:
4.82
out of 5 stars, based on
10
total reviews.
Read all 10 reviews
Submit New Review
5/5

I've been training for 28 yrs and pretty much have tried everything out there. Supp- D is by far the BEST. Not only does it get me through my workouts without a crash, but it allows me to push harder then ever before. I have notice very good gains in just one month!!! Even better when you stack with there product Swoll-N~~~

4/5

I can't comment on the taste because I mixed it in with my Endurance like I typically would with Volatile. Where I think this pre really steps up to the plate is in the focus category, I had tunnel vision like a mofo and really nice mind-muscle connection. Energy was good, not over stimmed at all. Muscle fatigue seemed to creep in a bit faster, but nothing too bad.

Great review man. The new SUPP-D will come in 2 flavors which both taste great and will have extra Agmatine sulfate to combat muscular fatigue. The reason we have SWOLL-N is to give you huge pumps and combat muscular fatigue when taken with SUPP-D.

Formutech Nutrition Rep----------------Check out my CONQU3R log!:
www.formutechnutrition.com------------- http://goo.gl/G8a4Ss
www.facebook.com/fnutrition

5/5

when taken with swoll-n and t-blast as part of the ultimate stack, supp-d really shines. i ran out of supp-d before swoll-n, big drop off when taking swoll-n without supp-d. so far supp-d/swoll-n is the 2nd best preworkout combo i have ever tried. it is 2nd only to og mesomorph/creatine nitrate which i don't think are available anymore...and given the difference in price i would have to rate supp-d/swoll-n as #1!!!

price is important to me, and when i find supps that work this good at a very good price i am hooked!!!

i have 4 bottles of swoll-n....i am waiting for the release of the supp-d v2...more stims/more pump/better taste, can't wait!!!!!!!!!!!!!!

ICONIC FORMULATIONS REPRESENTATIVE

use code THEBIGT for 25% off

4/5

This product really surprised me, normally with a pre workout I take more than the suggested dose to get the stimulant powered session that I desire. I was blown away with what one serving of Supp-D did fo me. Within minutes my body was tingling and I was ready to tear up one hell of a chest day. It really pushed me to my limits and kept me focused through cardio. The only negative that I found was the taste.

Overall aside from the taste this was the most effective pre workout that I have used as far as drive, energy, endurance, and a great stimmed feeling. Can't wait for the new flavors!

New Flavors are now available for purchase on our website!

I love a preworkout that brings attitude and this delivers it. Then you throw in a solid pump factor and it goes over the top. The new flavors should take things up another notch.

Always open light. Itís not what you open with, itís what you finish with. Louie Simmons

5/5

A huge thanks to Justin & all the guys at Team NLA Performance for picking me to log the Ultimate Stack!!!

I started the stack halfway into my 8-week Anabeta/DAA/AD-3 stack

1.5 scoops treats me kindly. Itís the fastest acting PWO Iíve ever tried. Mix it up, drink it down, & by the time I get into my warm up, Iím already rockiní! Taste could be improved on Ė so Iím looking forward to whatís in store for ver 2.0.

Supp-D is top notch & would definitely recommend Ė

Bonus tip: Supp-D, Swoll-N, & Hemavol Ė PWO - the god of thunder personally comes down from the sky and knocks out your heavy sets for you - loved it

5/5

This is really the only pwo that I've found to work for me and man does it work. I got the original flavor which isn't real tasty but I've heard really good things about the new flavors. But to me, flavor isn't an issue when you have something that works this good. It puts you right in the mood to workout even if your dreading it. The focus is the biggest selling feature to me, Supp-D puts you in the zone for some serious lifting. I also like the increased vascularity. It really makes your veins pop. AND ALL THIS WITH NO CRASH. Assuming I don't build too much of a tolerance to it, I have no desire to use any other pwo.

Ya the new Cherry Limeade and Raspberry Lemonade flavors taste amazing and both are available on NutraPlanet!

4/5

I have been taking Supp-D 4 times a week for three weeks. I have shared with you all that the focus, motivation and endurance are awesome. Now I am reporting that my residual vascularity has improved. It is most noticeable on my upper forearms and my pecs into the shoulder areas. Better fullness throughout the day as well. Supp-D is a keeper!

5/5

After going through my first tub of Supp-D this will now be a taple in supplement stash. I love this stuff the focus and endurance you get its crazy. Not too heavy stimmed where it effects performance just nice smooth long lasting focus and energy

5/5

One of my Favorite drinks is Cherry Lime-aid @ Sonic !! When i heard NLA was coming out with a Cherry Lime -aid Pre workout i was totally excited!!

i was so satisfied after the 1st try!!!

ENERGY: My level of energy was off the chart. I work 12 hour shifts and when i get off it is hard to train for my meets but Supp-D sustained my energy through entire workout with out a crash!!

FOCUS: MY mind stayed on track and was focused 100% on task of lifitng heavy!!!


I give the new Supp-D 5/5 rating ~~ and it get Team POWER & inTENsity's approval!!

5/5

Switching scheduals has been tough but honestly the supp-D has been my crutch and does get me primed and ready for those early 6:00 am cardio & weights.


Taste: Good. (very subjective) I am still enjoying the Lemon flavor. Sometimes at this point I have shelved other products or lost interest but Supp-D is going strong. Swoll-N is a capsul so n/a.

Effectiveness: Yes, very much. I am seriously impressed. It's been some time since I've felt a supplement to this degree.

Cost to performance ratio: Great ! considering I found Supp-D & Swoll-N individually for $20 a combo for $40 is an easy buy, if on sale.

Side effects: My first use I found I had like a low blood sugar feeling, which may have been from something unrelated to the products since I have not had that again. The flavoring, although very much acceptable, seems to vary. No headaches, No stomach distress or upset. No crash after or post work out let down. I find I don't need a morning coffee and there is no afternoon drag.

Recommend: Yes.

Thanks for the review brother!

5/5

I have alot on my plate these days and by the time I get to gym, I need focus and energy. My workouts are long at 1.30 to 2 hours of weights. Supp-d has never disappointed me. Even when I was feeling down, it gives you that lift that make you push hard with focus and energy. Your body does get use to it, but that's true of all preworkouts. But even toward the end of the tub. I was still pushing hard. Its has all resulted in a great month for me in term of gains in all areas. I think price wise and effect wise , NLA has done a great job!!!

Thank you for the review! Glad you enjoyed positive results from SUPP-D!

5/5

I recently tried Supp-D and have to say it literally blew away my expectations. I've tried numerous other pre training supplements and they were either too strong, not strong enough or left me with a bad crash. Supp-D was perfect! Great energy without the "cracked out" feeling. Drive to add another rep or cut my rest time each and every time. I never built up a tolerance either. The focus was amazing as well seemed like I was the only one in the gym. The only negative for me was the lemon taste of the Rasberry Lemon flavor but then I've never been a lemon fan. I feel great and very confident in recommending Supp-D to anyone looking to leave it all in the gym!!!

Thanks for the review and the detailed log!