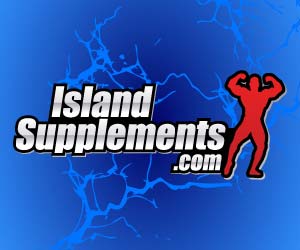 Manufacturer:
NLA Performance
Rating:
4.69
out of 5 stars, based on
16
total reviews.
Read all 16 reviews
Submit New Review
I am currently following a low carb diet where a couple nights i have a carb dinner and fast the next day until the afternoon. I do HIIT very early in the morning. What I noticed is the morning after my carb nights with 3 caps and SUPP-D my pumps nd endurance is incredible. The pump and endurance on the mornings that I hd no carbs the night before are less so I'm going to boost to 4 caps. I'll post my results

AB is also slightly larger than most mortal beings so 4 caps is necessary. Lol

Always open light. Itís not what you open with, itís what you finish with. Louie Simmons

I also don't hold back from Carbs lol

Purus Labs Anabolic Titan/Rep
Coach AB @ BossBody.net
Puruslabs.net

I took 3 caps in the beginning too , but now 4 is the standard for me!!! Got that im goin to pop feeling!!





Team POWER & inTENsity approved

Curious to try this product. How can you compare this guys to noxivol by ctd labs? Both are describe as to help nitric oxide production. Iv tried noxivol so far great for pump and muscle endurance.

Noxival has no nitrates and most importantly it has no Agmatine Sulfate. Agmatine Sulfate and Nitrates are the most efficient, quickest producers of Nitric Oxide.



If you wanna get the best pumps of your life. Stack our supp-d and our swoll-n for the most intense pumps. NLA has just added a lot more agmatine to our supp-d so if you stack that with our swoll-n your getting well over a gram of agmatine + 600 nitrates. Lifes Good my Friend! NLA will Pump You Up!

Thats nice, but supp-d contain dmaa ryt? I thought lots of supplement company banned this ingredients? Is it harmful?

Ok great tnx, coz i just read some other website there that it contain 1,3dmaa. Its nice to stack this with swoll-n

Ic im not aware on that, theres. Og and new formula of supp-d im just new to this company. Ok il myt try that nxt on my stock so far saw lot of positive reviews, just wonderng why bb.com in forum they dont mention this stuff or myt be underated products. Should i use only 1scoop of supp- d? Im 6'1 amd 178pounds

5/5

Got chosen for this product a few weeks ago.

I wanted to run this product for 1. convenience 2. versatility and 3. skin ripping pumps

Now there is nothing more convenient to a college student with a job than carrying 3 pills in my pocket or backpack and taking a sip of water to knock em back with before going to the gym. So convenience was a winner.

Versatility. Not having any stim makes this product the perfect addition to most preworkout stacks. Try it with many other products and it shines through. Especially with those stim heavy products yall know and love.

The pumps. Obviously the main reason why anyone would look into such an agmatine and nitrate rich product. The pumps delivered from the first dose and just got better as time progressed. Those nitrates do the trick I even forgot to take them once or twice and I was still pumped for the day.

All in a all a solid product I was lucky enough to be chosen for. Even with my recent affiliation with NLA this is a strictly unbiased review. Hope it helps if not go ahead and look at my log and peek at the posts from the beginning, should be able to see for yourself.

Thanks Shane and Justin, yall are my bros!

Airborne- uncapped huh?!? What a great idea!! I have a couple caps left so I will try it your way and post up my experiences in the gym!!

2/5

Unfortunately I didnít elicit any response to Swoll-N.

I tried by itself, with a PWO, after a high carb meal and unfortunately nothing. Not sure if it is because I my body fat is not in the single digits but unfortunately a pass for me.



I train fasted so there's not really any carb trick to taking it like other product.

Are you taking it everyday?

Double S:

My BF% isnt in the single digits but ive been on Swoll-N for about a yr now.. I know when im on it i feel like im goin to pop!! And the tightness lasts for a couple days .. I love it!! Nothing is a wonder drug. it takes time to get in system and give you results. Sorry you feel it didnt work for you !!



JMarshall, NSCA-CPT,CSCS,DVRT
National and World Champion Powerlifter
Team POWER & inTENsity



Fueled by NLA Performance, Clothed by Unbreakable Gear, Tuned by Muscle Trac, Geared by APT Pro Gear

"Choice of Champions"
Similar Forum Threads
By Meister in forum Cycle Info

Replies:

178

Last Post:

11-25-2011,

01:02 PM

By swollen87 in forum Supplement Logs

Replies:

34

Last Post:

09-18-2011,

04:59 PM

By nosnmiveins in forum Cycle Info

Replies:

196

Last Post:

09-23-2008,

09:08 PM