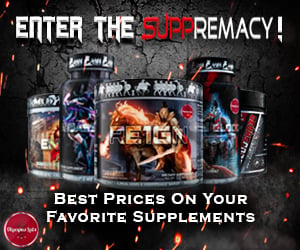 Manufacturer:
NLA Performance
Rating:
4.69
out of 5 stars, based on
16
total reviews.
Read all 16 reviews
Submit New Review
5/5

This is probably my favorite NLA product that I have tried. On arm days I can't get enough during my workouts. I throw in extra sets just to get an even bigger pump. Fullness and vascularity are through the roof. There is no better feeling for me when I have the same pump and fullness hours after I leave the gym. This product pushes me to push myself to get the most out of my lifts. Try throwing in some heavy shrugs for an awesome pump in the upper traps! There are very few companies that I enjoy getting supplements from and that I trust but I have found a few new staples from NLA and couldn't be happier with the samples that I have received. Thanks for the opportunity.

5/5

A huge thanks to Justin & all the guys at Team NLA Performance for picking me to log the Ultimate Stack!!!

I started the stack halfway into my 8-week Anabeta/DAA/AD-3 stack

This stuff is where the magic was at with this stack for me. The first couple times I took it, the pumps were so intense that it actually hampered my performance. Vascularity greatly increased. Started seeing veins pop out that I didn't know where there – always nice

Bonus tip: Supp-D, Swoll-N, & Hemavol – PWO - the god of thunder personally comes down from the sky and knocks out your heavy sets for you - loved it

I tried the samples a couple weeks ago but officially started my SWOll-N & Supp-D PWO stack yesterday. My HIIT workouts have been incredible. At the end of every HIIT workout we have a finisher and I never have enough left to complete it. Today I blew through the finisher and wanted more so I hit the weight room. I really expect this PWO stack to help push me to my goals.

5/5

Swoll-N final review:
Wow!!! I got ahold of this product from a owner Kevin. I felt this product immediately! I started off with 3 caps them worked my way to 4 uncapped which I found hits way harder and faster. I noticed dense muscle pumps with increased vascularity that lasted half the day! The price is amazing for what you get. Also what I noticed is an increase in endurance which was the biggest plus for me Seeing how that's what I lack on. Not only will this be in my arsenal... It's the only product I will use when I take a stim break as it has been most effective. Adding it with Focus XT caff free is where its at. Very versatile product! Great job NLA and thank you for the opp to run Swoll-N!!!

I am currently following a low carb diet where a couple nights i have a carb dinner and fast the next day until the afternoon. I do HIIT very early in the morning. What I noticed is the morning after my carb nights with 3 caps and SUPP-D my pumps nd endurance is incredible. The pump and endurance on the mornings that I hd no carbs the night before are less so I'm going to boost to 4 caps. I'll post my results

AB is also slightly larger than most mortal beings so 4 caps is necessary. Lol

Always open light. It's not what you open with, it's what you finish with. Louie Simmons

I also don't hold back from Carbs lol

Purus Labs Anabolic Titan/Rep
Coach AB @ BossBody.net
Puruslabs.net

I took 3 caps in the beginning too , but now 4 is the standard for me!!! Got that im goin to pop feeling!!





Team POWER & inTENsity approved

Curious to try this product. How can you compare this guys to noxivol by ctd labs? Both are describe as to help nitric oxide production. Iv tried noxivol so far great for pump and muscle endurance.

Noxival has no nitrates and most importantly it has no Agmatine Sulfate. Agmatine Sulfate and Nitrates are the most efficient, quickest producers of Nitric Oxide.



If you wanna get the best pumps of your life. Stack our supp-d and our swoll-n for the most intense pumps. NLA has just added a lot more agmatine to our supp-d so if you stack that with our swoll-n your getting well over a gram of agmatine + 600 nitrates. Lifes Good my Friend! NLA will Pump You Up!

Thats nice, but supp-d contain dmaa ryt? I thought lots of supplement company banned this ingredients? Is it harmful?
Similar Forum Threads
By Meister in forum Cycle Logs

Replies:

178

Last Post:

11-25-2011,

01:02 PM

By swollen87 in forum Supplement Logs

Replies:

34

Last Post:

09-18-2011,

04:59 PM

By nosnmiveins in forum Cycle Logs

Replies:

196

Last Post:

09-23-2008,

09:08 PM