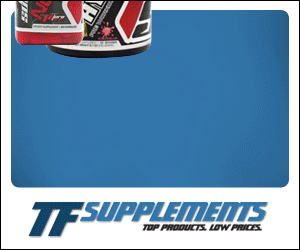 Manufacturer:
Advanced Muscle Science
Rating:
3
out of 5 stars, based on
4
total reviews.
Read all 4 reviews
Submit New Review
5/5

I ran Joint Fixx while on SD and it worked better than I ever expected. My joints felt better on-cycle than before taking SD. Joint Fixx is the real deal!

1/5

I went through 2 jars of this stacked with Super Cissus and I got no joint or tendon relief. I was taking this for some tendonitis but it didn't help at all.
The color of the caps were purple and the jars that I am seeing now the caps are yellow so I don't think there is any difference just a different color.

I did read some pretty good reviews on this product and that's the reason I decided to give it a try but it might work for some but unfortunately it didn't do anything for me.

3/5

Bought a few to try from NP on special. Seemed the goods from reports back from a few guys so bought more & ran it myself.
Run at 2 morn or night & 2 before my workout (my work & workout times vary daily) I saw some quick & pleasing results. I also take joint support products containing msm, glucosamine etc daily for cartilage and connective tissue health. The Joint Fixx has become a handy top up.

Pros:
helped with tight tendons/connective tissues & dry joints
some anti-inflammatory action
Cons:
I had to up the dosage to 2 + 2 to notice a difference, which makes it reeeally expensive at full price.

Good product, but expensive for me.
Similar Forum Threads
By no reason in forum Anabolics

Replies:

49

Last Post:

06-21-2012,

08:49 PM

By Royd The Noyd in forum Company Promotions

Replies:

38

Last Post:

03-25-2012,

06:53 PM