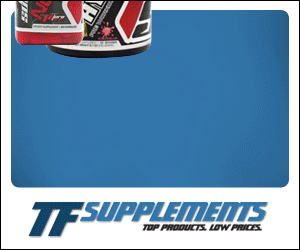 Manufacturer:
Lecheek Nutrition
Rating:
4.55
out of 5 stars, based on
20
total reviews.
Read all 20 reviews
Submit New Review
5/5

on it's own at 2 scoops it rocks, very good stim effect and improved endurance, pump is better than average also....it also contains pikatropin-google it, great for focus/concentration/mind, muscle connection. combine this with oxyblack and this combo is worth it's weight in gold!!!!!

ICONIC FORMULATIONS REPRESENTATIVE

use code THEBIGT for 25% off

5/5

Have a lack of motivation getting through your workout, have your gains stopped because you've been lifting half-assed.

Are you in PCT and want a little extra test boost. If you answered yes to any of these things. Then Speedx3 has everything you need in a pre workout. The stim effect is amazingly clean and the focus is intense. The only thing will be you and your weights and nothing can stop you from getting all kinds of gains.

5 of 5

I love this stuff. Day 4 and each dose keeps getting better. Great energy, focus, endurance and pumps.
The watermelon flavor smells and tastes like jolly ranchers

All posts by mattys4 are the result of a very creative imagination and should not be considered advice nor taken seriously

5/5

Man I have been wanting to review this amazing product. To be short this has been my best and favorite Preworkout to date. Lets review this epic stuff!

Quick summary:
Very strong!
Works every time!
Great taste
Mixes very easy!
Buffers lactic acid.

SO What the heck is this great stuff you ask? Well Its Lecheek's New Ultra concentrated Preworkout called Speed x3. And let me say when they say concentrated.. they didn't lie!

Ingredients: NA
I'm not getting into the whole Prop blend thing. I do not have a problem with them I understand why they do it. If I had a company such as this I would not let anyone know what and how much I'm putting into this. Its Marketing people!.

I will say however that from just what I have read on the label and how well this works they nailed it almost perfect!.

EFFECTIVENESS :9
I want to give it a perfect score but Its not perfect, its as close as one can get though.
This stuff works every single time I used it. I started with a huge heaping scoop. BIG mistake, I was like a ADHD kid off his med's in Toy's R'us.! I went down to half a scoop the next time and have worked my way up to about a heaping scoop now.

The breakdown.
Focus: 9 . Best focus I have had from a PWO ever, its that simple.
Energy: 9 Great clean and calm energy NO CRASH is the best part too!
Lasting Power: 9 . I swear with the added Beta Alanine in it ( that you can actually feel) You will workout harder and longer than ever before.
I cant say it enough, this stuff is legit.

Dosing 9
Very small scoop, Mixes so very easy, I think cray mentioned that just pouring it into the water and its basically done. Well that's pretty much it. This stuff also hits fast too. I can take it walk out the door and drive 8 mins to gym and already feel the tingles. Pretty amazing really.

Pump: 6
OK yea I got some great pumps while ON this but I can say its FROM this. I have never had a PWO create PUMPS before. I did workout harder on this so THAT will produce bigger pumps.

VALUE 9
Right now the average is about 24 bucks a tub for 40 servings But as strong as this is you can get way more than that out of it, if you are like me that is.
Also On Nutraplanet right now you can Buy more than one and get it for 17 bucks a piece. At that price WOW what a great deal. I mean you are getting something that works every time and has long lasting energy and focus, You can not go wrong with this stuff.!

Overall 9
I do not like to give straight 9's for something but this deserves it in my eyes. If you have not found one you like and one that truly delivers I suggest you try this!.

Thanks again to Lecheek for letting me take part in this and try the supplement, Lecheek is really doing awesome on the products they put out. ! Thank you .

All posts by mattys4 are the result of a very creative imagination and should not be considered advice nor taken seriously

I started with a huge heaping scoop. BIG mistake.

I started with two leveled scoops - EVEN BIGGER MISTAKE !!! I experienced such an enormous surge of energy and drive that I almost overdid it in the gym, this stuff makes you really "crazy" - geranamine loeaded stuff doesn't even compare with this as that s..t made me just wired and tired.
Now I use 1 scoop preWO and half a scoop intra it's perfect. Superb focus, no wiredness no crash ...

5/5

Taste: 5/5. just like the older version, this stuff tastes awesome. so many times i wanted to just mix another one just for the taste. this by far is the best tasting preworkout hands down. if you guys ever decide to change it, DONT!!!!!! its perfect the way it is

Mixability: 5/5. easy to mix, no extra foam or left over powder at the bottom, just plain and simple. 5 seconds of shakin and g2g

Pump: 9/10. one thing i always look for most in pwo is pumps. this had me pumped like crazy all day. i give it a 9/10 because i had a few days where i didnt feel anything for some reason. maybe it was cuz i didnt do the 2 hour empty stomach rule. other than that, i had pumps that last hours and even all day. sometimes even had those painful ones where you cant even finish the whole workout lol if u want pumps, this is ur product

Focus: 8/10. only reason the 8 is because sometimes i was too focused and i thought about some deep personal things too much. i also had a family member pass away this month and i kinda felt a little depressed for a couple days. but this stuff makes u focus like crazy, i get to the gym and the weights are all i wanna see and lift. between sets all u think about is next set, next workout, next whatever as long as it has to do with weights. also when u hop on the treadmill, wow!!! u do not want to get off. and brng some musik with u cuz u just drift outa reality and see urself running in a desert or a field and just sprinting

Strength: 9/10. strength was pretty good. start of the cycle nothin too crazy but as it kept goin, strength started to come. extra sets, extra reps, extra workouts, it starts to happen out of no where

Energy/Endurance: 10/10. i was so surprised with the new formula because the old had 1,3di and that stuff makes me go crazy. this new formula is actually better. energy is a lot more clean and u can function on it. crash rarely came, u can pay attention at skool or work and its not jittery.....well once u up the dose. 2 scoop i did a few times and it got real jittery like my hands shook for a bit but days like those my strength went up. really like the formula

Overall: Lecheek snapped with both of these awesome products. especially the new formula considering i never like new formulas. great stack and products. this stack is awesome for a cut, recomp, or even a clean bulk. loved the ingredient profiles in both especially the daa in speedx3, always enjoy an extra test boost. with proper diet and even my improper diet, u will see great results. i am about to pick up some more AD-3 soon just to have and love the prices on these.

Nice review reps coming your way

All posts by mattys4 are the result of a very creative imagination and should not be considered advice nor taken seriously

5/5

Ok,so first off I want to thank Matty and Lecheek for the opportunity to log speed x3!

Sad to start it off this way,but an ingredient in this product did not react well with my body!That being said,i do not respond well to yohimbe which is an ingredient in speed x3.Please dont be alarmed,or think it did something scary terrible to me because that is far from the case.I simply just dont handle it well,it affects my appetite and diet to much for me at this point in my training.That being said,im very upset this has to be the case because speed x3 was and is one of**the most top notch overall pres i have tried,and ive tried a lot.It has some values and benefits ive yet to find in another.So I will not be rating it based on my reactions from speed x3,but yet that of the products results and if it produced!

Taste/mix ability:
Taste is the first thing we all notice when using a product for the first time.This tasted amazing.I had tangy watermelon as a flavor and the best way I can describe it is like a jolly rancher.It also mixed very well in any amount of water,whether just a few ounces or 10.Never leaving any particles or residue what so ever.

Dosing:
So I played with the dosing a good bit,started with 1 scoop.Moved it everywhere from 1 scoop to 1 3/4 and found that 1.5 was my sweet spot and at only about 10 minutes pre.

Pumps:
I had some amazing pumps while on this product,I honestly can not attribute them all to this as I used a pump product with it multiple times.But I can say that it was better than before I was using the speed x3.

Focus:
Ok,so here's where this product blew me away.I have honestly never had som much mental focus in the gym.This product took me back to feeling like I was double dosing craze for the first time I ever used it?I literally can say I got tunnel vision at times,but I don't mean a dizzy spaced out feeling.I mean I was so focused and in tune with what I was doing the rest of the room seemed to fade away.I never wanted to leave the gym after I had done my full routine planned,and sometimes I didn't.

Energy:
I had great energy from this product.I will say it may be a bit strong for some though.Its a very strong energy which I love to feel from a pre.I have used many many pres with the highest stims available,and can say this one is at the top,and beats most of them with ease.

Value:
This is another strong point.I can get this at nutra planet for $21.79 ,and there are sales on it all the time.So that's 30 servings for me at 1.5 scoops for $21.79. Yeah,I would say its an amazing value to say the least!

Overall:
Yes,I would recommend this product.It is a great pre and takes the focus and energy to a whole new level.I will say it is extreme,so it may not be for beginners or the stim sensitive people.I loved what this product had to offer me and am so upset to have found out I don't react well to yohimbe.As this was for sure gonna be one of my go to pres for the future.But I will say,I will still use this product,it just seemed that after a few weeks of build up it bothered my stomach.So I can and will throw this in the mix on occasion.One other thing is I am not sure why there is daa in it,it is not the proven amount to produce results.So that was a bit different,but hey it worked,and overall was a very good,strong pre workout!

5/5

When I saw the amount of powder in this tub, I was a little taken a back. But when I felt the power of just ONE scoop, I was amazed. 40 servings will actually mean 40 workouts with this stuff. I know that nobody will be dissappointed in this pre-workout. Great pump, great energy, focus, strength. It is all there.

And for the ridiculous sale price at NP right now, everyone should have several tubs.
I am ordering another one this week.
Thanks lecheek!

4/5

Just cracked a tub the other day and have used this product twice now. Raspberry lemonade tastes fantastic. Mixes great and goes right down the hatch smooth.

Impossible to be sure since I'm on cycle and getting stronger every week regardless, but this product itself didn't appear to help endurance or performance any really. That being said, I was awake and ready for my lifts without feeling over-stimmed. Also, yohimbine and synephrine often last far too long on me and I'm uncomfortable for hours after taking them, but this products effects were very mild and tolerable in that regard. I could workout hard and then go home and relax comfortably.

This product adds a really enjoyable experience to the workout and gets you in gear after a hard day at work before the gym with no crash later. Taste and mixability are perfect and so is the price. Can't go wrong with LeCheek here if you need a quality stim to get in the gym.

4/5

Lecheek Nutrition is one of my latest.

Speed X3, Flavor, raspberry Lemonade.

Recevied a 2 sample packet and used it over the last 2 days.

Taste - 4/5. I have used other lemonade flavored product with Strawberry, Raspberry etc but was not happy with the flavoring as they tasted artificial. I actually liked this batch

Mixability -5/5 12 oz in a wire whisk shaker bottle, no clumps/residue

Energy 5/5 - I like the fact tthat one scoop did not over stim me and I also liked a thermogenic feel I got. Could be that I was working legs and generally "overheat".

Crash - no issues

Price- priced well amongst competitors

Would I use this again - I definitely would.

Only negative I have is many companies offer free packet samples which contain 2 servings. I love this but it is always hard to evenly dose them, how about a seam in the middle of the packet where each serving is properly

Would also like to see the caffeine content listed on the lable.

5/5

My initial thought upon opening this was "there's no way a little scoop like that can deliver" WRONG!! I never had to go above 1 1/2 scoops and never built up a tolerance. My energy was fantastic (10) focus was great (9) and taste was delicious, I had the Tangy Watermelon (8.5). This in my opinion is by far the most bang for your buck that you can get in a Pre Training Supplement!! Give it a shot and you'll see why it's an award winner!!!

5/5

From smooth, great taste to effecive strength, endurance and energy SX3 is number one. I usually cycle my PWOs every two weeks but SX3 is always the one I cycle with. It is the constant that I am not willing to change at this time.

Geat flavors and excellent mixability. If you have not tried it... get it - you will not be disappointed.

3/5

I had 1 serving of smooth apple before today's upper body session. I never got that rush of energy or intense focus that I was eagerly anticipating. I found though the that energy subtly progressed as I trained. Halfway through my workout I was adding more sets because I didn't want to stop. The greatest benefit that I experienced was pumps! My arms blew up after one warm-up set. The pump did not last much longer than my workout though. I truly enjoyed the flavor and the fact that there's no artificial color in the ingredients. Overall I found this to be your average mildly stimmed pre-workout product. If I do use it again it will be because I love the apple flavor!

Where can i purchase more speed X3 for the price of $17.93 ??? i went to lecheek website but you can't order off of it..

I would just like to make a comment about samples.I know it must cost a lot of money between product,shipping plus administrative costs to give away product plus I am sure some people just want free samples and never buy,but I like most if I try something good I am buying it.If I had not received that sample of HYPER I never would have bought those 2 tubs .I love the product but I also take speed X3 and will continue to rotate the two and sometimes mix them together. The point here is if you have a really great product you must send out samples because I was not even in the market for another pre-workout supplement but when I tried it I was convinced it was for me.I do think the PEA and Hordene makes the difference because I always responded to that stack plus when you add all the other stuff it makes for an awesome pre-workout. I did mix equal amounts of Speed X3 and Hyper and it was like taking Focalin and if any of you know what that is you will understand what I am talking about..Kudos to Performax labs and Lecheek nutrition for great products...

3/5

First off, I want to thank Lecheek for the opportunity to log Speed X3. Unfortunately, I don't think this supplement is for me. I think I'm sensitive to Yohimbe and the amount of Yohimbe in there was just too much for me. There is also a third stimulant of Synephrine HCL, making Speed X3 very potent. I only took a full dose (1 scoop) on an empty stomach once. I experienced extreme energy, my heart was pounding, and I remained on edge for quite a while post workout. During the workout I felt like I was running around a mile a minute. The tunnel vision was so intense that I wasn't even able to jam to my music. With Speed X3 being touted as an energy supplement, I was hoping that it would be versatile enough to take for cardio. However, I was unhappy with my experiences when taking with cardio. Anytime I ramped up the intensity, my breathing and heart rate seemed to get out of control. Therefore I only used it for steady-state easier cardio days. I also don't recommend using Speed X3 when you know you'll be exercising in hot temperatures. There is a definite thermogenic effect with this product. When I dosed it close to a full scoop, I noticed a warm sensation at the start of the workout and increased sweating throughout the rest of the workout. After taking for a while, I did find my sweet spot with the supplement. I would start by taking extra caffeine (50-150mg), .5g Beta-Alanine, 1g Taruine. Then a little later, I would take half scoop Speed X3 with 20-25g whey. Mixing it with whey seemed to minimize the negative side effects for me. Unfortunately with a half scoop, I wasn't getting as much of the performance enhancement properties, just pure energy. No matter the dosage, I always experienced great endurance and recovery during lifts. I always had plenty of drive left at the end of workouts. For me, I enjoyed Speed X3 the most when I took longer rests between sets ( > 90 secs), otherwise my heart rate would get out of control and I would feel like I was running around. I cannot say it helped much for pumps because I was normally dosing it at a half scoop. I didn't experience any extra rage while taking this. On some other PWOs, I feel like I want to run through a brick wall, not with Speed X3, just extreme energy and tunnel vision. I was able to see some performance gains while on Speed X3. I never experienced any crash.

So to sum it up, I'll give it a 3/5. My sensitivity to Yohimbe really decreased my satisfaction for Speed X3. Although, it makes a really good value when dosing at a half scoop. However, I am looking for a little more in a PWO than just pure energy. If you are not sensitive to Yohimbe, I would definitely recommend giving this a try. This would also be a good alternative to Red Bull.

Here is a like to my full log: Bringing 3x the Aggression with Lecheek's Speed X3

5/5

This is one of the best pre-workouts I have used.
The taste was good, mixed easily and gave me some good clean energy that lasted through my entire workout.
Never felt overstimmed and was able to go to sleep at night with no problem even though I took this late afternoon.