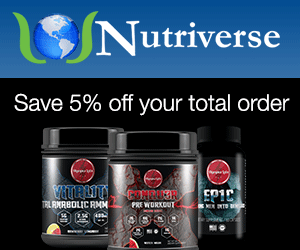 Manufacturer:
USPLabs
Rating:
4.57
out of 5 stars, based on
21
total reviews.
Read all 21 reviews
Submit New Review
2/5

5 star on energy 2 star pump -1on sides
the energy on this was awsome i wanted to keep goin. the pump was less then nothing . the worst part is u crash was so hard i felt like hitting the floor 3 hrs later. Never buy again and i felt like i was sick the next morning each time

5/5

**Taste/Mix-ability... Fruit Punch... USP has dialed in their flavors. Much better than a lot of the regular Jack3d flavors. I actually enjoy sipping on this (2 scoops in 10oz cold H2O) before my workouts. I also got to taste 2scoops of Lemon Lime... holy [email protected]+ it tasted amazing.. like lemon lime gatorade

**Smooth, Clean energy... not cracked out on stim's... not tweaking... just consistent energy all the way through a workout. (I found myself doing shorter breaks between sets... down from 45sec-1min to 15-30secs... so definitely increased intensisty)

**Pump Perfection and Vaso as [email protected]#$... I typically stack a pre-workout with a NOs to get a solid pump in my workout, so I judged how good a pump was based on my prior experiences with pre's and NOs. Micro exceeded any pump i've ever had with the combo, every workout. Upper body days had skin tearing pumps and leg days were just flat out brutal... painful because the quads and hams were so pumped.

Im not an incredibly vaso guy, but my vascularity has increased so much since starting Micro. Road map type veins in my arms and biceps, as well as veins in my shoulders now too.

**PR's... dropping like flies. IDK what it is but my weights have been increasing each week on Micro. More so than usual.

**Slight thermogenic effect... I sweat a ton as it is, but my workouts on Micro got me dripping with sweat. Really makes for a solid post workout cardio igniter.

**POST-workout... No crash!!! After 2 scoops, one hell of a workoutin 60mins & 40mins of cardio I would expect to crash on most stim heavy pwo formulas. Not on Micro. It's awesome bc I train fasted in the mornings, so I'm no longer dead to the world after a workout.

Micro to me is like a breath of fresh air after trying any and every pwo formula in and under the sun. I work at a supplement retailer in the KC area have tried just about all the major hitters in the industry. I know whats out there and I know exactly why Micro is so much better than all the other pwo's out there. I highly recommend Micro. At 34.99 you are going to get a quality pwo supp that delivers every time. I use 2 scoops each workout so that will last me a month (I train 5 days a week x 2 scoops per workout x 4 weeks in a month avg= 40)... so overall not a bad price for that.

Here's a video I made too for my final review of the Jack3d Micro beta I got to do.

Jack3d Micro Review - YouTube

And a link to my beta log:
http://usplabsdirect.com/forum/topic...-perfect-pump/

5/5

I've been using my IC release bottle since last Monday... I have to say I am very pleased and surprised with my results. I am surprised mainly bc I Have sworn off powdered pre workouts for years, but the ingredient profile was too great not to try...*

The CLEAN energy, focus, pumps, vascularirty.. All extremely legit and noticeable.. I also do hiit cardio 2-3 times a week and have noticed my lungs are much more cleared and open and functioning at a very high level... I'm loving it :) for the first time I'm Not embarrassed to be wearing a tank in the gym :)

A little story-*
Just the other day, I took micro 30 mins prior to a workout but ended up getting side tracked and didn't make it to the gym for about two hours after ingesting.. Well about 60 minutes after ingesting, my whole body was pumped and rock solid.. I felt like i had already lifted for the day! About 90 mins after taking it, i was fidgety, like i needed to move! I couldnt wait to get to the gym and unleash! When I finally made It to the gym, my energy and strength was at a record high, especially after a busy, stressful day! I powered thru my workout and was sad when I finished! I was enjoying it THAT much!

Mixability and taste are perfect IMO.*

I would recommend this to the biggest of pre workout skeptics.. Results from day one.. And I'm on day 12 and still have the same effects as the first dose at one scoop per workout. This will definitely be a rotating/cycled staple!

5/5

Ive used several preworkouts and this has got to be my favorite! The energy is super clean and lasted me throughtout the whole day. I took it and was ready to go within 10-15 minutes! It also has a great taste and mixability. I actually enjoyed drinking this before my workouts as I was waking up, instead of just chugging it down. No crash, no jitters, just ready to hit it and go during the day.

Jack3d Micro I would say is overall a good product if you are looking for extended energy taken on by a more synergistic approach. I didn't feel too much at first taking the product since I am so used to stimulants but I actually stacked it with Jack3d and had insane workouts!! Overall I'd recommended this product it is a great nitric oxide

5/5

I have to admit that I was skeptical about JACK3D MICRO..but it has lived up to the USPLABS standard!! I still get the same great energy and focus without all the jitters!! I am very impressed and the fruit punch flavor is AWESOME!!

5/5

Hello- My name is Colby and I would like to give you all a 100% honest feedback on Jack3d Micro. First off- I have tried nearly EVERY single pre-workout on the market. I was introduced to USPLabs original Jack3d from my cousin nearly two years ago. I am an experienced lifter and compete in Power Lifting events, and am experienced with supplements. Needless to say when USPLABS launched Jack3d Micro I jumped on a bottle and was simply amazed. The bottle is VERY small and the scoop was even smaller than the first Ultra Concentrated formula of the original Jack3d. I like to dose 2 level scoops right as a walk into the gym, it hits me that fast. Mix-ability- Product dissolves nearly instantly, no clumps. Taste- Wow, actually tastes like Kool-Aide. Zero complaints here Performance- Believe me- this product DELIVERS intense, skin tear results. The focus and drive+ the pump are what stand out to me the most. There are no "Jitters" or burning sensation in this formula- just a clean long last flow of raw energy. NO CRASH! Jack3d Micro is perfect on its own but..

I sometimes like to make a ****tail with it. 1 Scoop USPLABS Test Powder 2- Compound 20 2 Scoops Jack3d Micro Unleash your inner Alpha.

JackedMIcro

■Training changes/Performance- The performance I had while on JackedMicro was out of control. I hit major PR's including 26 plates for 8 reps on the leg press following a brutal leg workout (Never gone past 20 plates) and a final squat of 495 in the gym.
■Bodyweight changes- I was already in the process of losing weight but I hit a total record weightloss of 22 lbs since June 23 though the middle of the beta!
■Bodyfat changes- OMG! I have gotten much leaner and harder than ever before. I'm on the verge of my abs poking through the final layer. I can't wait because i will then reveal the final product. I will then move to getting even tighter.
■Strength- HUGE STRENGTH GAINS!!!! I set PRs on almost all my workouts! it felt awesome! USPLABS are my staple products and I totally belive in the synergistic affect I get from them.
■Focus/Euphoria-Best focus and euphoria out of any product I have tried, I plan on running it again for my next build up to competition or for the euphoric feeling to push through following a brutal day at work!
■Pumps- Constant and killer! I can't express how nice of a feeling I get from JackedMicro!
■Size-Getting more defined and detailed than ever before! I'm loving it!
■Vascularity-Getting more and more veins in my chest and shoulders. This tells me I'm getting leaner and more sliced!
■Energy- Extreme with no crashes!
■Sleep- Couldn't measure this due to 7.5 month old comepeting with this measure

To add to this USPLABS stands by thier products. In my opinion I will always and forever will utilize their line. Their straight up with their consumers and I have yet to be dissappointed in anything they have marketed.

5/5

My favorite supplement is Jack3D original formula so when I heard Usplabs had another formula to run as an alternative I was pretty skeptical...After 4 weeks on the Micro I can honestly say its Legit! Great Pumps, I increased my arm size by 1.5in on workout days all while training fasted. Clean energy that never ends, Kicks in about 10min after taking on an empty stomach..BIG PLUS! Broke 3PR's while using and coming off a summer cut. - I'm planning on cycling them both. They are both SUPERMODELS, so why pick just one?

5/5

This is by far the most amazing pre-workout supplement I have ever taken. My journey with USPlabs all started with the OG Jack3d 3 and a half years ago! I had taken many pre workouts before the OG Jack3d, but nothing had ever compared to the intense energy and focus like OG Jack3d! When i first heard USPlabs coming out with a NEW jack3d, I thought to myself no way in hell it would ever top OG Jack3d! well, I was wrong again! This stuff was INSANE! I swear to God, every time i would take it, my workouts would get better and better, What used to be PRs were now warm up weights! the pump was intense, the focus and energy were PERFECT, the taste was amazing! what else could you ask for in a pre-workout? If your hesitant about buying it, just do it, I promise you won't regret it!

5/5

JACK3D used to be the go to for my FTP Renegade Session each morning - now it has something to compete with...micro gives such a great energy and feeling of invincibilty, I feel like I could train for hours and hours! Amazing product with no late afternoon crash!

5/5

I was lucky enough to be one of the beta testers for this ridiculous product. First dose got me hooked!!! The pumps are just absurd from just 2 micro scoops and when stacked with test powder you are getting that double dose of agmatine in there which is even crazier if thats even possible. I preferred taking about an hour after a meal which would also be about an hour after taking test powder for best results/effects. Taste was great too!!!

5/5

This product has been my new staple in my workouts. Although the feeling of tingles and jitters are a good feeling to me, I believe that this new formula it a tad bit better. Smooth kool aid flavor, no jitters, no tingles or itchy feeling from the beta alanine, and most of all NO crash. Like i tell the other brothers, its just pure animal RAGE.. I broke several prs, mostly impressive was my 485 seated shoulder press... I have not seen anyone in my gym attempt something like this, but I just had to... sure enough, with the help of this little guy, and my modern bcaas, i pushed the so called impossible feat... my only regret is not getting a video of my lift.. that would be something to post up here..

Micro, has my approval... just reading everyones log about breaking prs, and setting new records, i dont see how anyone wouldnt give this product a try... its been working great for me and with the absence of dmaa/geranium you still gonna get the same rush in my opinion.. here is a great stack...

HULK STACK
Jack3d Micro
Test Powder
Prime
Anabolic Pump
Powerfull
Modern BCAAS
SuperCissus

5/5

After using this supplement I am really feeling great changes in me and these are allowing me to say positive things about it as well. It is a great preworkout supplement to be used by people in order to have a great workout and the best results as well.

5/5

Loved jack3d micro! The energy is clean and smooth, the performance is incomparable, huge pumps and veins popping out all day long! And the best part is that it didn't affect my sleep schedule at all. Honestly it was more than I expected! Great job USPLabs

4/5

i give this 4 stars instead of 5 because to me the stim effect just didn't cut it...that being said i thought the pumps were decent, better than jack3d. but where this product shines[imo] is is muscle endurance-jack3d micro is the best lactic acid buffer i have ever used....set after set of reps to failure muscles kept coming back for more. if you are into intense training sessions then you might want to give jack3d micro a shot.

ICONIC FORMULATIONS REPRESENTATIVE

use code THEBIGT for 25% off

4/5

As far as mixability, taste, and rate of inducement, Jack3d certainly rates a 5, overall though, I have to rate it 4/5.

Dosing with only 1 scoop produced absolutely no noticeable changes in energy, pump, vascularity, strength or focus.

Dosing with 2 scoops produced increased energy, though I would feel a noticeable decline in said energy within 20 mins of onset of workout.

Jack3d appeard to have no effect on either pump or vascularity with 2 scoops.

Focus is usually strong, so again, no noticeable changes with 2 scoops.

Strength has increased greatly, but due to the inclusion on further USPLabs supplements (such as Test Powder, Prime, Compound 20 ), I can neither credit nor discredit Jack3d for this increase.

As far as any "crashing", I often feel extremely tired within 4hrs after my workout, but I don't feel that this is a "crash", but rather a natural affect of the the extreme amount of energy that I expend during my workouts (I prefer high intensity).

Would I use this product again? I'm usually highly resistant to most Pre-Workout Supps, so the fact that I could see any kind of increase in energy (however short-lived), and without Stims to boot, I'd have to say yes, I will use this product again.

5/5

Pump: AWESOME. Felt it from the start of the workout and it lasted for a couple hours after my workout.

Taste: Fruit Punch tasted pretty good

Mixability: Mixed great. Didn't have to fill my shaker up a second time to get the leftovers.

Energy: The energy wasn't like what you get from most preworkouts with that in your face energy. It was just the perfect amount for me. The energy was clean and helped a lot with workouts.

Overall: As usual USP Labs did not disappoint me with this product.

4/5

Mixability - 5/5: Practically dissolved when pouring the water in. Stirred the spoon a couple times...done!

Taste - 4/5: Bitter, but good! - I don't use much water, so the bitterness is expected.

Energy - 3/5: Smooth. No jitters. Kept me going for a while, and still feeling subtle effects after 4 hours.

Pump - 3/5: Definitely better than with nothing, but not the strongest pump I've ever felt. Muscles were dense and full. Better than most pre-workouts.

Endurance - 4/5: Muscular endurance was minimal, but cardiovascular endurance improved a good bit. I ran an easy three miles, and could have kept going. Lowered my time by 20sec/mile. 1min in total!

Overall - 3.5-4/5: I used two scoops. I believe three would yield far better results in relation to pump, bumping the score up a bit.