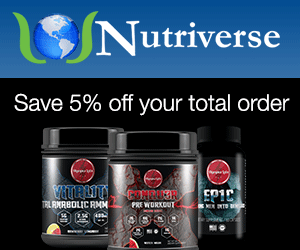 The MAN Up Stack (Nolvadren-XT & Prometheus Rising)
Manufacturer:
MAN
Rating:
5
out of 5 stars, based on
1
total reviews.
Read all 1 reviews
Submit New Review
The MAN Up Stack (Nolvadren-XT & Prometheus Rising)
5/5

FINAL REVIEW:

Noticeable effects:

--increased hunger / need for carbs
--increased thirst
--frequent urination
--muscle hardening / leaning
--enhanced libido / erection frequency
--no nausea (compared to my previous uses of Erase)
--no achy dry joints
--good energy throughout the day; maybe we can just call this stamina?

I had some minor oily skin the first couple of days on this cycle, but those went away. The DAA gave me some early intestinal discomfort but that also went away after about a week.

Dosing was consistently in the mornings with breakfast as per the recommended guidelines on the bottles.

Ultimately, the big question:

WOULD I USE THIS PRODUCT AGAIN OR RECOMMEND IT TO OTHERS?

The answer:

YES!

I thank MAN Sports for the opportunity they gave me to log these products. I would recommend them to anyone coming off of a mild PH cycle or even as a standalone like I ran them.

BOARD TYRANT | TEAM GET DIESEL | GETDIESEL.COM
FeFiFo.com support
DIESEL TEST = Underground Kings of Test elevation!