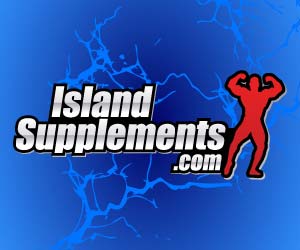 Anabolic Pump "AP"(60 Caps)
Manufacturer:
USPLabs
Rating:
4
out of 5 stars, based on
7
total reviews.
Read all 7 reviews
Submit New Review
Anabolic Pump "AP"(60 Caps)
3/5

this product really didn't do much for me. i know a ton of guys who love it, but a lot who like me didn't get a lot....but i will say...those that like it, REALLY like it!!!!

ICONIC FORMULATIONS REPRESENTATIVE

use code THEBIGT for 25% off

4/5

This product works well at what it's suppose to do, altering carb absorption and uptake. The active compound is a known relaxer of smooth muscle tissue, which is indicative of increase trips to the bathroom. Some find this as unpleaseant, I found the increase to be quite the opposite. It would be a good idea to stack this product as part of a cleansing diet for those that may be interested in periodical cleansing. I never noticed anything like the increased "pump" and what have you, but I did notice that I could increase the amount of carbs per day and not suffer the dreaded the carb hangover and water retention.

5/5

This is my favorite GDA out on the market!! All the other clones/copies you see dont even compare and when stacked with C20 and/or prime and powerfull you really cant go wrong. Best is when taking it 15 to 20 mins before a meal containg 30-70g of carbs but 50 to 70g seems to work bes

Used it during the holidays, when i was off diet; i have to say i am amazed i did not gain any fat or weight! I was on a pig style diet with huge food portions. Worked for me and i will use it again. 5/5

I used this the last few days of contest prep to really make sure the carbs I was taking in were being used efficiently. I think this may be a product that will be appreciated more by people at lower body fat percentages where you can see the day by day differences that carbs make. Going from eating carbs without AP to eating my carbs with AP I noticed such a huge difference! I was tighter than the days I didn't use it, that tight feel and look made me appear dryer and I could see that the little water I was taking in wasn't being held on to at all! I looked absolutely amazing when I hit the stage! Veins were popping in my abs after just eating some sweet potato and oatmeal when I took AP with it. I highly recommend this to anyone who is worried about carbs because this is a must have! I can't wait to see how it helps when I'm trying to put on mass in the off season!

5/5

Coming off a strict ultra low carb phase, I added AP to my carb load days and WOW. I used this exactly as the bottle described, 2 single cap doses (one with breakfast, one with lunch) and when I got to the gym that day and took my sweatshirt off I barely recognized myself... I looked like I had gained 20lb of full, hard muscle; and this was before I had even lifted a weight! Throughout the workout I managed to set 3 PR's, and looked huge and vascular the entire time... and all while in the last 2 weeks of a 12 week cut. I cant rave enough about this stuff. The best GDA I've used to date by FAR.

Appreciate all the reviews guys!

"The only good is knowledge and the only evil is ignorance." - Socrates


at least 40 or more grams of carbs from oats so it really limits how I can use it. I have tried with sweet potatoes , brown rice, pasta but I always get stomach issues.
In the past I've gone through 3 jars of AP, 3 jars of Glycobol, and 3 of Slin Sane so I have tried to make it work but I'm glad it worked for you.

3/5

I hve previously used glycobol with great results - it kept me leaner than usual while bulking, which was great. I bought 2x bottles of AP and i have been extremely disappointed. I don't feel anything at all. My diet hasn't changed and i have actually gained fat.

I will not be buying this again.

4/5

at first it gave me severe stomach issues , but after taking some pro-biotics for a week it`s all good now , i always take 1 pill +1 probiotic pill and it does what it`s suppose to do: manages carbs well and definately gives a nice pump if you take it with your pre-workout meal. !

I originally discovered Anabolic pump in my local supplement shop and was recommended by the owner but knowing him to be a former USP rep i figured i'll do some research first only to find a mix bag of reviews by people who either swear by USP labs or absolutely hate them! so i thought i would just give it a try!

--------- What is it? -----------------------
Anabolic pump is a class of supplement called SIMS or Selective Insulin Muscle Sensitizer. What Sims does is create something called "super nutrient partioning" which basically uses nutrients sourced into the body and causes them to be utilized by muscle tissue rather than potentially being stored as fat. USP labs promotes this product as a way of eating excessive amounts of carbs with minimal to no fat gains. sounds to good to be true right?

--------- Value -----------------------------
So as i live in Australia my cheapest option for supplements is usually buying from america such as bb.com however im very impatient! so ebay usually is the next cheapest option. But for the 60 cap bottle it was average priced could be cheaper but for what it did it wasn't to bad.

---------- Effectiveness/Results ------------
One thing i noticed in the first week of taking the product, was that in the 20 or so minutes of waiting for the meal after taking the capsule i experienced a very unique feeling in my stomach almost a pain which was a sign that it was working, but quickly leaves once you start eating! I would probobaly classify myself as a endomorph, so usually i have to be EXTREMELY careful with my carb sources and what not and being formerly obese i found it hard to bulk and eat excessive amounts of carbs however Anabolic Pump has helped me alot. Things i noticed with Anabolic Pump was that after a large meal i found minimal bloating which without the supplement would have occurred. Also i noticed almost an all day pump if i timed my meals right (i dosed the supplement one in the morning 20-25 minutes prior to a high carb breakfast and one 20-25 minutes prior to my post workout shake/meal) with my muscles feeling/looking fuller and a slightly more vascular look. Over the 30 days which the bottle lasted i noticed significant muscle gains which i honestly didn't think were possible in that time frame however being one of my first major bulks i wont contribute all my gains to the supplement, as i was also training longer and harder. However what i most was impressed by was the minimal fat gains, i am probobally around 13% Bf and at the end of the cycle my bf % was the same if not slightly less from personal opinion so very impressed! I also noticed approx. an hour after the meal of which you take the capsule prior, its almost clockwork that it sends you running straight to the toilet, which in some circumstances can be bad, but was a good sign that it was working.

--------------- Overall --------------------
For me personally i loved this supplement and love how versatile it is as it can be used while bulking or cutting. I was definaetly pleasantly suprised that it worked as considering some of the reviews by the anti-USP labs reviewers shaming the product, i didnt expect much going into the cycle. Overall i would recommend this supplement to anyone wanting to make gains with minimal fat, or for someone who wants to shed fat and still have the ability to consume some carbs.

4/5

Great for cheat meals and when carbing up! I just popped one in my mouth about 25 minutes before my cheat meals and it seemed to do the job. Really great product when cutting and you need to get some unwanted carbs in.
Similar Forum Threads
By Guest in forum Company Promotions

Replies:

19

Last Post:

06-21-2008,

05:10 PM

By tgass in forum Supplements

Replies:

2

Last Post:

04-21-2007,

02:36 AM

By Hoodlum_0227 in forum Nutraplanet

Replies:

3

Last Post:

08-08-2005,

07:13 PM