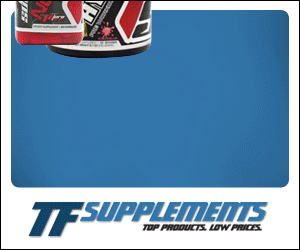 Agmatine (250mg/180 caps)
Manufacturer:
Serious Nutrition Solutions
Rating:
4.83
out of 5 stars, based on
24
total reviews.
Read all 24 reviews
Submit New Review
Agmatine (250mg/180 caps)
4/5

And it works good. I feel it really kicked in about 10 days but yes I noticed incresed vascuarity and swelled up nicely.

Glad to hear you liked it, and thank you for the review.

Serious Nutrition Solutions
Revolutionizing Sports Nutrition, One Product At A Time
antihero [@] SeriousNutritionSolutions.com


5/5

OK here is my review of the SNS Agmatine. I was very skeptical about this stuff when I first got it. The only thing I have truly found that has worked was the Nitrox ll for just a pump product. Well this really gives it a run for the money.

Quick summary.
Easy dose
tasteless
effective every time
Longer lasting pumps

Ingredients NA
Its simple just Agmatine sulfate 250mg. Very simple.

Effectiveness 9
I have to say I didnt think it would amount to anything. I do need to say Im using the powder form of this and not the pills. It lasted over a month of workouts also.
First dose I took normal one very small scoop and got a minor pump , it was leg day but I could tell I could feel it a bit more. Next day was chest. I took 2 scoops and wow. DEEP D-pol type pumps. Different than nitrox II.
I seemed to recover a bit more and faster on this too. Even my skin felt and looked tight on this. I went back and forth on the dose from 1 to 2 scoops and only thing I noticed was a small amount of more tighter pumps. 1 scoop is all that is needed. I need to note also that when I would carb up it was a much more intense pump.

Taste NA
I could never taste this and it was never a issue.

Value 7-8
I contacted a rep and he said the powder would last longer. I dont know if it will or not. Its really fine powder and you could really PACK a scoop and use more than is needed rather easy. I would like to try the pills and see where they stand on a value point. Its on their site for 35 bucks I think thats a bit much. I have seen it on some other sites and on amazon for about 25. That is a much better deal.

Overall 8
I know we all love the pumps and this delivered for me at least. I will get more of this later on for sure. One thing I did notice was how much longer my pumps and fullness seemed to stick around . I cant say its better than some others I have tried. I need to try Hemoval and see how it does for me too. This stuff is pretty consistent too, something I have heard Hemoval is not.

Thanks for being let to run a log on this stuff.

I have the powder version and I take 1 gram on training days about 1 hour before I train and I have never
had a problem getting a pump but this stuff just makes it more intense and is priced right for 100gram container.
I alternate this with Hemoval each workout and both products have become staples in my preworkout regiment.
I highly recommend both products.

5/5

Had an opportunity to try out some free samples, enough to get a good overall first impression of SNS's Agmatine. On the first dose (2 capsules) had a mild pump just from walking to gorge myself on a carb-laden cheat meal. Each time I'd take a dosage before a carb meal, I would not feel as bloated like I would in the past from so many carbs.

This is where I felt the product shined for me.

On the last dosage I had, I worked out back and had a solid pump going on, especially in the lats right after having done pullups. Upper back looked fuller and the lats were flaring quite nicely all on their own.

If you're in the market for a great, quality agmatine product, SNS is the way to go.

5/5

Pump product in pill form, turns out to be very convenient. Was able to use this product for 3days, preworkout and at night. Have seen benefits mentioned that there is also a little partitioning effects... Not sure but I think the nightly dose definitely assists in flooding the system and making morning(5am) workouts pumps more evident.

I took my samples 2 workout days and 1 non-workout day. Had very positive feelings as I looked into the mirror. My leg day was a hard one for sure, worked both front and back. I was able to see the inside quad swole. Finished off workout with stairs and went to mirror before shower....



Attachment 76999

Not extreme legs be any means but I noticed a large difference. Legs are smaller compared to others but with SNS Agmatine citrate caps (2) at least makes me feel like progress, that lasts a few hours. Best part was my arms were pumped as well.... And I didn't even work them.

Arm day was sick, my favorite day. Pumps were out of this world. Bicep and tri made the sleeves tight on my work shirt, veins popping all over.

Ain't got a pic but was very happy.

Thanks again and hope to see more product like this soon!

5/5

Got a chance to try some Agmatine from SNS. First weight training with it and my arms were more than swollen, had veins popping out every were in my forearms. 2 day with it back and thighs, even though i had a bad experience with an old pre workout i felt thighs contracting by themselves when I was done with laying leg curls. Man that was so awesome! lol Its very convenient to take, not hard to swallow it. I have 2 more caps left and tomorrow will be chest day. Cannot wait for that!

5/5

got some samples, enough to see if it was legit...i've used agmatine in pre-workout formulas many times, but hard to say what effect agmatine on it's own would have...on it's own i really didn't see that much, but tbh i never used it solo for workout. but when i added it to my usual preworkout the difference was very noticeable. increased pump plus an unexpected increase in energy from the agmatine/preworkout combo...just to clarify, the preworkout claimed to contain agmatine but the amount was not listed. i think running a bottle at 2 caps twice a day-every day, including off days would be very interesting!!! a 180 cap would cover a month easily.

ICONIC FORMULATIONS REPRESENTATIVE

use code THEBIGT for 25% off

5/5

I can only say that this stuff really does work! I felt and saw increased vascularity. Of course in pill form the is no taste. I dosed according the instructions and found that after 2 days my reps were increasing and I stared to get swoll. Thanks again for letting try this awesome product from Serious Nutrition Solutions.

I took 4 or these bad boys yesterday before I hit the gym. I knocked out a supreme workout, sweet pumps, vascularity was off the charts. I even had someone mention my veins a couple of hours later.
Another 4 today before I did back and biceps. Same thing, pump, vascularity, and even strength? Maybe the strength part was placebo, but I moved up in weight across the board. All in all, i will definitely be buying some of these in the future. But first I have some in bulk powder form that I need to use up.

Thanks SNS!!

4/5

First thing first I would like to thank SNS and Mack411 for providing me with this oppurtunity.
The first day I took two pills in the a.m. and another before my workout in the p.m. without taking my preworkout. I didnt feel any muscle pumps, any muscle fullness or any muscle tightness, on this first day.
The second day I took two in the a.m. and started feeling a slight muscle tightness about two hrs later. I took another two with my pwo 45 mins before hitting the weights and thats when it hit me! I got amazing pumps, muscle fullness and muscle tightness! SNS AGMATINE just took my pwo and my workout to another level!! The third day was the exact same. For me SNS AGMATINE taken as a stand alone gave me some pumps and muscle tightness but taking it along with my pwo just took it over the charts!

Awesome reviews guys! Keep them coming in!

The Physique Biochemist

Biochemistry Major

Your Physique AND Credentials Should Back Up Your Position

4/5

I get awesome pumps from this product, and it makes for a great workout! Thanks for sending guys!! Will probably purchase in the future.

5/5

SNS Agmatine is very high quality. I've done a lot of reading on this compound, and I've dosed it in a bevy of different ways.

To highlight, I've used SNS Agmatine in the following dosing schemes:

Upon rising - peptide hormone/GH release
High carb meals - improved insulin sensitivity
Preworkout - increased vasodilation/pumps/performance
Postworkout - reduced DOMS by virtue of the analgesic effects

Great compound from a great company.

5/5

Got lucky enough to get picked to get some samples, Thanks Mack and SNS team.

So i experimented with the dosages to find my sweet spot and found that 750mg was enough for a great pump. not only did i get pumped at the gym but i stayed pumped all day, veins always out, everything tight, looked more vascular, etc. i wanted to see what a higher dosage would do so i pushed it to 1250 lol take with caution for people that get easy pumps, i was too pumped that i couldnt even bend my arms, if i reached for somethin my chest started crampin up. but i did notice a strength difference, went up a little on shoulder press. great product right here at a great price

I did my initial review based on my first serving. After using the whole sample package, this product really helps to get pumped and ready for a Gladiator workout even after a long work day. It helped accomplish NEW PR's during my LEG Workout with 1200lbs in leg press 10 times and 315 squats 8 times, both 3 sets each. I believe it also helped me with the recovery process from my intense leg workout. So, I would recommend this product to anyone trying to break a plateau or trying to set NEW PR's for themselves.

Thanks Mack for the Samples and U have a WINNER on your hands with this product.

Solid Product from a Solid Fitness Company.

5/5

OK so I tried the samples I was sent. Each time using the recommended doses. 2 early in the day and 2 30 minutes preworkout. The first time I took it without food and had a sort of jittery fat burner feeling all day. The next two days I made sure to eat something when I took them, and I didn't have those feels. For the early doses I spent the day with my muscles feeling full. I really liked it, its like having a pump without a workout. I kept flexing different muscles, it was kind of funny. So then each time I took second dose 30 minutes before lifting. This is when shiznit got serious. Had amazing workouts, amazing pumps, lots of vascularity, to the point I was seeing veins I don't normally see, and I was waaay more swole than usual. It doesn't stop there, expect the muscle fullness to last well after your training. This was a cool product, neat to see how 1 ingredient can make such a difference. FYI I was impressed with the SNS company by my experience and bought a 1.2 kg tub of creatine mono.

5/5

I received a sample pack of the SNS agmatine, it had 12 caps in it, so 3 days worth at 4 caps a day. From the first day I took them I have been pumped pretty much all day. While lifting my muscles were super tight! It is really a great product. I'm pretty lean at 6'1" 190 lbs and about 8-9 % BF. everything was so much more defined, the definition was unbelievable. That besides the pump are the two most noticeable aspect of agmatine. I will definitely be adding this to my pre workout from now on! This was the first time I've ever taken agmatine before, so no previous experience with it. It's a must try for sure!

Oh, sorry I forgot to mention the vascularity is very noticeable as well! Veins are popping everywhere! It definitely looks cool!

5/5

Love this product. First of all thanks to Mack for the samples. I played around with the dosage with these.
1st day: 2 caps 2 hrs pre-workout with meal(mostly carbs) and 2 with pre-workout drink. Pumps were more pronounced than usual. Vascularity was up. Muscles were still pretty pumped 2-4 hours post workout!
2nd Day: 2 capsules first thing AM before breakfast & 2 many hours later with preworkout drink. Pumps were ok, not as effective as the first day, but I still noticed a slight pump throughout the day.
3rd Day: 4 capsules 1hr preworkout with some extra carbs added to my preworkout drink. Pumps were great. Muscle fullness was increased. Pumps were more intense during workout, but only lasted an hour post workout.

I would recommend the 1st and 3rd dosing.

Love this product and how versatile it is.
5 stars.

4/5

First let me say im very critical with my PreWorkOut supps, and i could say i have tried most of the popular pre's. They are either over/under stim'd and rarely ever deliver on promised pumps. Buying seperate ingredeants has been the best route for me.

Not to noticeable first day, second day at four pills muscles where deffinatly more fuller, nice pump, fair vain popin.

third day produce a great pump vain's where bulging the fuk out. I dont think it gave me more energy, but seeing my pump in the mirror was a ego boost, resulting in a great work out.
Seems to need a little time to saturate the system i gues. Pumps also last a bit longer then usually. Loved it, going to pick up a bottle for my next pct.