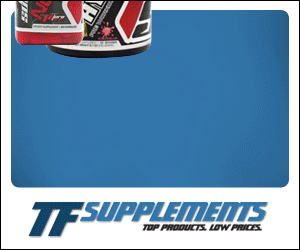 Manufacturer:
Cellucor
Rating:
4.4
out of 5 stars, based on
5
total reviews.
Read all 5 reviews
Submit New Review
5 out of 5 rating for Super HD (60 capsules)

This product strongly reminds me of the good ol' pre-ban ephedra days. I have been taking it on an empty stomach 1st thing in the morning pre-workout and it definitely powers me through. I haven't had a crash yet and the energy clearly carries through until late morning.
The appetite suppressant effect might be a little too good. My hunger is being kept at bay very well--even on reduced-calories for cutting! Needless to say, this is a plus found in Super HD that has been hard for me to find in other products.
I also am very appreciative of the diuretic effect in this product. After less than a week, I have noticed increased vascularity in my arms and added definition in my quads I'm realistically hoping to get rid of my love handles by the end of this bottle!

Many thanks to Mike and Gerge for this review opportunity and many thanks to Cellucor for making such a quality product!

5/5

y first impression of it was that it woke me up and I could feel energy and focus (two things I'm usually skeptical about when bottles say they'll give me that). In regards to my appetite I was definitely less hungry than I usually am. I usually eat breakfast around 8 am and around 10 am I am ready to eat something again but when I was on Super HD I usually had a protein shake for breakfast at 8 and then another one at 10 am. Because I was on Super HD I felt like I had to get my money's worth in addition to whatever effects I was getting from the fat burner so I was also being conscious of what I put in my body. I ate pretty clean for the most part watching carbs, sugars, and fats throughout the day.

I usually took one before weight training since I don't really do all that much cardio and did notice that I could last longer and was not as fatigued during workouts. Once a week I dedicate my workout purely to cardio and run 4-6 miles I noticed with the Super HD I was sweating A LOT more than usual probably because my body heat was raised as a result of the pill.

3/5

7-10
This product is decent but not a miracle in a pill. i exercise daily(45min weight lifting 35min cardio) and have a very clean diet.. This product without a doubt gives you the energy you need to further your workouts at the gym.

If you are not accustomed to taking a lot of caffeine daily this product will give you jitters in the beginning. As for appetite control, its adequate. compared to other products i have tried this one doesn't match up to the rest.

In the end i did weigh 12lbs less then what i started at, but when i finished this product most of that weight was basically water weight and came right back on.

5/5

I have never taken a whole bottle of this, just the 10 capsule sample pack. But I can tell this stuff works. Lots of energy and some serious appetite control!

4/5

Works as promised. I ran this after a ephedra cycle so total I was on the two compounds for about 2 months and I lost 20lbs. This was after PCT so some weight loss is due to being off. But yeah this sup is worked great!