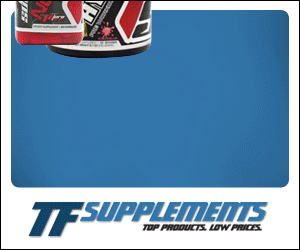 Crea-Trona (120 capsules)
Manufacturer:
Redefine Nutrition (FinaFlex)
Rating:
4.8
out of 5 stars, based on
5
total reviews.
Read all 5 reviews
Submit New Review
Crea-Trona (120 capsules)
5/5

Final review:Effectiveness/Strenght: 10 out of 10 when compared to standard creatine mono atleast for me I have no doubt it worked better. I'm not saying compared to other type of supps. I think you need to compare this to other similar products.

Ease of use: 8 out of 10 not really difficult but taking 6 to 8 pill a day on a split dose is a bigger pain than 5 grams of mono in one of my shakes.

Cost : 7 out of 10 the product isn't very expensive but when you compare it to bulk Mono it a fair bit more per dose. But if you compare it to other Designer creatines it a good deal. All on how you look at it.

Pump/ energy : 10 out of 10 this is where this product really shines in my opinion. No other type of creatine has ever gave me a noticeable pump and a energy boost. This didn't give me prework out levels of enery or pump ,but it was noticeable on its own and when stacked with Ignite 2 then it really impressed me.

Overall thoughts: I think this is a product everyone looking for a new creatine or an edge in the gym should try. For the price of one bottle you won't be disappointed.

4/5

I ran a log for this and it was amazing. I had great pumps and insane energy. This product is a steal considering how cheap it almost always is, and they usually have it stacked with another product for super cheap as well. Very cost effective and definitely a great pump. Awesome product and an awesome company. I will definitely use this product again in the future!!

I picked 5/5 and it shows 4/5 for some reason?

I had a weeks worth of samples of the pills and this was the best creatine product I ever used. The big thing I noticed was the strength increase on day 2 it was great.

5/5

simple and effective.

normally get some stomach discomfort with most creatines but that was not the case with this nifty little pills. no bloat no nada!

used while cutting to keep size and strength and now I have a tub of the powder sitting around to mix with my preworkout of choice.

5/5

Great creatine product at a good price, can't beat it.

Please rate on a scale of 1-5: 1=Strongly Disagree; 2 = Disagree; 3 = Neutral; 4 = Agree; 5 = Strongly Agree

Crea-Trona:
1) This product helped me gain strength... 5. I set a ton of PRs during the last month or so on this stack. I have no doubt going to creatron from mono was a benefit.
2) This product improved my muscle fullness... I definitely look and feel bigger, and I weigh more. I believe this product helped me keep more intracellular water and other important goodies in my muscles, which was a benefit when it came to intense training sessions.
3) I really enjoyed this product and would recommend it to friends and family... 5. Great creatine product at a great price.

5/5

Crea-Trona:

1) This product helped me gain strength...
5/5
It might have been the Crea-Trona, it might have been the Max Pump, or it might be the combo; but, I made improvements every week either on number of reps or weight lifted in GVT.

2) This product improved my muscle fullness...
5/5
I looked full and muscular, as if I put on a few pounds of muscle over the course of the month. Every week I noticed an increase.

3) I really enjoyed this product and would recommend it to friends and family...
5/5
Very good product. There isn't a section here for recovery, but I'd give that a 5/5 also. I went from extreme DOMs from the volume of GVT to a lot less extreme/shorter lasting DOMs.
Similar Forum Threads
By polishcyborg in forum Supplement Logs

Replies:

19

Last Post:

08-20-2012,

09:46 AM

By laserbluess in forum Supplement Logs

Replies:

94

Last Post:

06-11-2012,

09:42 PM