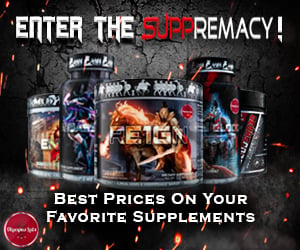 AnaBeta Elite (120 capsules)
Manufacturer:
PES
Rating:
4.47
out of 5 stars, based on
17
total reviews.
Read all 17 reviews
Submit New Review
AnaBeta Elite (120 capsules)
5/5

I ran this stack for eight weeks, below are my results as well as an outlining for my training and nutrition protocol.

Dosage
Test Powder - 2 scoops per day
Anabeta Elite - 6 caps per day


Nutrition Plan
I set calories at 3,200 per day. This is 500-600 above my maintenance level, and allowed me to achieve lean gains at a nice pace. Normally I follow a low carb diet year round, even on most other bulks. This run i adjusted my intake to allow 100g carbs both pre & post workout. Protein was set at 1.5g/lb bodyweight, and fat filled the remainder of my calories.


Training Routine
Mon - Back/Bi
Tues - Chest/Shoulders/Tri
Wed - LegsThurs - Back/Bi
Fri - Chest/Shoulders/Tri
Sat - Legs
Sun - Off (usually some light walking or activity so im not sitting around all day)


This is a standard Push/Pull/Legs split, although its extremely high volume. Under normal circumstances I would have burned out after 2-3 weeks of such a program, however I feel the diet & supplements helped me recover MUCH faster.




BEFORE/AFTER

[IMG]http://anabolicminds.com/forum/attachment.php?attachment****68 893&d=1351189361[/IMG]

Using this protocol I gained approximately 12lbs, with a very marginal increase in body fat. This stack certainly gets myseal of approval, as something natty does not generally produce such found improvements for me.

5/5

Anabeta elite
Well,well,well so this is what all the fuss was about. Definitely a very
enjoyable product from week 1! The most noticeable effect I've noticed from
this product is extreme increases in appetite brought on by the anabolic and
androgenic properties of the product. This makes the product an amazing
addition to any natty stack because who wouldn't like to put on solid mass?
Many might say well why of it turns to fat well that my friends is where the
added cortisol control was a brilliant addition to this product. I managed to
stay lean and tight even while eating quite a bit of calories over maintenance
and really held on to gains well during my cut. I do believe this product
played a very crucial roll in staying lean and adding strength. Extremely
versatile product and that is what makes it so useful in any natty stack whether
it be a cut or bulk.

Overall rating 9/10, 1 point deduction for length of use before strength
increases were noticeable.

Nice! Got a couple bottles I'll run in the spring when I'm done running some ForeRunner stuff.

BOARD TYRANT | TEAM GET DIESEL | GETDIESEL.COM
FeFiFo.com support
DIESEL TEST = Underground Kings of Test elevation!


3/5

The product did not work for me at all. Trained, but no real gain with the only exception of strength. also tried to stay true with diet. Perhaps it's the variation sold where I live that is less effective. But honestly, BW was unchanged during the whole period.

Unless it was the wrong training I used, a circuit-like that actually made me lose strength in the end. If this is true, I blame the gym leader.

Circuit training has always given me a huge cardio-like cut that leans me out. If you were looking for strength, I would suggest not doing a circuit routine.

BOARD TYRANT | TEAM GET DIESEL | GETDIESEL.COM
FeFiFo.com support
DIESEL TEST = Underground Kings of Test elevation!


I know now. but still, other than increased hunger I did not see anything from this product.

Biotivia Pro Max Phase 2 Supplement Log:
http://anabolicminds.com/forum/supplement-reviews-logs/200246-biotivia-pro-max.html

Don't be afraid to eat while on ABE. Not only does it help with insulin sensitivity, it increases nutrient up take ensuring calories are utilized and not stored as fat. My post workout meal is at least 300-400 calories more when running anabeta (2 pre 2 post)

To be fair, I dont think one can use an inferior form of weight training, use a product intended for lean bulking, and be upset that this wasn't accomplished.

Circuit training is essentially a form of cardio, when you're lifting weights and bouncing from station to station, you're not efficiently hitting the anaerobic threshold as you would with heavy weight training. A larger bolus of calories would also need to be ingested to make up for those lost during this training, otherwise nothing can assist with helping build size/strength.

PES

- PM me anytime for any questions

"Like" us on Facebook


Subscribe to the PES Newsletter for all Specials and Announcements




4/5

I ran ABE for 4 weeks. I put on 7 pounds and had no noticeable fat increase.

During this time I was eating 600-700 above maintenance.

This stuff really made my appetite crazy and my agression in the gym was great.

Also helped my libido out and hardened my muscles.

5/5

Man, almost immediately after i took this stuff, I was like, what the heck??? (in a good way)....remember the feeling of excitement you got when you were a child the night before christmas? This is the same feeling i got. It gave me an insane feeling of energy and excitement. Like I was really excited to go train. Im always pumped to go train but this stuff makes it even better. Anabeta Elite Completely enhances that anabolic feeling and when your body is in complete muscle building/fat incinerating mode, its multiplying. It also enables you to cheat a little with your food....you get a craving for some greasy tacos or ice cream? pop a anabeta elite and go get your junk food fix...one last thing, my natural testosterone production went up when I took this and my estrogen went down...Cant complain about that! 5 stars easy!

5/5

Nice improvements and additions to the original AnaBeta.

It's exciting and encouraging to see innovative brands bring these kinds of natural compounds to the forefront especially for those looking to avoid hormonal compounds like PH's, steroids, etc...

I believe Anabeta was the first to utilize Anacyclus pyrethrum which doesn't surprise me as Physique Enhancing Science seem to introduce some effective new ingredients. The additions I really like and makes sense alongside the Anacyclus pyrethrum. One interesting finding from experience is that I have less to no GI sides from the Forskolin and I think this might be because they use a purer form... often people complain of Diarrhea from Forskolin products so purity could play a role there. Anabeta would be great to use on a bulk or on a cut so it is also very versatile. The only downside is the price but take into account the quality extracts and generous dosing and you'll find it competitive with any other product that would include such ingredients. It's not always cheap, but PES seem to like the go big or go home rule when it comes to their products. Big fan of PES here!

What's up guysAnyone who reviewed here ever run the og anabeta? I read comparisons but was looking for some more input on the differences users experienced. I ran the og and it was awesome. Going to run it again and don't know if I want to give elite a try or stick with what worked for me.

5/5

I have only been able to run 1 bottle of ABE so far, but I had great results. I am huge fan of OG Anabeta, but since I am always trying to lose weight, the ABE suits me better. No gi issues from the Forskolin either. Great pumps, muscle fullness to the point where it hurt lol. Anabeta Elite is versatile as well, which I love

Hey all, I had surgery on my shoulder exactly four weeks ago. I tore my labrum and my deltoid almost three years ago and just now got it fixed. I am now looking for something to up my appetite, before this surgery I put on twenty pounds over the course of three months to put me back at 205. (Was working on a fishing boat, long hours and rotting fish didn't help my diet and workout routine.) Regardless, since the surgery my appetite has steadily decreased due to lack of inactivity, I have lost four pounds and am not nearly as hungry as I used to be. I am able to due limited things in the gym but really I am looking for something to increase my appetite to help keep my gains and maybe even make some. I need to keep the size for football next fall. Would you recommend this product? Also how long do you recommend taking this? Let me know what you think, if there's something else you recommend I would love to hear. Looking to buy something within a week. Don't want to drop below 200 again!

Sorry that this isn't a review.

5/5

Really an astounding product.

The most amazing aspect is the fact that your appetite increases almost immediately. I have run this both solo and teamed with Erase Pro and have been so pleased with the results.

I saw good strength gains, along with mild weight gain. Additionally I noticed a marked improvement in vascularity as well.

Another true winner for PES

4/5

I have used both Anabeta and Anabeta Elite several times. Although I like the original a tad better, Anabeta Elite is a close second. I did a cycle of Anabeta Elite stacked with Erase Pro and it was like I was on a mild prohormone cycle. Nice job PES.

5/5

I love Anabeta Elite.
The effects are NOT immediate, but once you have taken it for a few days in a row you start learning what to look for.

I noticed some good recomp effect from this.
The most noticeable effect was APPETITE. I was always hungry while taking this. When I take my post workout dose and drink my shake, I'm hungry again in about 30 minutes.
It's a great security blanket for cheat meals too I have noticed!

5/5

I have to say ABE is great I used it along with URA and Erase @ 2 bottles for leaning out after getting sick and demotivated this winter, I actually gained nasty 13 kg over Dec and Jan, then started vigorious excersise regimen.

ABE helped me maintain muascle and once I have returned to my perfect weight of around 87 kgs I was more vuscular and cut then ever beafore.

I do cross fit type training a lot of weired strongman type exercises I have a gym adhd plus wrestling and boxing.

This stuff works give great regeneration and is really good with maintaining strenght and staimina during a cut or in my case I guess a recomp.

Once I finish my current supp regimen I think I am going back.

Once you do anabeta you will always go back.

5/5

In Review: Anabeta Elite

When I first stumbled into the world of sports supplements Anabeta was
a word I kept seeing pushed around yet had no idea what it was about.
When I finally got my hands on a bottle I was thrilled to see my
results and can definitely attest to the added hunger it gives you.
Kick up your carbs and Anabeta takes care of the rest! So when PES
provided me with Anabeta Elite I didn't know how they could possibly
expand upon something that already worked so well. I was in for a
surprise.

Anabeta Elite comes in a bottle featuring 120 dark red gel capsules
that actually have quite a pleasant and sweet aroma to them (who
smells their pills lol? Smell them sometime! They actually smell
sweet!) These pills are slightly bigger than the OG Anabeta but go
down just the same without a problem. While I had tempted with dosing
them higher than recommended on the bottle (going from 4 a day to
perhaps 6) I decided I'd ride it out with the recommendations on the
bottle... and instead of sticking to a 4 week cycle I ordered myself
another bottle to give me a nice 2 month ride (paired with Erase Pro,
of course)!

Now I've noticed a lot of people saying in other reviews that Anabeta
is great for a bulk, and Anabeta Elite would be great for a recomp or
a cut. When I started this 8 week cycle I was already 2 months into
prepping for a half marathon which I would eventually end up running
in the last week of my cycle. I lifted weights 2-3x a week and would
run 3-4x a week (alternating slow long distance with shorter distance
but a faster pace). Naturally my caloric intake was up already to
adjust for this. I was anticipating this half-marathon training to be
used to help me get cut up for the summer especially with the
inclusion of forskolin into the formulation but I was wrong. And in a
good way!

I began to feel the effects of Anabeta Elite before I started to see
them. In the gym I had just begun a strength training template that
required heavier and heavier weights the deeper you went into the
training. This appeared to be a daunting task on paper, but after the
first few weeks of using Anabeta Elite I was surprised at how easy
what I perceived as "heavy weight" was to move around. My muscle
bellies seemed to be increasing in size and overall I noticed a larger
appearance in the mirror... without regards to excess fat. My chest,
arms, shoulders, back, and legs felt like they were growing like
weeds. Shirts started to fit tighter. This new muscle growth led to increased vascularity
particularly in the forearms, upper arms, shoulders, and lower abs. I
started getting compliments from people I work with about how I
looked. Strangely enough, my appetite was not on fire like I was
expecting it to be. I'm not sure if its because I was already eating a
lot in the first place or that I just never felt the urge.
Regardless, Anabeta Elite made me stronger, look better, and feel
better... and even with all of that cardio training for the half
marathon I managed to pack on 11lbs! So this product was a definite
recomposition key player for sure! I started at 225lbs, ended at
236lbs, and managed to run that half marathon in under 2 hours.

I'm damn impressed, thats for sure. I'm already looking forward to
cycling this (alongside Erase Pro) again in the near future!

5/5

I've recently had the chance to run a bottle of AnaBeta Elite by PES during a cut. I've run AnaBeta before
and enjoyed it. This product is an improvement on the original with the addition of 95% Forskolin and 5 Androsten-3B7B-diol-17-one for cortisol control.

I dosed AnaBeta Elite 4 caps per day broken into two servings of two capsules with food. I tried taking this on an empty stomach preworkout and it was consistently giving me nausea. Taking it with food corrected this issue. I'm not sure if this product has an effect on blood glucose in some way but the first 3 or 4 days I was feeling somewhat hypoglycemic between meals. After about 4 days this feeling went away.

I really enjoyed my time using this product. I experienced increased muscle fullness, increased vascularity, and an increased ability to tolerate higher levels of training volume in the gym. I also felt an increase in aggression and mind-muscle connection during training. I really like the addition of Forskolin as I have always responded
favorably to it. I experience a notable body recomposition effect with an increase in hardness whenever I add Forskolin to my supplementation regimen and the 95% extract used in AnaBeta Elite is world class. Most products use only a 20-40% extract. These lower quality extracts can often cause GI distress. No such problems with this 95% extract.

Bottom line here is PES currently produces some of the most effective products currently on the market.
I would highly recommend AnaBeta Elite to anyone who is looking for a supplement that will help improve strength, improve body composition and provide a fuller, more muscular appearance with increased vascularity.

5/5

Started taking this about 7 weeks ago. I was trying for recomp/cut. Started out eating 2300 calories a day but my hunger was out of control and I was losing fat way fast. I've been steadily increasing my cals up to 2600 a day right now. Still losing fat and most of my lifts have increased. I mountain bike usually 3 days a week and I have noticed a huge increase in my endurance as well. Started this cycle at 191lbs 12% body fat I am now 189lbs 8%. I have never been this heavy and muscular at this low of body fat %. all of my friends family and the wife have commented on how amazing I look. I can not even tell you how happy I am with this product. Also I am taking this as a stand alone. Not stacking anything else, but I am taking 6 a day instead of 4. Kind of pricey but I bought 4 bottles on accident( meant to buy two but hit the button twice and doubled order) anyway I couldn't help myself since I had them. Think I will try 4 next cycle and see if I get the same results.

I don't think you will be disapointed. I've tried alot of suposedly natty anabolics and test boosters. None have impressed me much until ABE. I've got another bottle and I'm definently going to be ordering another and running this again soon.