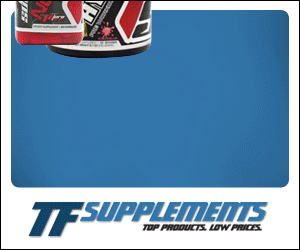 Manufacturer:
Body Performance Solutions (BPS)
Rating:
5
out of 5 stars, based on
3
total reviews.
Read all 3 reviews
Submit New Review
Wow! Thank you so much for such a comprehensive review! Glad you dig it!

REALLY digging this product. I for one have a new fav stim ingredient in higenamine, I prefer it even to dmaa.

Molecular Nutrition - Unlevel The Field

X-Factor: THE Most Scientifically Valid Muscle Builder, Ever!

Sign up for INSANE deals via our newsletter:

www.mninsider.com

Was the first review deleted?




Molecular Nutrition - Unlevel The Field

X-Factor: THE Most Scientifically Valid Muscle Builder, Ever!

Sign up for INSANE deals via our newsletter:

www.mninsider.com

5/5

BPS Combustion DCP 2.0 Review

Dosing: Combustion - 2 Caps upon waking, 1 cap around 2:30 PM
DCP 2.0 Ė 2 caps upon waking, 2 caps around 2:30 before second meal, 2 caps around 7:00 before third and final meal

Starting Weight: 153.8
Ending Weight: 150.6 (-3.2 pound)

Starting BF% Estimate From My Coach: 11%
According to Bioelectrical Impendence machine (Inaccurate but used to keep results): 7.5%

Ending Estimate from coach: 8.5-9%
Ending w/ Machine: 5.6% (-1.9%)

Starting Measurements

Weight: 153.8
BF%: Handheld scale, so not accurate: 4.5% + 3 = 7.5% (I add three just so the numbers stay consistent)
Arms, Unflexed: 13in
Forearms: 11 in
Quads: 21 in
Calves: 13.5 in
Hips: 31.5 in
Waist @ Navel: 29.25 in
Shoulders: 47.5 in
Chest: 42.75 in
Illiac Crest: 4.5 mm

Ending Measurements

Weight: 150.6
BF%: 5.6% (Again according to machine, not accurate entirely accurate just used to check progress)
Arms: 13.125 (+.125, whaaaaaaat????) lol
Quads: 21 Ė No change
Calves: 13.5 Ė No Change
Hips: 30.75 (- .75 in)
Navel: 29 (-.25 in)
Shoulders: 47.25 (-.25 in)
Chest: 42.5 (-.25 in)
Illiac Crest: 4.5mm

As we can see here, I only lost three lbs, but my body fat dropped according to my scale, 1.9% in the four weeks. The areas I noticed that were particularly affected were my shoulders, traps, upper back, legs, and my lower back is starting to lean out considerably now. Water weight should start to come down any day now, giving my carb intake keeps getting lower and lower and cardio is now coming up, and when it does, Iíll be sure to post a pic or two in a couple of weeks. The .25 in lost on shoulders and chest is no biggie, I am getting leaner, its to be expected. Strength is still there. Losing ĺ of an inch on my hips was a huge surprise, and my circumference at my navel down a ľ of an inch is also great. My arms growing 1/8 of an inch was pretty awesome, lol made me laugh, but I ainít complaing!


Notes as the weeks went buy:

Week 1:

- No thermo effect yet, less bloated after large meals with DCP taken prior
- Jitter-Free energy, started with the first dose of one cap, and immediately went to two caps in the AM. Two-caps was fantastic.
- Sleep was disrupted the first three days, took my second cap of Combustion prior to 2:30 PM, and that issue went away

Week 2:

- Noticing small thermo effect, about 20 minutes after ingesting
- Same effect from DCP, sweating a bit more during/after meals

Week 3:

- Thermo effect has fully kicked in! Went to get a haircut before the gym with 2 caps of Combustion and 2 of DCP prior, and my barber thought I was having a cocaine withdrawal lol
- Energy is still clean, zero blood pressure issues, or feeling of anxiety
- Leaner around the legs (thighs), shoulders striations coming in, separation of shoulders and traps, chest veins appearing, retaining quite a bit of water this week, so itís hard to tell the effect on my abdominal area. Noticing more veins in the pubic area though. 300+g of carbs when cutting will do that to ya though

Week 4:

- This is where it began to truly shine for me, noticing greater leaning effects in the areas mentioned above
- Took DCP 2.0 at 4 caps prior to California Pizza Kitchen cheat, woke up looking DICED!
- Serratus, even with water retention, beginning to show
- Shoulders look stupid in the gym, striations out the wazzoo
- Upper back is leaning out, my brother, who trains with me, noticing veins in my upper back
Notes on Strength:

I kept all my strength, including hitting PRís in deadlift (405 to 415), Squat (315), OH Seated BB Shoulder Press (220), weighted chins, and even Single-Arm Dumbbell rows

Did a mock meet in the beginning of week 4, got a PR of 995 on squat/bench/deadlift at 315/275/405. Previous high was 970 done 6 weeks prior.

Pros:

- Easy to dose
- Clean energy
- Eliminates bloating from meals
- DCP was a great cheat meal ďprotectorĒ
- Thermo effect
- Helped me focus and study in the morning lol, literally twenty minutes after Combustion I was ready to tackle whatever my mind was put too
- Lost fat, while not losing weight, and NAILING PRís!!!
- I WANNA REITERATE THE PREVIOUS POINT: I DIDNíT LOSE MUCH WEIGHT, just about 3 lbs, BUT I LOST APPROXIMATELY 2% BODYFAT ACCORDING TO MY COACH AND MY BIOELECTRICAL IMPEDANCE MACHINE. I KEPT ALL MY STRENGTH AND EVEN HIT PRíS, WHEN IN A CALORIC DEFICIT!!!!!
- If thatís not enough to convince someone to try thisÖ then idk what is lol. Thatís the true glory of a cut
- No tolerance built up
- Combustion is at a great price

Cons:

- Honestly canít think of any at this point in the run regarding Combustion, maybe if youíre sensitive to forskolin, but Iím not so it wasnít an issue
- Price of DCP ☹, but totally worth it. Bought a second one for damage control during my vacation, but price is subjective. If you have the coin, I strongly recommend it


Would I Buy It Again?

I did, Iím running a second bottle of Combustion on my own dime!

Would I Recommend It?

Sure would, and already have. Got two clients who asked me about fat burners, and they already purchased themselves some Combustion and another one is grabbing DCP 2.0 to stack with a cortisol supp during vacation to prevent fat gain as well.

Overall Score:

5/5

A truly great fat burner, which is rare to find these days. I put it up there with Alphamine as my top two favorites. Versatile product, good for beginners to thermos as well as stim-junkies like myself. Canít beat DCPís ability to limit fat gain on cheats and not ruin progress. I was more than pleased with my run of these two products, and look forward to seeing what these last 4 weeks will bring to my physique as calories get even lower and I head for 6-7% body fat!! Thank you so much BPS for the products, looking forward to AdrenoSurge when that comes out for sale!!! If thereís one recommendation Iíd make noting combustion is to definitely run two bottles!! Iím seeing the best results around weeks 3 and 4, so Iím assuming weeks 5-8 are gonna be great. Thanks again BPS!

5/5


COMBUSTION

This one really shined! I know the energy aspect wasn't one that was really pushed when designing this, but at any time of the day I could pop one and it would give me a nice little boost to keep me going. The appetite suppresion was great on this also. I work in the evenings sometime going 5-6 hours without eating. About half was through I would take one cap with a protein shake and it would get me through the evening until I got a chance to eat. One other huge thing I noticed was the thermo effect!! WOW!! I have never sweated on another supplement as bad as i did on this. I never actually tried to check my temp, but I know for a fact more core temp would raise when using this. I always thought it was funny in the gym when I would be drenched in sweat and look around to see no one else sweating!!



"I would rather follow Christ and die to find out their is no God, than to not, and die to find out there is a God."

Final review of Combustion. Dosage was 1 cap in the morning preworkout. I did a couple days at 3 and about a whole week at 2. Only 1-2 days did I dose in the PM.

Presentation: same as adrenosurge; regular pill bottle. The label looks kind of 80s but gets the job done
Dosing: again, same as adrenosurge; just pop the cap and put it down. It's not huge, oddly shaped or anything; it goes down fine. No 'burps' or anything.
Energy: much better than caffeine IMO. I still got stimmed out a couple times, but for the most part I felt the ratio of energy/stimmed out was much better than pure caffeine.
Fat-burning: I wasn't cutting or dieting down, so it's hard to put actual lbs numbers on it. What I will say is that I most certainly felt increased body heat after dosing. Sometimes I felt it immediately and then it sorta faded and others it lasted a while. I'm going to go out on a limb and say that it did help me stay lean, even on top of whatever else I was running.
Sides: none. No stomach aches, changes in stools, etc. Maybe stimmed out but that's just me.


Would I buy it again? If I were looking for a fat burner, it would most certainly be on my list. Out of the caffeinated based fat burners I've tried, this is one of my favorite, if not my favorite. I tend to stay away from caffeine, but a run like this, taking 1 cap a day most days is something I can see myself repeating in the future.

Overall I'm giving it a 8/10

5/5

Okay so ever since DS' Craze and Gaspari's Detonate disappeared from the market, I've been looking for a replacement. While BPS Combustion isn't quite the same as the aforementioned two (and understandably so), it is the closest thing I've found and believe me, I've tried many products in search of the focus, energy and mood elevation that Craze and Detonate gave me. I stack 2 caps Combustion with 24 mg ephedrine hcl and I'm in the zone! Ordered another 5 bottles after trying the first and glad I did! Hope this will be around for a while!!!! :)

If I didn't LOVE it, I wouldn't have ordered 5 additional bottles!! Well done BPS!