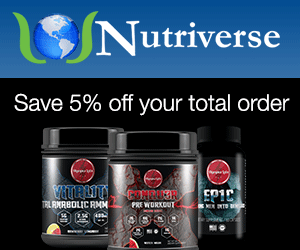 Manufacturer:
BSN
Rating:
2
out of 5 stars, based on
2
total reviews.
Read all 2 reviews
Submit New Review
3/5

Hyper FX is an OK product by BSN that I personally use as part of my pre-workout mix.

Flavor, Mixability, and Taste: I took the Blue Raspberry Hyper FX. Hyper FX mixes great and the Blue Raspberry tastes very good.

Hyper FX has three main ingredient blends within the Hyper FX Peak Proprietary Blend 9.6 g
1) Myogenic Endura Infusion:
-Beta-Alanine (CarnoSyn®)
- Betaine Anhydrous
-Citric Acid
-Sodium Bicarbonate
-Malic Acid
-Taurine
-Adenosine 5'Triphosphate Disodium (Peak ATP®)

*Hyper FX is great for increasing muscular performance and strength output. I notice a decent boost in strength and performance on Hyper FX*

2) Shock Force Spectrum:
-D-Aspartic Acid
-Magnesium Oxide
-Calcium-D-Glucarate
-Red Pepper (Fruit) (2% Capsaicinoids) (Capsimax™)
- Black Pepper (Fruit) (95% Piperine) (Bioperine®)
-Cholecalciferol

*Hyper FX contains D-Aspartic Acid which is a known natural testosterone booster. Hyper FX really increased anabolism during workouts, promotes strength gains, and promotes recovery after workouts*

3) Neuro Power Composite:
-Choline Bitartrate
-Caffeine Anhydrous
-Bitter Orange Extract (Fruit) (30% Synephrine) (Advantra Z®)
-Niacin
-toothed Clubmoss (Aerial Parts) (1% Huperzine A)
-Lesser Periwinkle [(Whole Plant) (95% Vinpocetine, 98% Vincamine, 98% Vinburmine)]

*Energy is not good. The energy was not lasting or clean*

Overall I just did not get too much from Hyper FX by itself. Hyper FX is great to mix with a pre-workout.

The value is pretty good at $24 for 30 servings. However, besides the D-Aspartic Acid for pumps, increased anabolism, and recovery, Hyper FX is kind of a waste of money. You are better off getting a good pre-workout and a good natural testosterone booster.

Does anyone know exactly how much daa/serving size is in this stuff?

AM sucks ass. find me on ASF or IMF.

I enjoy this pre workout but I add my Bcaa's and creatine into it....

More as a force of habit really...might be overkill

1/5

The pepper really made this product unappealing to me. Seemed like I'd always get little chunks of pepper in my teeth that I'd taste throughout my work out. Oh yeah, plus heart burn (from the pepper) and explosive sh*ts (just like N.O.). Plus, it is a mystery as to how much DAA they put in this stuff, and even if that wasn't a secret, one would need daily DAA supplementation consistently for a few weeks to see any effect.

So if you like blindly f*cking with your endocrine system, and having heartburn while sh*ting out the entire contents of your digestive tract, then I'd say this product is for you!

If you really think this stuff is great, then I implore you to do more research on DAA and try other pre-workouts. I got a tub of this stuff for free, and yet, still feel ripped off.