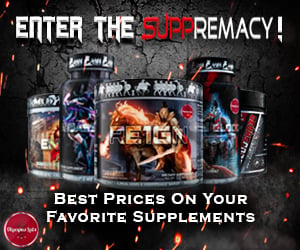 Manufacturer:
Athletic Xtreme
Rating:
4
out of 5 stars, based on
8
total reviews.
Read all 8 reviews
Submit New Review
3/5

this product was a little light on stim effect for me....but the pumps and focus were top notch.

ICONIC FORMULATIONS REPRESENTATIVE

use code THEBIGT for 25% off

2/5

IDK maybe I was a non responder but I didn't really get much from SS.

Used one tub with eh results.

4/5

I love this stuff! I work at a retail supplement store, and this is one of the top sellers by far! I personally requested it after trying a sample. It is deff strong stuff. very good pump and vascularity, with a good additive of stims. But like I said it does pack a punch! I would deff recommend this for someone who is looking for a diff pre workout experience! The only reason i didnt give this a 5 is because it can almost be TOO much focus. but that all depends on the person!

5/5

if your not into the whole "jitter" and "itchy" feeling and need a preworkout that'll help you in the gym and get you through those heavy lifts?! Supersize worked really well with me.

This is a preworkout that should be in everyone's rotation. The original's flavor was not great but it has now been improved. I feel it is definitely more of a focus/pump style of preworkout but dosing can bring the stimmed out effect as well. solid product and usually can be found at a decent price.

Always open light. Itís not what you open with, itís what you finish with. Louie Simmons

3/5

I had a full bottle of the original and did enjoy it but only stacked with a good stim and some beta alanine. The pumps were solid but energy was a bit lacking.

Also had the opportunity to try the new flavor which was definitely an improvement. Still citrus-y but no odd aftertaste. I only had 1 serving to try so the energy was definitely lacking but i had the same issue with the original. Multiple servings is a must.

5/5

definitely a pre-workout without jitters. actually its like you didnt take a pre-workout since you don't "feel" anything, but gives you clean energy and focus.

no crash during/after either. AND doesn't send you to the bathroom, a big bonus there.

taste- 8/10...effectiveness-9/10...quality of ingredients 10/10

5/5

Thanks again for the opportunity to beta test Super Size! I'll be honest, I never heard of Athletic Xtreme prior to this promo. Upon doing some research about the product I decided to throw and app in. It's an impressive formula as well.

Coming fresh off a stim break, I was excited to get back into the pre workout game. Super Size was a great one to come to! It offered everything you could want from a pre, clean energy, no jitters, amazing pumps, and so on:

Taste: 5/5

Delicious. Blue raspberry is one of my all time favorite for supplements, and AX nailed this one. 1 scoop in 4 oz of cold water, or 1.5-2 scoops in 6-8 oz of water is literally perfect. Mixability is also flawless for those of you who don't want to use a shaker bottle.

Pumps: 5/5

Unreal pumps. Stupid pumps. Never used a Leucine nitrate formula before, so I wasn't sure what to expect. Pull day was so much fun, veins everywhere in the biceps and got a couple "Bro, do you compete?" comments which is always nice

Focus: 4/5

Good focus, better energy. The mind muscle connection isn't stellar, but gets the job done. Energy wise, it's a smooth, clean energy, nothing overpowering, even at two scoops. Could be a little stronger, but it does the job.

Price/Dosing: 4/5

I found it to be best effective at 2 scoops, and I'm a smaller guy. So 45 servings really becomes 22.5 servings. A quick Google search and I find it for $27, so that's not terrible. It's a good product so I'd be willing to spend the coin. If one scoop does it for you, then you're golden.

Would I recommend or Buy Again?: 5/5

Yes I would. I think it's great for those fresh off a stim break or looking for something that's less "stimmy." Made that word up haha. But in all honesty it's a great product and I think it makes upper body day that much more fun. Perhaps mixing it with half a scoop of a more powerful stim pre and this as the pump pre you would have an awesome combo on your hands. All in all, yes I would buy again, and yes I would recommend it to others. It's a top 5 pre workout in my opinion.

Total Score: 23/25 = 4.5/5

5/5

The guys at Athletic Xtreme were nice enough to give me a bottle of SuperSize to log which I did so for 5 weeks. Some Summertime SuperSizing Over the course of 1.5 weeks, I worked up to 2 scoops, which I never went over. I normally added bulk Beta-Alanine and Taurine which is in their Ultra Reps product. Here's my review:

Taste/Mixability - It took me a while, but the taste eventually grew on me. It is different from any other Blue Raspberry supplement that I have tried. It says to mix with 6-8oz water. The flavor is better down at 6oz. It always mixed fairly grainy, but that never bothered me. Kudos for their being no dye.

Pump - While using SuperSize, I used tabata style workouts, which are very high reps. So the pumps were always going to be good. All things considered I had great pumps(not the best). I had a few HIIT biking cardio sessions where I thought my quads where going to explode. I wouldn't need to add any more pump ingredients.

Focus - Awesome focus. I was always dialed in with SuperSize. Excellent euphoria through the entire workout. SuperSize always had me ready to crush the weights. I've never had such a "high" while doing post lift HIIT cardio. I had a couple workouts where my 30 second sprints seemed effortless. SuperSize always had me throwing more weight on the bar when initially I hadn't planned on increasing weight - I'd like to think SuperSize was "calling me out".

Energy - This is not "slap you in the face energy", but a clean, steady energy. Don't get me wrong, it'll get you going. The endurance on the stuff was ridiculous. It made 1.5 hours of intense weights and cardio seem easy. This is where the product really stood out for me. It never got my heart racing or gave me the jitters. At two scoops, I was getting 300mg caffeine, my upper limit that I have set for myself.

Other Comments - I liked the fact that I never got overly hot using SuperSize. A lot of newer PWOs seem to have a thermo effect which I don't care for unless I'm cutting. Even though I was doing fast paced workouts, I was never sweating crazy or never felt like I was racing around. I always felt in control. This stuff worked every time. As long as I got enough sleep, my workouts were ridiculous. After a few weeks I could tell my body had loaded up on creatine because my lips were drying out and I got a couple dry patches of skin.

Overall - This is an awesome all around complete PWO. If you are a stim junkie, you may need closer to 3 scoops, but 2 scoops was always plenty for me. My only negative comment is that it has a proprietary blend.