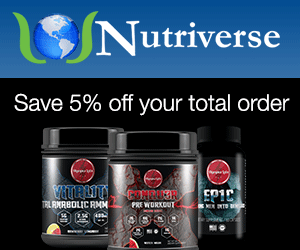 Manufacturer:
Driven Sports
Rating:
4.33
out of 5 stars, based on
24
total reviews.
Read all 24 reviews
Submit New Review
Now that I have finished a few bottles of CRAZE I think its important to mention that I still have not felt the need to use two scoops of CRAZE (or maybe Im scared too LOL), though I feel like my body has adapted to it.. I still ''feel good'' while on it.. buts its not the same as the first doses. And YES Anthony..when I do take one and a half scoops.. even at 5pm.. and going through 5 thousand yards at swimming classes.. its HARD to fall asleep.



idk though, it could have been changed. im on my 3rd and last tub of the "og craze." there are plenty of people on both sides of the argument swearing its not as good and also swearing its the same.

i should mention though, that grape seems to be holding the best reviews. ever since crazolade came out, the reviews seemed to go down a little

3/5

So I bought this from a store near where I live and I dont think it was worth it for me. I have experience with jack3d, jack3d micro, hemo rage samples, prodigy samples,GAT Nitraflex, C4, and many more.

Dosage 1.75/5: Well the first time I took this I took 2 scoops and felt nothing but a little energy. The 2nd time I took it I did 3 and the energy was there.the 4th time I took 3 scoops and the effect went down so the 5th time I took 4 scoop and had great energy but later I puked assuming it was because I was over stimulated. Later in the bottle I went between 3-4 scoops which was annoying because it did not last and that was the only dosage that I felt.

Taste 2/5: 2 scoops tasted good with the right amount of water. 3 scoops tasted like there was a pound of splenda in it and 4 was just gross with sweetness and the chemical taste.

Effectiveness 3.5/5: Well as I said 2 scoops did nothing and 3 scoops was pretty good and the after effect felt like I was on adderal and could not stop talking and doing stuff so I guess it made me more productive out of the gym. When I took 4 scoops the energy was great in the gym besides the puking situation, the after effect felt like I was semi-rolling(if you guys know what that means) or a semi high dosage of adderal.

Price 3/5: I got it for 35$ including tax which is great if you take once scoop a day and decent if you take 2 but the way I took it it basically came out to 11.5 servings per bottle which came out to 3.04$ per serving.

Edited: I do not recommend anyone to do what it did and go double the dosage, that is something I just do to find the perfect spot for me with pre-workouts.

4/5

CRAZE was good but I wouldn't say it is better than other pre-workouts on the market. I prefer other pre-workouts but again it was good it gave me increased energy and a good pump.

4/5

I love everything about Craze except for the crash afterwards. Great workouts while using it. The best focus I've ever had.

4/5

Taste: 8/10- Berry Lamonade, tasted pretty good, no problem with drinking it, only issue was it tasted a little medicinal on the aftertaste.

Mixability: 10/10- Mixes great with no clumps.

Effects: 9/10- Quite good focus not the best ive had though, fast acting, prolonged endurance.

Cost: 8/10- Little pricey for myself but not bad, paid £36 for 30 servings

Overall- 9/10. Very good product i liked it quite a lot, still not my favourite but close. I would definatley buy again if i find it on offer, £35+ is a little steep for me though.