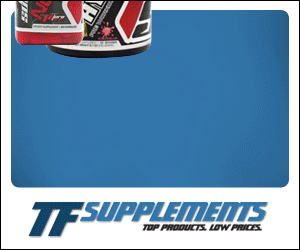 Manufacturer:
Driven Sports
Rating:
4.33
out of 5 stars, based on
24
total reviews.
Read all 24 reviews
Submit New Review
Craze is awesome! But combined with hemavol.... its amazing! I dose 2 scoops craze about 1 hour before hitting the gym. About half hour before, i take 1& a half scoops hemavol. I've tried lots of other pre workouts & for me..... nothing comes close..

5/5

The focus you get from this pre workout is second to none. I had tunnel vision throughout the entire workout, it was insane. Taste isn't very good, but then again if you're serious about lifting, this shouldn't matter one bit.

5/5

I read so many great reviews for DS CRAZE that I wondered if I was crazy for not trying it. Like most of us I have used virtually all pre-workouts on the market ever since the first ones: NO-Explode and NO-Shotgun. My favorite was 1MR (old formula with DMAA). Then switched to Assault, Mesomorph, Jacked etc...

(background info: Important) I never paid attention to the warnings on these products so I have basically used pre-workouts without rest for years in a row. I have a really high tolerance for caffeine (+or- 500mg/day for the past decade). Right on the third Assault tub I ended up having 3 ''panic or anxiety attacks'' - went three days in a row to the hospital thinking I had High blood preassure. They gave me captopril and clonazepam. A few days later the cardiologist gave me the diagnosis: nothing wrong with my heart or BP, rather it was anxiety, I always had it and never knew. The attacks were triggered by high ammounts of stims. (ever since then I cannot consume caffeine or hit the bong like I used to without getting some hints of an initial panic attack)

The background info was important because when I describe CRAZE I will resort to one of the drugs I was medicated.

First, Craze is something ELSE on a different level per say. It has very low caffeine in it around 80mg a scoop which for me now days is AWESOME. Assault has around 400mg on a full scoop I think?! The caffeine in it is JUST perfect. Enough for a kick without the uncontrolled energy that Assaut or 1MR gave me. Now that I ''downsized'' I can tell the difference.

Vascularity/pumps: Honestly I have never felt much of these factors with any of those products.. somedays it felt like I was pumped while at others not... and CRAZE places on par level with other products.

lack of beta-alaine: AWESOME again. Honestly beta-alaine never really did anything for me cept for the tingly sensationg all over... Assault has 4 grams of it and Im not missing any of them.

FOCUS: INCREDITABLE! This is where CRAZE lifts off and takes it to a next level... I kept reading ''tunnel vision'' and thats what I was expecting at first.. but then I thought about it.. and its probably a marketing term that people repeat time after time without really thinking about what it means.. I never had the ''tunnel vision'' people describe but rather an AMAZING feeling of calmness... ALMOST LIKE CLONAZEPAM made me feel. Its so great I have to say I never felt anything like that with any supplements.. and its the calm state of mind that allows you to focus 100% on your workout. My workouts have never been so great as they are now. I used to sweat rivers while on other products.. barelly finish and entire set not because of failure but because I would always lose count of where exactly I was. On craze however I barely break a sweat at all... yet I achived failure and huge pumps by the end of the workout... and the pumps are not due to creatine or citruline... but those old school pumps that you get from working out, period.

My thoughts are concentrated on that exercice and thats it... even when lying on a flatbench my mind doesn"t wonder off anymore. Wow I have to thanks DS for this product... and Im not sure if the kudos goes to the Dendobrian Extract or the Phenethylamin, or maybe both together. But they SURE DO WONDERS for mind/focus.

Aside from the focus/mind factor it also makes me FEEL GREAT! It alters my mood for the better much like Clonazepam did. In fact I find it even better than weed.. for the calming and feeling good effect.

Bottom LINE: CRAZE is on another level I will not use anything else. It scores high for not having so much caffeine- now that I discovered my anxious side beta-alaine just because I never liked it or missed it. And the Dendobrian or Phenethylamin marriage is mind boggling

5/5

IMO the best pre-workout supplement at the moment. It gives a nice 1-2reps per set boost eventhought it doesn't make me "feel" anything special. Hint: Do not take this if your training at the evenings. It really disturbs my sleep :/

5/5

Overall I liked this product very much. Took 30 minutes before a workout and gave great energy and focus. Only downfall is if taken too late I wasn't able to sleep and gave me anxiety or nervous feeling after a while.

Now that I have finished a few bottles of CRAZE I think its important to mention that I still have not felt the need to use two scoops of CRAZE (or maybe Im scared too LOL), though I feel like my body has adapted to it.. I still ''feel good'' while on it.. buts its not the same as the first doses. And YES Anthony..when I do take one and a half scoops.. even at 5pm.. and going through 5 thousand yards at swimming classes.. its HARD to fall asleep.



idk though, it could have been changed. im on my 3rd and last tub of the "og craze." there are plenty of people on both sides of the argument swearing its not as good and also swearing its the same.

i should mention though, that grape seems to be holding the best reviews. ever since crazolade came out, the reviews seemed to go down a little

3/5

So I bought this from a store near where I live and I dont think it was worth it for me. I have experience with jack3d, jack3d micro, hemo rage samples, prodigy samples,GAT Nitraflex, C4, and many more.

Dosage 1.75/5: Well the first time I took this I took 2 scoops and felt nothing but a little energy. The 2nd time I took it I did 3 and the energy was there.the 4th time I took 3 scoops and the effect went down so the 5th time I took 4 scoop and had great energy but later I puked assuming it was because I was over stimulated. Later in the bottle I went between 3-4 scoops which was annoying because it did not last and that was the only dosage that I felt.

Taste 2/5: 2 scoops tasted good with the right amount of water. 3 scoops tasted like there was a pound of splenda in it and 4 was just gross with sweetness and the chemical taste.

Effectiveness 3.5/5: Well as I said 2 scoops did nothing and 3 scoops was pretty good and the after effect felt like I was on adderal and could not stop talking and doing stuff so I guess it made me more productive out of the gym. When I took 4 scoops the energy was great in the gym besides the puking situation, the after effect felt like I was semi-rolling(if you guys know what that means) or a semi high dosage of adderal.

Price 3/5: I got it for 35$ including tax which is great if you take once scoop a day and decent if you take 2 but the way I took it it basically came out to 11.5 servings per bottle which came out to 3.04$ per serving.

Edited: I do not recommend anyone to do what it did and go double the dosage, that is something I just do to find the perfect spot for me with pre-workouts.

4/5

CRAZE was good but I wouldn't say it is better than other pre-workouts on the market. I prefer other pre-workouts but again it was good it gave me increased energy and a good pump.

4/5

I love everything about Craze except for the crash afterwards. Great workouts while using it. The best focus I've ever had.

4/5

Taste: 8/10- Berry Lamonade, tasted pretty good, no problem with drinking it, only issue was it tasted a little medicinal on the aftertaste.

Mixability: 10/10- Mixes great with no clumps.

Effects: 9/10- Quite good focus not the best ive had though, fast acting, prolonged endurance.

Cost: 8/10- Little pricey for myself but not bad, paid £36 for 30 servings

Overall- 9/10. Very good product i liked it quite a lot, still not my favourite but close. I would definatley buy again if i find it on offer, £35+ is a little steep for me though.