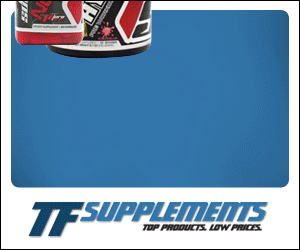 Manufacturer:
Muscle Gauge Nutrition
Rating:
2.5
out of 5 stars, based on
2
total reviews.
Read all 2 reviews
Submit New Review
4/5

MUSCLE GAUGE NUTRITION: AMERICAN ISO

I was given the opportunity to review all 7 flavors in the Muscle gauge nutrition American Iso line. I was thoroughly impressed with the flavors (sweetness) considering how little sugar was in them. I generally used 4-6oz of water (besides 2 of them) with each sample (Full serving Ė 22g protein 120-130 calories). I will review each flavor in order from Best to worst. As a whole, the Mixability would receive a 10/10 for all flavors. I used a blender bottle and with literally 10 seconds of shaking they were perfectly mixed- with a very smooth consistency.

1. Rocky road (10/10): Rocky road absolutely knocked my socks off. This had a great hazelnutty/ marshmallowy taste that seriously tasted like I was having a milkshake. I couldnít believe I was having a protein shake. I mixed this one with CARBmaster non-dairy low carb drink. Probably the best isolate protein shake Iíve tasted in a long time.

2. Ice cream sandwich (9.5/10): This was an excellent flavor! Had chocolate cookies chunks floating around in the mix as well! Didnít really remind me of an ice cream sandwich, but more like what a cookies and cream protein should taste like (Which Iíve never had a cookies n crŤme that tasted like it should Ė this one fits the bill). Just a little on the sweeter side. Mixed this one in a post workout shake with 4oz of water.

3. Cinnamon Bun (9/10): By far the best cinnamon bun protein Iíve tasted to date! Iíve had casein, blends, and straight whey and none of them were as good as this isolate, which is hard to believe! I had this one with 4oz of the carbmaster.

4. Cake Batter (8.5/10): Not exactly what I was hoping for in terms of flavor. It was more like a custardy vanilla flavor.. I guess I had high expectations, Still a good flavor, It just didnít remind me of cake batter. Mixed this one with 4-6oz water.

5. Chocolate (8/10): This one had a good chocolate flavor, tasted very similar to ONís hydrowhey. Mixed with 4oz of water.

6. Vanilla (7/10): Iím not a good critic for vanilla, as it is not one of my favorite flavors in general. This one reminded me of most of the others that Iíve tried. Good, just not my thing. I added 6oz of water, which was a little much.

7. Strawberry (6.5/10): This was actually the only strawberry protein Iíve ever tried besides the muscle milk RTDís. Not saying it was bad or anythingÖ Just wasnít what I particularly care for.


Thanks for the opportunity MGN! I have enjoyed reviewing your protein. I will definitely be ordering some of the rocky road or ice cream sandwich sometime in the future!

The Rocky Road was very good when I used this protein about 4 years ago and the Cake Batter also was good but
I haven't used this brand in long time. I had read that the grams of protein per serving were not meeting label claims
so I stop using this brand. But I honestly never had a flavor that didn't taste good.

1/5

This company will take your money and make claims to minimum orders of 5k$+ for private label products, apply an 8 week lead time for manufacturing and afterwards never deliver product. Their lead time is so you can't dispute with visa or mc and you'll be forced into an expensive lawsuit against them. This is happening to many people I can verify so do not buy MGN products. Their owners are all verified to be involved Robert Reed, Osagie Osunde, and Christine Hronec. Professional scam artists.