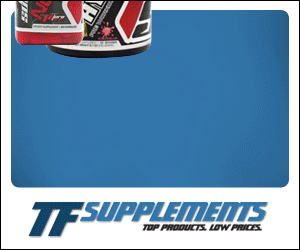 Manufacturer:
PES
Rating:
4.33
out of 5 stars, based on
15
total reviews.
Read all 15 reviews
Submit New Review
5/5

This is my favorite product. I've taken 2 bottles of Normal Anabeta and loved it so much I bought AE when it went on sale just to have it ready for my bulk.

Increased strength, pumps, overall physical prowess improved. I did dirty bulk while on it so I gained fat as well, but this would not be an issue if your diet is in check . This is one of the few "natural anabolics" that is actually worth your money.

Anabeta: This product straight kicked ass!!! What else would you expect from PES tho? Recommended dose is 4 caps... I took 6 and that was my sweet spot. Within a week I noticed fulness in my muscles, mainly chest and Lat areas. Hunger jumped through the roof around then as well but increased as time went on. I couldn't get full to save my life. Even made food taste better including bland ass chicken. As a week went by at a time my lifts picked up tremendously until my shoulder problems. 625 DL to 675 is gains if you ask me. Around end of week 2 veins became very prominant and the cool thing is they are still all there! Gains to keep!!!! All around I give this product a 9.5 out of 10 for what its worth... Def top of the line and will be tryin ABE in my next natty stack! Thank you Ben and PES for this great opportunity!!!

Purus Labs Anabolic Titan/Rep
Coach AB @ BossBody.net
Puruslabs.net

Thank you for taking the time to post your reviews guys, reps.

PEScience Representative
http://pescience.com/insider
http://selectprotein.com

Originally Posted by

bdcc

Always brother! Thank you!

Purus Labs Anabolic Titan/Rep
Coach AB @ BossBody.net
Puruslabs.net

Anabeta was part of my PCT after a nice long test cycle. I honestly felt like I never came off cycle with this product I my stack. Gyms sessions were extremely intense, pumps were insane, vascularity was still strong and the fullness of my physique only improved. This product is one of the few that is extremely effective. Anabeta is something you feel and receive nice gains from. I also became a bottomless pit when it came to eating. The product is perfect for a bulk and please have discipline and a great diet. You will eat monster amounts of food that will leave you not human and it could easily lead to fat gain if not taken seriously.

Amazing stuff!!

My muscles are pharmaceutically enhanced.

Originally Posted by

technique88

Appreciate the review !

PES REPRESENTATIVE


pescience.com
http://pescience.com/insider

5/5

This is my second time using AnaBeta. Since this is not my first time running AB, I wanted to see if I could put it to good use as a Holiday Damage Control supplement. I have been using 6 caps on training days and 4 caps on off days since November and this has helped me to mitigate a lot of damage from the unplanned excess of calories I take in during the holidays. I usually gain a few pounds every year around this time, but this year I have stayed pretty lean even while partaking in the usual array of holiday binge eating. Some of the things I notice while on AB are increased hunger, increased saliva production, increased thirst, slightly warmer body temperature, muscle fullness, increased vacularity, improved recovery, and faster digestion. Even after some really heavy meals I am ready to eat again in a few hours. My base diet and training have remained the same and the only thing different has been the addition of AnaBeta and the excess holiday calories. With that said I have gained little if any fat so far this holiday season, and I feel AnaBeta has really helped me to make more efficient use of the excess calories while keeping me in a anabolic state. Also I believe AnaBeta has some immune boosting qualities as well so it is a bonus knowing that this supplement is keeping me healthy during this time of year when a lot of people get sick. This is one of my favorite supplements and something I'll be using durling the holidays from now on as well as during the rest of the year when possible. Good stuff!

5/5

Did a 4 week stack of this and erase just to try it out...DEFINITELY will use this again. I knew there would be an increase in appetite but I had no idea how much it would affect me. My diet ended up being a little dirty because of it. I'll be ready next time though!

Increased recovery also!

Thank you both for your reviews.

PEScience Representative
http://pescience.com/insider
http://selectprotein.com

The one common denominator I have been seeing is increased hunger. To compensate for the hunger, are you eating clean or pigging out?

I eat clean whenever possible, but I mainly decided to use AB this time during the Holiday season since I know for a fact I will be eating extra calories form all the gatherings, parties, and dinners I go to every year. With that said, if I have been eating clean and have reached my macros for the day using clean calories, then I might let myself have something dirty that I have been craving. I usually do this at the end of the day and it will be reserved for my last meal of the night. I might start doing what BDCC does and pop 2 Anabeta before cheat meals/pigouts (maybe add in 100mg NA-Rala too), even when not cycling Anabeta. Anabeta is not meant to be used as a GDA, but this seems to be one of its possible "off label" uses. This is a very versatile supplement.

I use it for "damage control" also hsk

PES REPRESENTATIVE


pescience.com
http://pescience.com/insider

5/5

OG Anabeta is still one of my all time favorites. Not much I can add that others haven't already said. It just plain works. The muscle fullness is the best part. If you are like me and always trying to lose weight, don't let the hunger fool you, I ate like a beast, and was still able to drop fat.

Loved this stuff. Most noticeable effect was the increase in hunger, which I love. Noticed slightly better pumps, and a bit more fullness. Highly recommend it at 6 caps day. Love the innovation at PES

5/5

I've used this product on and off since I beta tested it. Best natural anabolic product available. I've tried 4 caps a day, 6 caps a day, and even 8 caps a day. Anything over 4 caps a day was a waste of money. All you need is 1 cap 4 times a day and you will be all set. Still my favorite PES product to date. Although, enhanced is a close second. This product can help your body utilize the food you eat better. Whenever I take it I get more energy from the food I eat. I did get the hunger everyone is talking about back when I first took it several years ago. I don't get that hunger anymore though. Just try this product and you love it. One thing that seems to make it work better is drinking more water. I notice increased effects from it the more water I drank.

Just try it. If it doesn't work for you than your not human. Better get yourself checked.

5/5

I have to say, I have tried so many natty supps over the past 20 years and I can honestly say that PES Anabeta is at the top of its class..sj

5/5

I've been taking Anabeta for about 3 weeks now. I can surely say that it is doing wonders. I'm running this product with erase. testpowder, Versa-1, 1-Carboxy, and Supersaponins.

Hunger: Greatly increased which is perfect when I'm trying to bulk up.

Dosage: 4 caps a day: 2 before workout, 2 after.

Effects: I've noticed great body composition changes, and my muscles appear much more full. I've also hit quite a few PR's in the short time I've been running this product. Check out my log: 804 Time to blow up USP/PES

This product is a great stack addition, It synergizes especially well with erase and works well the other products I'm currently running. I just ordered Anabeta elite which I plan on running next as I prepare for my cutting phase.

I'm fairly new to PES products, and so far every product I've tried is stellar.

:D

Thanks for the feedback 804, great stack too

PES REPRESENTATIVE


pescience.com
http://pescience.com/insider

5/5

Been using anabeta for about a month stacked with Anabeta elite the strength gains and mass has been amazing so far im dreading the moment the bottles empty!

I have 2 jars of Anabeta that I will be starting in about a week so I will be posting up my results
from my experience with it.

Awesome total, definitely interested in hearing your feedback.

PES REPRESENTATIVE


pescience.com
http://pescience.com/insider

Hi you all. First week of anabeta + erase is almost at its end and I need to say that I'm little confused. Yes great feeling @ the gym and need less sleep BUT I have lost my appetite totally.I haven't felt hunger even once since Monday and it is really really hard to get 200 grams of protein a day even thought I eat mainly protein rich foods. Any suggestions?