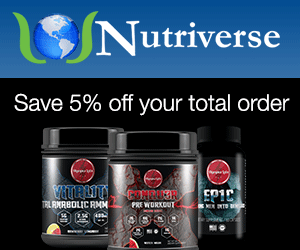 RecoverPRO (125 Servings)
Manufacturer:
AI Sports
Rating:
4.65
out of 5 stars, based on
20
total reviews.
Read all 20 reviews
Submit New Review
RecoverPRO (125 Servings)
5 out of 5 rating for RecoverPRO (125 Servings)

Even though I am a Rep for AI, I do personally love the Recover Pro. It is a 4:1:1 BCAA that mixes well and tastes great. I like to use mine intra workout... I do enjoy Lemon and Raspberry both, but I do find myself using the Raspberry more often. The BCAA also has a great price / value.

4 out of 5 rating for RecoverPRO (125 Servings)

This is a great BCAA supplement, especially if flavoring is important to you. I have tried each flavor individually (lemon and raspberry), and I have tried combining both together. I am a big fan of combining both to make raspberry lemonade - it makes for a killer flavor. Besides that, miscibility is on the lower end of average, requiring a couple 20 second shakes with some time in between, but not horrible. I enjoy this BCAA in particular for either flavoring bulks, or for use during hikes. Those hikes can last several hours, and since I'm the paranoid type I bring BCAAs with me on these occasions. In terms of specifics about this product, it's just a 4:1 BCAA supplement with none of the citrulline malate/beta alanine/etc in Xtend, but that's ok. Let us remember that this has 125x6g, deliciously flavored BCAA scoops in it at a very affordable price.

5 out of 5 rating for RecoverPRO (125 Servings)

Good taste, good profile, good price. What more could you ask for in a bcaa sup. This is the overall best product in it's category when factoring in the PPT (Profile, Price, Taste).

5 out of 5 rating for RecoverPRO (125 Servings)

I started using RecoverPro after reading good recomendations about taste and mixability. Afterall, if it does not taste OK and is easy to mix, would I continue using it ? Well, it mixes so well that I don't use a shaker cup. I use a normal 1 liter water. I take couple sips and use a funnel to put in 3 scoops. I mix it by shaking the bottle for about 20 seconds. Let the bubbles settle and that is it ! No foam or clumps. The lemon tastes amazing. For variety, I mix the raspberry flavor with lemon. I am partial to anything lemon.

How do I use it ? I drink it all day. I like the taste so much that I mix it and drink it throughout the day. I was able to ween off diet soda because if this. As for it's effects, i experience very little amount of DOMS compared to when i don't use it.

Taste great, mixes great and it's effective. I can get this at 125 serving for about $40. Can't beat this price. How can I give anything less than 5 start ?

4 out of 5 rating for RecoverPRO (125 Servings)

i take 4 scoops in lieu & a protein drink / meal replacement while cutting.
taste: 5/5 red raspberry is better than lemonade.
mix: 4/5 takes some time but you need 12 oz. per scoop

5/5

when it comes to 'bang for the buck' recoverpro is right at the top....tastes great, i like the lemon best, but you can't go wrong with either.

This is also one of my favorite BCAA supplements. I am almost done with my large container of raspberry and
I just ordered another yesterday at a great price. Taste great mixed with either chocolate or vanilla protein
for recovery after a workout.

5/5

Recoverpro is a great bcaa product. It tastes great (especially mixing the lemon and raspberry for a raspberry lemonade drink)

I usually have some floaties but its no big deal. That has happened with every bcaa product ive used.

Great value too!

try mixing it up the night before...it keeps well in fridge for days!!!!! or you could even put it in icecube trays and freeze it!!!!

4/5

Ok I have tried recover pro for about 3 tubs worth . I used these at different time and doses to see what I liked better.

Ok so lets look at what it has and little bit about it.
It is a 4:1:1 ratio BCAA product.
Comes in different flavors lemon and raspberry . I used the lemon everytime. Really great flavor, little tart and bitter but It should be. I would mix it with my dymatize bananna protien drink for a different kind of drink. Ok so a few things about it that I really like was it has L-Leucine in it. WELL what is that you ask?

L-Leucine is the only dietary amino acid that has the capacity to stimulate muscle protien synthesis. Has been found to slow the degradation of muscle tissue by increasing th synthesis of muscle proteins. So with that being known it seems pretty important to add to something like a recovery product right?

Recovery Pro also has other goodies in it as well but im not going to give a huge lesson on ingredients and other things.. just use google ( they can teach wonder things ).

Ok so lets break this down.
Profile :8.5 Like I said it is a 4:1:1 ratio which is pretty good. There are some like modern Bcaa which is 8:1:1 which of course more is better right? IMO sometimes. Well looking at the most popular one like xtend it is a 2:1:1 ratio, so maybe not. I have never tried modern bcaa so I cant compare the two at all. I will say that I like using recovery pro and will most likely use again.

Effectiveness:8 I cant give it 10 but I because I think it is missing some vitamin b's that would most certainly help. I alway had Citrulline Malate to my Preworkouts so being that It did not have this in it I was still getting. I think this stuff really shines as a before cardio drink or a intra. I seemed to have a better workout while sipping this durring my long workout sessions. If I took this at the end of my long workouts it seemed to ( perk ) me back up after feeling very drained from those sessions.

Mixabilty:8 Ok this stuff is pretty stuborn with mixing. No matter how much shaking and adding water and whatever it always has some ( stuff ) stuck to the wall of the cup. ( which annoys the crap out of me. ) If I added it to my protein drinks it would help keep it from getting so foamy so that was good thing to me as well.

Taste:8.5 Ok Im not huge on taste but I liked this taste. I have only had the lemon so I can not compare on anything else. Its bitter and lemon tasting but not over powering. Very good balance to it I think.

Value:9 Ok this is where this company shines, They have what I call REAL sales. Im talking 50% off sales.!! Cant beat that. That is how I got mine but you can still find it at decent prices on amazon and others for about 25 bucks for 42 servings. But why did I give it a 8 then? Ok this stuff you take according to bodyweight , now I never took more than 2 scoops I dont care what It said. But for my weight I would have to take 3 scoops to 3.5 for it to be right. So that would mean a 42 serving container would only last 12 workouts?! I only used this at one to two scoops and I swear this thing lasted forever.

Conclusion/Overall:4.7 stars. I think this stuff is great when found on sale. ( I am a cheap kind of guy ) . I like that it has no Glutimine added in it. I dont like anything that might hinder my pump on my workouts. So if you use this as a intra that is a good thing, but if wanting a post drink , you might want that in there.I think they If they added a few other things in this it could really be a number one BCAA product. But with the taste , value and effectiveness I think makes this a great product.

5/5

I've only used a few different bcaa products. Im definitely a big fan of the recoverPro. i got a few free samples from jiggman in the mail, and thought they tasted pretty great, so i went out and bought the 125 serving tub of it. tastes pretty good, mixes pretty good, doesnt mess with my stomach like some supps do.

5/5

I have tried AmiN.O. Energy, Recon and other BCAA mixes and they all just didn't mix well and overall I didn't feel like the ratios were what they needed to be.

I got some samples thanks to my man Bill here and I was really impressed by the lemon flavor, doesn't taste like lemonade (it's not called that anyway) but it actually tastes like a really refreshing lemon. I even added a couple more ounces into my blender bottle since normally bcaa's leave clumps floating around, taste was still good.

I follow IF for many reasons, the biggest being my school and work schedule so I decided it couldn't hurt to throw a serving in after being fasted for 19 hours. I got the fullest pump I have gotten in a while and the only thing I changed was the addition of RecoverPro. Awesome product that I wish I would have found sooner, gonna be adding it in the mornings regularly soon.

If you have never tried the product give Jiggamanbill here a quick pm and he will hook it up, couldn't hurt to try right?

5/5

I have used this product now for over a year. Hands down the best BCAA product out IMO. You can not beat the value and taste of these aminos.. they are great!

5/5

My favorite BCAA mix! Taste is awesome, I like the 4:1:1 ratio, and a lot of times you can find great deals on it. Mixibility leaves something to be desired but no biggy.

4/5

The only reason I'm not giving this a 5 is because I find it to not be the most miscible product out there.

Recovery is fantastic, taste is great, price is right. Taken before workout will extend your energy span through a session, taken immediately after is sure to speed recovery time and decrease soreness. Take 1-2 scoops before bed for good rest and recovery as well.

if you can find a bcaa product thats 4:1:1, and has a good flavor thats a better deal, i'd like to know.....this stuff is flavored for you and seems to ***** bulk bcaa's in price

i've tried multiple bcaa products but usually always come back to recoverpro unless others are on a super sale

4/5

the value of recoverpro is amazing, it *****s the price of 2:1:1 bulk products but it is already flavored and 4:1:1

5/5

So you know that leucine fluff/froth on the top when you shake up some bcaa powder?Doesn't exist here.This review is on the lemonade flavor.The taste is like crystal light so it's pretty good!Nothing to kill for.The real place this shines is mixability.I cannot review based on 4:1:1,2:1:1 or 8:1:1 because it's an issue still under debate.To me bcaa's are pretty much the same.Although I will say the price is pretty good considering the competitors.

5/5

This is by far my favorite BCAA product! It is the cheapest one I can find also. It tastes great, and mixes very well.

3/5

I will compare the flavor of the lemonade to a crystal light packet mixed with bcaas. Overall pretty good....however I prefer 2:1:1. Research wise. Stand up company though!
Similar Forum Threads
By roblasane in forum Supplement Auction

Replies:

3

Last Post:

08-19-2011,

05:47 PM

By Moyer in forum Nutraplanet

Replies:

0

Last Post:

12-01-2005,

06:33 PM