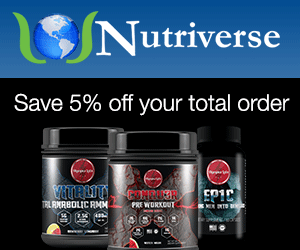 Manufacturer:
AI Sports
Rating:
4.33
out of 5 stars, based on
3
total reviews.
Read all 3 reviews
Submit New Review
4 out of 5 rating for Maniac (80 Servings)

this is a really solid pwo that gives great pumps and energy. mixes well and tastes great. really a great product!

5 out of 5 rating for Maniac (80 Servings)

I love the Fruit Punch Maniac. It gives me great energy and focus without the jitters. Helps give a great Pump as well!

4 out of 5 rating for Maniac (80 Servings)

Solid product with good energy. I had good workouts every time I used it without any crash afterward.

Originally Posted by

jiggamanbill

Thanks for sending me samples of the stuff. After going through your sample pack I ended up buying a bunch of maniac and motivate

Formutech Nutrition Rep----------------Check out my CONQU3R log!:
www.formutechnutrition.com------------- http://goo.gl/G8a4Ss
www.facebook.com/fnutrition

just got my samples of this and i like how it has sodium bicarbonate to help with the stomach issues, i have a weak stomach. But I did notice my energy start to fade half way through my workout. No idea why im gonna try my other sample pack tomorrow to see if there is any difference.

sorry to bump old thread but how do you k ow when ur powder is no good?



this is what mine looks like and i have had it for about 5 months

It looks fine just crush it up with a knife and then keep it in the freezer so it won't clump up into chunks.
It's the Citrulline Malate in the product that makes it turn this way but it's still perfect to use. I keep all my
preworkout powders that have a lot of citrulline in them in the refrig or freezer.
Similar Forum Threads
By Steveoph in forum Nutraplanet

Replies:

23

Last Post:

10-18-2008,

02:01 PM

By Dr of Golf in forum Weight Loss

Replies:

7

Last Post:

03-22-2004,

12:41 PM

By Dwight Schrute in forum General Chat

Replies:

38

Last Post:

07-19-2003,

01:10 PM