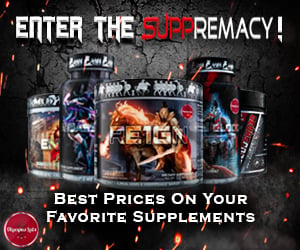 Manufacturer:
Primordial Performance
Rating:
5
out of 5 stars, based on
2
total reviews.
Read all 2 reviews
Submit New Review
5/5

Ran hard twice now. Stacked with lean and stacked with mass. Great weight and strength gains with no sides noticed.

5/5

Unfortunately, PP is over and the tight community has scattered a bit. When having such a strong community, it is obvious that these products do work. I ordered this just in time apparently! 3 weeks into my cycle, PP was raided. Everything posted on their forums were dead accurate in Androhards description. Sex drive and libido were unstoppable, my gf enjoyed it. This was the supplement which finally pushed me over the 200 mark, which I have been aiming for! I actually went from 195lbs to 210lbs, with a really good lifting routine and this amazing supplement. I had a lot of fun on this, one problem was in fact dryness of the joints though. Running this product made be vulnerable to injury in the gym. Must say, it was all worth it. Ran PCT Revolution after this, no losses, no problems. Good looks PP, wish I discovered you earlier.

They were onto something with their technology and I'm betting that we'll see new technology developing for TRT therapy and such being put out by big Pharma companies, as many would like an effective softgel instead of needles or messy gels. It makes no sense why they got raided, of all the fish in the sea.

Freedom means nothing here.

Yeah that's true. Perhaps it was their advertisements. I literally saw pp products on the majority of lifting sites. No lie, I even saw a banner on the side of my Facebook. They might of been an easy target or stood out.

I have 2 bottles of v2 stashed...

May use.

Cutting....hmmm...what to do.

...::: Olympus Labs Athlete & Representative :::...

It seems there area few people selling these online at extremely high prices due to shut down of PP. I wonder how reliable the products are because it was highly recommended.