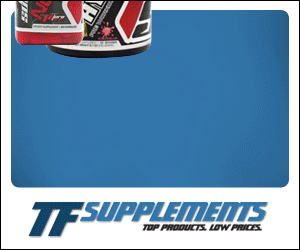 REDuction AM Shot (30 servings)
Manufacturer:
Controlled Labs
Rating:
5
out of 5 stars, based on
2
total reviews.
Read all 2 reviews
Submit New Review
REDuction AM Shot (30 servings)
5/5

Reduction am is one of my favorite fat burners and water loss products in one. Results usually come within 3-4 days and I lose all water from chest and stomach. Veins become more noticeable as well. It contains the perfect amount of caffeine for me and never crashed from it. Paired with reduction pm, you have no excuse not to get ripped up quick!

5/5

I take a shot before hitting the gym for some early morning cardio. Love it, gets you Amped.

-Tastes good, a little like children's vitamin
-Feels like Ephedra + Caffeine without the crash.
-Makes you sweat like a beast
-Brings up the heart rate
-convenient quick shots, fast acting

5 STAR , and the price is right!