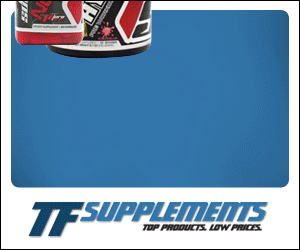 Adipose Annihilation (180 caps)
Manufacturer:
Enhanced Body Formulations (LBF)
Rating:
5
out of 5 stars, based on
2
total reviews.
Read all 2 reviews
Submit New Review
Adipose Annihilation (180 caps)
5 out of 5 rating for Adipose Annihilation (180 caps)

Final Review:
Wow, AAv2 helped me lose fat and at the same time pack on some muscle during my lean bulk. In the ~3 week span, I have lost 4 lbs. But in the end, I look ALOT better than what I did beforehand. This product is no magic pill, however it works great along with a strict diet. The results I received from logging this product is exactly what I hoping for and I am very happy with this product Whoever is in need of a fat burner, should without a doubt give AAv2 a try. The pictures don't lie! After logging this product, I can say I will purchase this product again in the near future. Only negative I have with this product is the GI issues however that what I get for sometimes taking 3 caps on an empty stomach! I did get used to the product so the GI issues did go away with time. If anyone is going to use this product, do not take 1,3 dmaa with it. This gave me a nausea/stimmed out feeling. I saw the best results when dosing 1 pre-meal and 2 after the meal; as well as taking 3 before bed.
Thanks again EBF, for letting me test out your product!
Final Score: 9.25/10

Final Picture:
[IMG]http://anabolicminds.com/forum/attachment.php?attachment****58 496&d=1338571437[/IMG]

Time to shred up with AAv2!

5/5

Lemme start telling you one thing, when your body fat is this low, fat burners have hard time working and fighting against your body trying to store fat, because human body was not meant
to be a pile of muscle with sub 10% BF, so we have to trick it somehow.
I started AAv2 more than a week ago and I'm loving it probably as much as I love Recompadrol!
While I do believe our formulator is a great mind, I was genuinely surprised about AAv2.
In few days results were already showing, I was drier, cuts were deeper and vascularity was as crazy as usual. And the best thing is no cracked/stimmed feeling at all!
It's very *very* smooth, and damn effective. Appetite suppression is one of the most noticeable
effects on me, I fast for 20 hours a day and while on AAv2 I have absolutely no problem waiting
for my meal to come.
It works great as a standalone (I started at 4cps a day, currently using 6 but probably going back to
4 because appetite suppresion is crazy!), but it was meant to be a very versatile product that can be stacked with other, both stimmed and non-stimmed, fast burners.
To be the perfect fat burner when following IF/Lean Gains protocol (check out the write up, there's a full guideline for that!) and of course to work in a synergic with Recompadrol.


Unlike other fat burners often attempting to limit fat gain through a single mechanism AAv2's FAT MOBILIZATION COMPLEX ceases new fat formation as the EBF ANNIHILATION COMPLEX lays waste to existing adipose stores. AAv2 features an optimized proprietary blend of ingredients which create an incredible potency, without the potential for undesired side effects.
AAv2 makes a great stack with all the most loved fat burners out there,
estrogen control supplemets, thyroid based fat burners, and test booster as well
lemme give you some example:

TT-33, fat free, AAv2
Erase, Alpha T2, AAv2
Licogenix, AAv2, DAA

but here on AM there's a whole thread listing
numerous stacking options. Versatility in that regard
are endless with this one


Whether you decide to run it solo or stack it with your favorite fat burner, I *highly* advice
to give this one a shot! I tried A LOT of fat burners, and usually I don't respond to most of them,
actually, I never really responded to any of them 'cept for Lean Xtreme (which makes a cah-razy
stack with AAv2) and this one.
Summer is coming and while I do stay lean all year round, I can help to want something MORE
in these days, I know I'm not the only one in this!

One thing I want to point out is the how AAv2 can be used as "damage control",
meaning, do you wanna have a cheat, dirty meal? Go ahead, just down 3 caps of AAv2 BEFORE
and control the damage. Throw 2cps of Recompadrol in the picture and you will be surprised
with the amount of food your body can get away with this stuff!
I'm very excited - if you couldn't tell - about this new product, EBF is specialized in fat loss,
recomping agents kind of supplements, like I said before, we can't afford to our stuff
not to be effective and with your support EBF will be able to put on the market a great deal
of new products just as effective as these ones.


AAv2 also seems to speed up my metabolism, using it when refeeding I noticed
I wasn't getting "blurred" the next coupla days and actually my weight was going LOWER
then prior the refeed right away, like I said, I'm going back to 4cps a day!
Just don't mix it with other products containing Capsaicinoid/capsiacium,
speaking of which, I personally dosed it empty stomach just with water several times
with absolutely no problems, the new formula is great, but the advice is to take it
with 4oz of coconut or almond milk.
You can dose it prebed with no problem, there's no stim/cracked out effects.