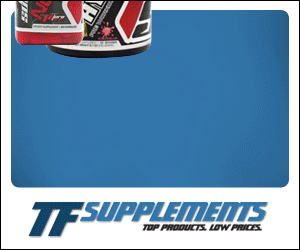 Combat Powder (52 Servings)
Manufacturer:
Muscle Pharm
Rating:
5
out of 5 stars, based on
4
total reviews.
Read all 4 reviews
Submit New Review
Combat Powder (52 Servings)
5/5

Great protein powder! I use this post-workout and as a quick meal with some oats and fats when I have long days at school or work.

Taste
Vanilla 5/5
Chocolate 4/5
S'more 3/5
Banana 4/5

This a staple protein for me and I've really enjoyed it

5/5

OK, this is probably my favorite protein righ now. I can get a tub of this (5#) at Costco for $42 and I get about 4 weeks out of it. Usually three shakes maybe four shakes a day. What I like most about this stuff is the taste. Oh man, super fantasict amazing! Really though. MP knows what they are doing. Plus for my macros this is a good last minute filler on carbs, fat, and protein.

Another thing I love about this one is that it really is simple to mix and comes out smooth with no chalky texture to it. I use a blender bottle; however, there are times when all I have is a spoon and a cup. Even then there is little clumping of the powder.

Furthermore, to address a question on flavors. I recenly attended a fit expo and they had the MP boot with a vast supply of flavors. Their Coco PB was awesome. But I love both of those items even in pure form. My wife doesn't care for it though, she said it was too sweet. She also ins't the biggest fan of PB.

Cheers!
Alphonz

Love this stuff. Gone through 10 pounds of it in the last 2-3 months.

Serious Nutrition Solutions Representative

5/5

So I will start by saying OMG this is the best tasting protein powder I have tasted in a long time. It mixes smooth and has no clumping. The cookie crumbs are a plus as well. Two scoops mixed with 12 oz of skim milk is a 50g Protein party in my mouth that Ill take anyway. 100% legit stuff plus its super cheap at Costco

Have been using this for several months as well. Cookies N Cream and Chocolate PB are great. Was extremely disappointed when my local Costco didn't have it on my last trip and I was forced to grab another brand. Hopefully it will be back next time I need it.