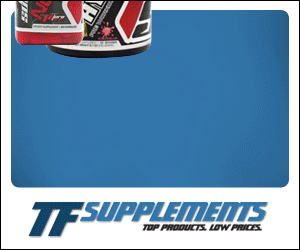 Orange OxiMega (120 Softgels)
Manufacturer:
Controlled Labs
Rating:
4.67
out of 5 stars, based on
9
total reviews.
Read all 9 reviews
Submit New Review
Orange OxiMega (120 Softgels)
5 out of 5 rating for Orange OxiMega (120 Softgels)

Quality fish oil is one of the most important health supplements on the market. Controlled Labs delivers with OxiMega fish oil.

5/5

Oximega Fish Oil is awesome. Uber potent EPA+DHA! I try to take 5-6/day. I must say, I do occasionally get Fish burbs. I don't know why. Not enough water when I ingest them? I have found RK completely overpowers them though! Lol. I HIGHLY recommend this Fish Oil. Always stock up when it's on sale.

5/5

Great high quality Omega prduct from CL! Because I'm poor I use an inferior product due to price but I loved this stuff when I ran it. NO FISHY TASTE OR BURPS!!

4/5

Out of all of the fish oil supplements I looked at this one gave the best profile (amount of EPA and DHA per cap) for the best cost! I do not notice the flavor that is said to be on the caps but thats fine. Probably because i take them fast.

One thing i must say however that I usually do not experience is that an nhour or 2 after i take them i do get the fishy burps. I dont really mind but some people may. It is just wierd because i have not had this with other products. Maybe its because other products are not as potent as this. Overall the amoun t of EPA/DHA is what you want and these deliver!

5/5

My go to EFA Product, hence why i have 15 bottles of it. Legit amount of EPH and DPA and not to mention a small hint of joint support which is an added bonus

5/5

Finally had the opportunity to pick a bottle of these up, wish it could have been several more, had been using sam's club fish oil for the same price, CL is a high quality company so it was a no brainer to get these where quality won't come into question. No fish burps to speak of for me.

5/5

Great fish oils, and you can usually find a BOGO somewhere. No burps and no after taste. Great product.

Controlled Labs Board Rep

[email protected]

CONTROLLED LABS products are produced in a GMP for Sport certified facility.