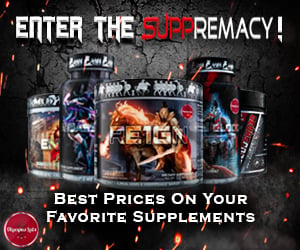 Manufacturer:
Omega Sports
Rating:
5
out of 5 stars, based on
3
total reviews.
Read all 3 reviews
Submit New Review
5/5

This stuff is top notch all the way. Full doses of all ingredients and no proprietary blends (other than their creatine blend). It's the best non-stim containing preworkout out on the market.

Flavor- It's a citrus-y orangeish kinda flavor which goes well with the large amount of B-vitamins. I have no trouble chugging it down or sipping on it during training.

Stacks very well with carnitines like PLCAR, Alcar , and LCLT

It won't give you a jolt of energy like most stim-based preworkouts but it's effects on endurance and strength were definitely what kept me buying. I've used it many time when I cycle off stims or simply don't want a stimulant "buzz" in the gym.

I used it regularly. Itís not a stim feeling itís more of a euphoric feeling for me. It does have a bit of an after taste.

5/5

Excellent product with excellent ingredient profile. My cupboard is never void of this product. Used with a scoop of Hemavol before workouts is fantastic. Gave up stims years ago.

5/5

I have been using Ultima for quite some time now. I have been using preworkouts for about 10 years and this is the best preworkout I have ever used.

The flavor is awesome. It has a very nice citrus taste that is easy to put down. I love the mental clarity and endurance I feel while training with Ultima. I feel really zoned in and don't feel as if I need stims to get some extra kick. I feel just right.

I thought this was going to be a product I used just when cycling off of stims...it has become a product that I use EVERY time I want to workout. It really has been that good for me.