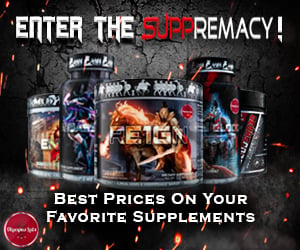 Manufacturer:
AI Sports
Rating:
4
out of 5 stars, based on
6
total reviews.
Read all 6 reviews
Submit New Review
5 out of 5 rating for TestoPRO (120 caps)

I Love Testo Pro for an increase in testosterone, strength, and an overall feeling of well-being. I make sure I have extra as I am getting close to competition time. Great product to keep your testosterone levels where they should be.

I choose my test boosters based on what I'm looking to get from it: strength, size, mental aggression, power, etc.
Took a run with TestoPRO about a year ago - this I look to for getting a full, sizeable increase in my physique and add push a few more reps to hit the mark on big lifts. Cognitive energy and approach are on point. Thinking to stack this off season with IGF-2 and NeoVar.

By believing passionately in something that still does not exist, we create it. The nonexistent is whatever we have not sufficiently desired.
Franz Kafka

4/5

i 1st used testopro when i started trt around 4 years ago-damn has it been that long...anyways i was getting bloods done frequently then, free test went up significantly while i was using testopro.

ICONIC FORMULATIONS REPRESENTATIVE

use code THEBIGT for 25% off

5/5

I was lucky enough to log TestoPRO and I loved the results. I broke all kinds of PRs during this month run. Aggression and libido up as well!!

3/5

I ran TestoPro for 1 Month. Here are the results.

Strength - 3.5/5

Strength increased slightly over baseline numbers. Added
5-10lbs to each of my 1 rep max for most excercies

Libido - 3/5

Libido initially increased slight after a week or so, but then tapered off the rest of the month.

Body Comp 3.5/5

Gained 1lb on the scale, but no increase in waist line.

Overall 3.5/5

Enjoyed the product. No side effects. Thought it was priced a little high especially since the Divanil is probably under dosed
seeing that its a 600mg Proprietary Blend you're not getting
very much Divanil per dose.

3/5

I had some slight strength and libido increases and got slightly leaner while running this for a month. It does work, and is probably one of the better natty test boosters available, but there are other non pro-hormone options that cost less and provide more dramatic results.

4/5

This is a damn good test booster. When I have it in stock the guys always go for it, it's proven its worth time & time again around here.

One of the few test boosters I get genuine, noticeable benefit from one bottle at recommended dose - within reasonable time too. Most others I'm waiting 3 weeks & need to run a 2nd bottle for max effect. Not this, definitely recommended.