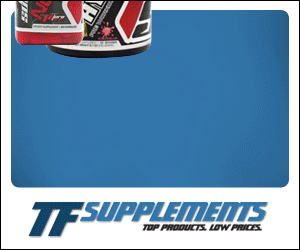 Manufacturer:
Controlled Labs
Rating:
5
out of 5 stars, based on
5
total reviews.
Read all 5 reviews
Submit New Review
5/5

This is a great compliment to anyone's workout program. This summer I was lifting heavy (for me anyway) and the combination of adaptogenics and recovery products helped me overcome muscle soreness and fatigue. I was able to work out 5-6 days a week whereas now I'm back to 3-4. This is an underrated and seemingly unknown product from a company that makes solid supplements across the board. It's a bit pricey, but worth the investment. HInt: watch Nutra's holiday sales; CL always has good products on sale then. I believe I paid $25 for it.

5/5

8 Minute Video Review Here!





This was definitely one of the most enjoyable supplements I had the pleasure of logging. At 5 pills per dose it may seem like a lot, but I managed to swallow them all down in one gulp so if I could do it so could you. I took 5 one hour preworkout on lifting days and on cardio or off days I'd try to take them around the same time of day as the workout days.

First noticed? Amazingly deep sleep, waking up refreshed (even if it was a 2 hour nap), energized, and ready to go. Nice clean energy.

Second thing I noticed was the ALPHA feeling!!! After that hour was up from dosing I was ready to tear EVERYTHING up in the gym and leave nothing in my wake! Strength increased and I was breaking PRs weekly. Libido was also on the rise as my wife can attest to that :)! Vascularity became more pronounced and the post-workout high from endorphin release was amazing.

This will most certainly become a staple product of mine in the future.

We def have to spread some love for Blue Gene; whata great product!

BOARD TYRANT | TEAM GET DIESEL | GETDIESEL.COM
FeFiFo.com support
DIESEL TEST = Underground Kings of Test elevation!


5/5

I have used this many times in the past with great results. Good energy, Alpha, Nice smooth strength gains. I just picked up another 2 month supply. Cannot wait. Waaaaay underrated imo!

5/5

initially i was dosing this too close to my workout but once i dosed as it says on the bottle, around 60 min preworkout it was on!

Blue Gene definitely increased my endurance and focus. It gave a type of energy that i really cannot eplain and cannot say i have felt from another product. Its not like a preworkout, just mroe of a performance/workout intensifier i'd say......great unique product!

5/5

Ran blue and orange triad over the summer. Probably one of the best supps I've ever used. Cant wait to get back on. Still rolling wit orange. Running low need to re up. Thanks CL!!