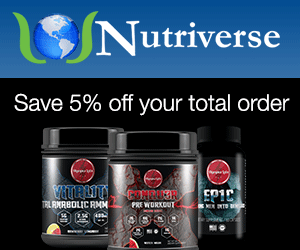 Purple Wraath (542 grams)
Manufacturer:
Controlled Labs
Rating:
4.38
out of 5 stars, based on
8
total reviews.
Read all 8 reviews
Submit New Review
Purple Wraath (542 grams)
4/5

I thought Purple Wraath was a good intra workout product. I always used two scoops and it was very clear that the niacin and beta alanine were in full effect. Endurance and recovery held up very well while using this product during my workouts. Taste was great with this product, I actually look forward to trying the grape flavor soon. Purple Wraath mixes quickly without problem and there are no chunks. I would definitely recommend this product. I don't know of any bcaa product that I would give a 5/5 so this is right on par with the best I've seen.

5/5

My 11 minute long youtube final review of this product can be found here: However, in the form of text: This is a GREAT tasting intraworkout. The inclusion of BCAA/EAAs here made for increased endurance, shortened recovery time between sets, and less frequent to almost no DOMS days out after a workout. Great flavor, excellent mixability, and certainly something I'll be coming back to.

4/5

I love thsi stuff but if your looking for just BCAA's there are some cheaper alternatives out there. Either way PW is another home run from CL!

5/5

I have used purple wraath many times, for years actually. The only thing that keps me from always using it is the cost , but u really do get what you pay for.

Purple wraath mes well, iyou have to let it sit for alittle bit but it eventually mies perfectly.

I LOVEE the grape flavor, i dont know why more companies dont make grape flavored things, they are so good.

The other flavor is also very good but im a grape junkie

It has one of the strongest profalies of any BCAA/EAA product i have seen on the market plus the added beta alanine and citruline malate makes it top notch.

My endurance was no question better on purple wraath and it can be used as a preworkout or intraworkout which is awsome

another one of CL's many amazing products, east 5/5 on this no question!

5/5

I am a big fan of PW. I train fasted so the aminos are key pre / intra workout. You feel it working within 20 minutes and the focus I got while using it was second to none. Great aggression and strength increases; wanting to attack the weight and go heavier each set. I noticed much more muscle fullness than other pre workouts, probably due to the inclusion of aminos in this formula. At the end of my workouts I still had so much strength and energy.. I could have kept going !

4/5

Purple Wraath is a solid intra workout. It mixes easily and tastes decent. The profile is pretty solid and it seems to help endurance when in the gym.

4/5

PurplEwrAAth contains not just the three major amino acids, the BCAA's, but also L-Lysine (necessary for building protien in the body), L-Arginine (reduces healing time & repair of damaged tissue), L-Histidine (importants for infants, but also thought to be benificial in adults), L-Histidine, L-Theronine (aids in fat metabolism in the liver & helps the body absorb nurtients), L-Methionine (essential for the production of creatine) & L-Phenylalanine

PurplEwrAAth also contains some added bonuses like Niacin (Vitamin B3), Vitamin B6, Beta-Alanine (known to improve athletic preformance & build lean muscle) & Citrulline Malate (aids in aerobic preformance by reduing fatigue & influencing latic acid metabolism).

I have to recommend the Purple Lemonade flavor. It's kind of an odd flavor, but much more desirable then grape. The grape flavor tasted like an old grape tootsie roll pop

You should look at it for an intra rink slightly chilled. Does a nice job there as well n

4/5

Love the ingredient profile on this. Get the tub of 90 servings and you got a great value. I'm a big believer of beta-alanine. So I like products that I take around training to have this ingredient. Taste great too!