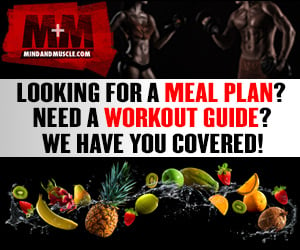 Super Cissus Rx (120 caps)
Manufacturer:
USPLabs
Rating:
5
out of 5 stars, based on
4
total reviews.
Read all 4 reviews
Submit New Review
Super Cissus Rx (120 caps)
5/5

I wanted to take the time to write a quick review on super cissus rx, cuz well - its that ****ing good!

if you're lifting heavy weights, chances are you've had some joint pain or discomfort. well for me its gone beyond the normal range of discomfort - and had gotten to the point where i was having to take extended periods of time off and or lifting much lighter, and there for not progressing.
a lot of people advocate this product so i figured it was worth a shot - and what do ya know??! the stuff works! and damn well. taking this supplement has me running at 110% and virtually pain free in the joint dept.

whether you have poor joints, or are on other supplements/drugs that may dry your joints out, causing pain - this stuff is most definitely worth your time.
i wouldnt just hand out 5 stars for no reason.
this has been and will remain a staple for me.

Do you think replacing Fish Oils with this product would be a good idea? I currently take Fish Oils, and I'm new to the lifting life. I'm currently fifteen, and have been looking to get more & more in depth with informational workout ideals.

5/5

I run this year round dosing 2 caps before meals and 3 caps before workouts. I had an acl reconstruction a few years ago and I cant even explain in words what this has done for me. I have no pain and my joint dont feel loose at all. I recommend taking this year round especially if you tend to perform heavy lifts or are a power lifter.

5/5

Been on this product for a couple years and have to say it does A LOT more for me then glucosamine, chondroitin, MSM ever did. A product I would recommend to anyone that lifts especially powerlifters.

5/5

I used this for about 6 months but took it out of my list of staples just because of finances. I have a nagging shoulder and this took care of it. Felt like my notoriously sore shoulders were wrapped in a warm blanket while using it. A lot of other supps are incorporating cissus into their profile these days so keep an eye out.